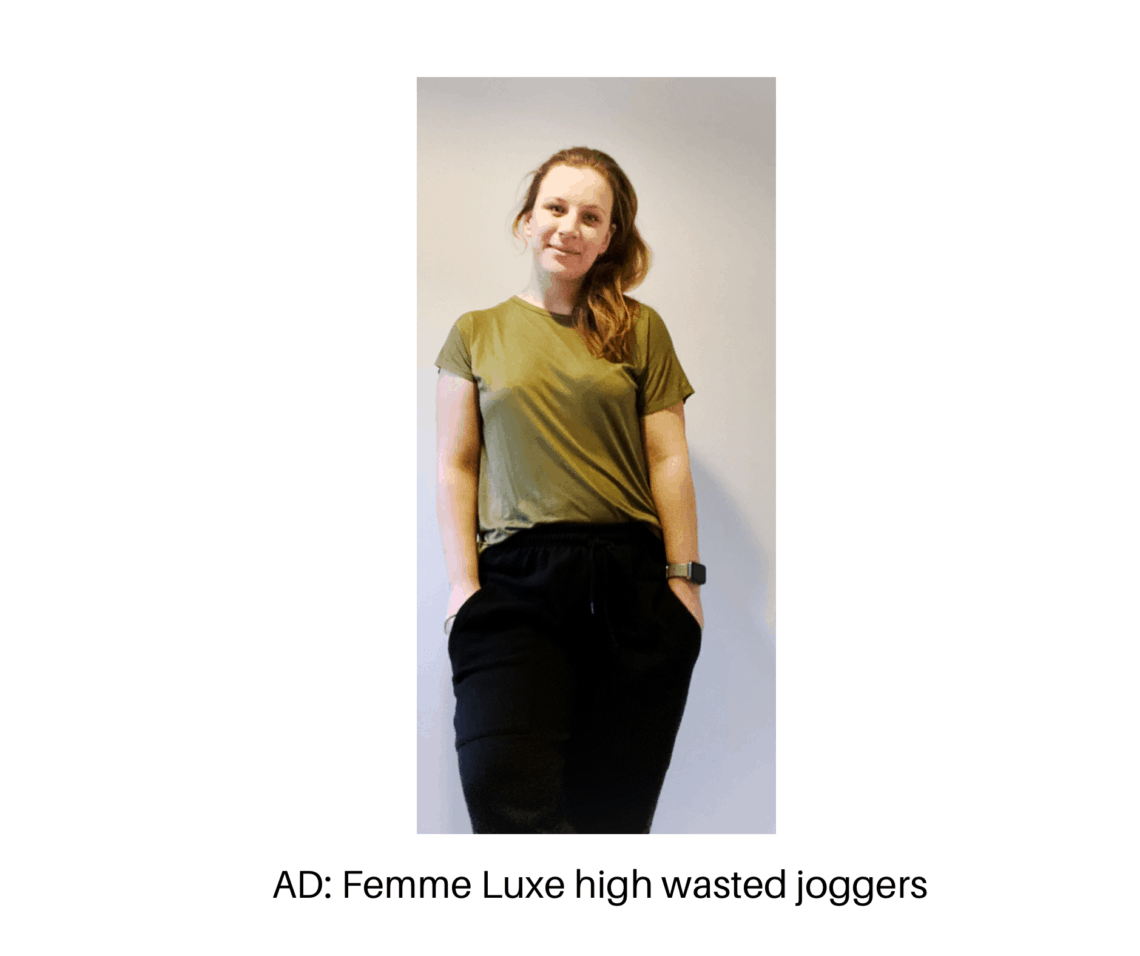 Femme Luxe high wasted joggers- AD
I was sent the products shown below from Femme Luxe finery for free in return for an honest review. All opinions are my own.
When it came to clothes in 2020 comfort was key . Spending a lot of time at home or exploring the local woods I needed something that was comfortable. 2021 has started with me wanting the same comfort from my clothes. I don't even know the next time I will be popping on a dress to have a night out. So I'm all about the comfy trousers.
If you had asked me what my day to day style was I would have said typical mom style. Blue jeans and a top probably a floral one from joules. Now I couldn't think of anything worse than sitting around in jeans. I would never of left the house in jogger type bottoms as they were just for the house when doing the cleaning. Now I'm living in them and loving them.
I have been sent three different types of lounge/ jogger style trousers from Femme Luxe to add to my collection. I mean I'm no fashion icon but what I can say is that they are all really comfy and that's all I need right now.
Stone High Waisted Oversized Cuffed Joggers – Fiona
Now I'm not normally one for light coloured trousers as I have two children who are very messy , but in a bid to change to up a little I thought I would go for some light coloured joggers.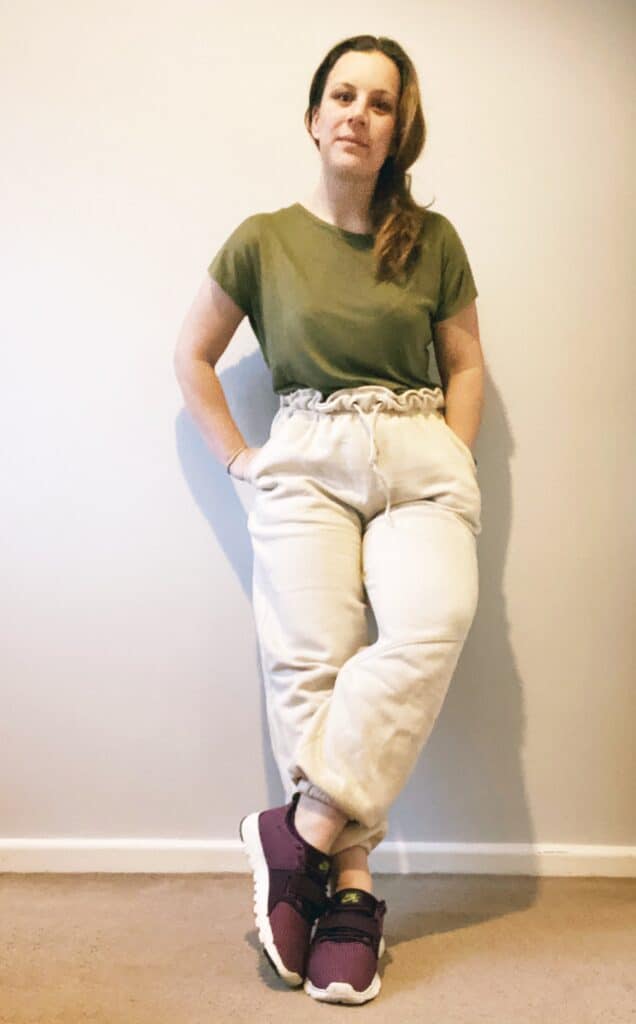 The main thing that drew me to these were the fact that they were high wasted. Since having my children anything high wasted is a winner . I feel much more confident in high wasted trousers as I feel they give me more shape and not look as frumpy.
These are some of the comfiest joggers I have ever owned. They keep that mom tum in and I think they also look really nice on. The paper bag gathering along the top is a really nice detail . That I think makes them look a little bit more feminine than normal joggers. They are oversized but I didn't find them to be too baggy I think they got to proportion right in my opinion.
They fit perfectly and are so comfy , they have washed really well and they have kept the colour even with me not separating my colours properly.
The only problem I did have is that the material has bobbled on the inner leg. I have been able to de bobble them which is fine but I wish they didn't do this as other than that they are perfect.
The Stone High Waisted Oversized Cuffed Joggers – Fiona are £14.99 and are available in sizes in 6-14
Black fleece front joggers- Elina
Again these are high wasted and are so comfy . I like the fact that they are both high wasted and also have a drawstring so you can have them a tighter fit if you wanted.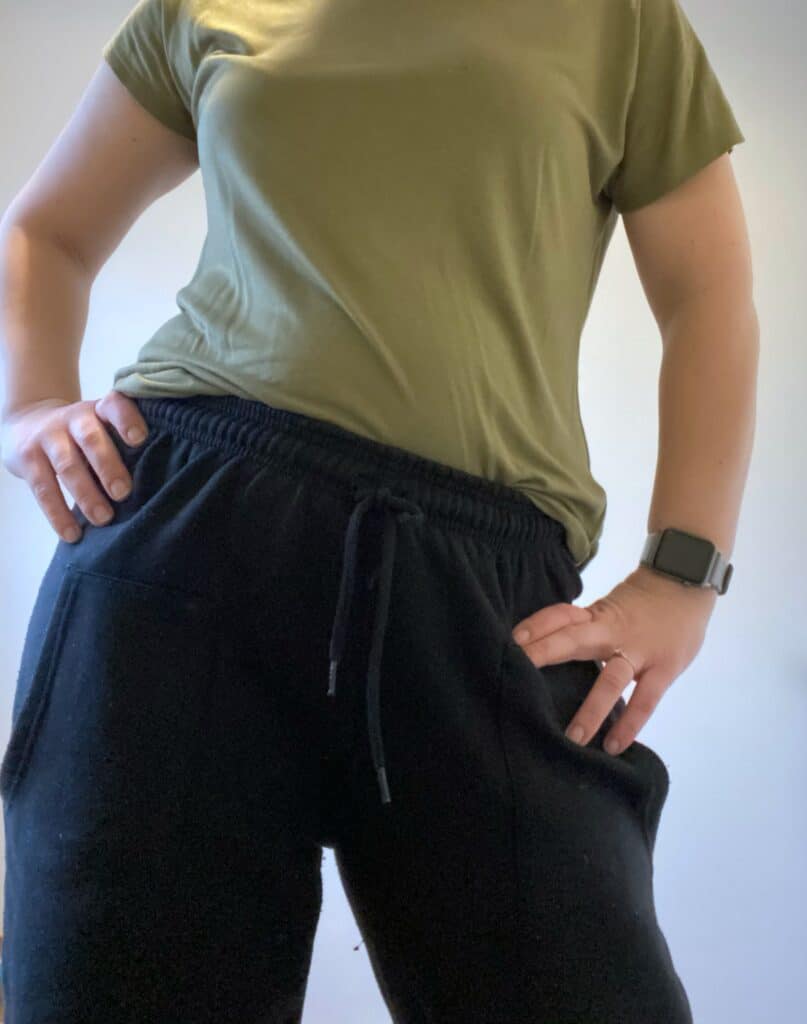 The pockets on the front are huge which is great as I find some joggers have small pockets and my phone ends up falling out of them.
These are so easy to wear and can be teamed with a t-shirt and fluffy socks for some ultimate comfort. Perfect for lounging around the house.
These have also bobbled slightly after a few wears but as they are black it isn't as noticeable. They have washed well and have kept their shape. No saggy knees on these.
Again I had the black fleece front joggers in a size 10 and they are true to size. They are only £8 at the moment on their website which is a bargain. They also come in sizes 6-14 so not the biggest size range.
Grey Marl cuffed joggers- Paula
Now these are just a simple grey jogger no frills or details. High wasted again which is a theme with all items I picked from their website . It was actually really nice to find so many items that were high wasted .
I did size up with these as some previous bottoms I have had in a similar design came up small and I wanted them to be more of a loose fitting . This time I went for a 12 and I'm glad I did as I got the fit I wanted.
For £10.99 I don't think these are a bad pair of joggers at all . They haven't bobbled like the other two pairs but then they aren't the fleece material like the others.
My overall thoughts of Femme Luxe high wasted joggers
Overall I'm really happy with the three pairs of joggers I have been sent . The fleece material does bobble but this didn't bother me too much . It may be just because I have bigger thighs and my leg rub together more ! This has also happened with other brands.
I think for the price point they are good quality and I have found all three pieces to wash really well . They have kept both their shape and colour.
They all fitted perfectly and are so comfy to wear . Which is what I need at the moment.