The summer holidays are fast approaching this means you will be needing to entertain the kids for a minimum of 6 weeks . Keeping children entertained can be very expensive . It doesn't have to be though her are my top 10 free or cheap activities to keep the children entertained this summer.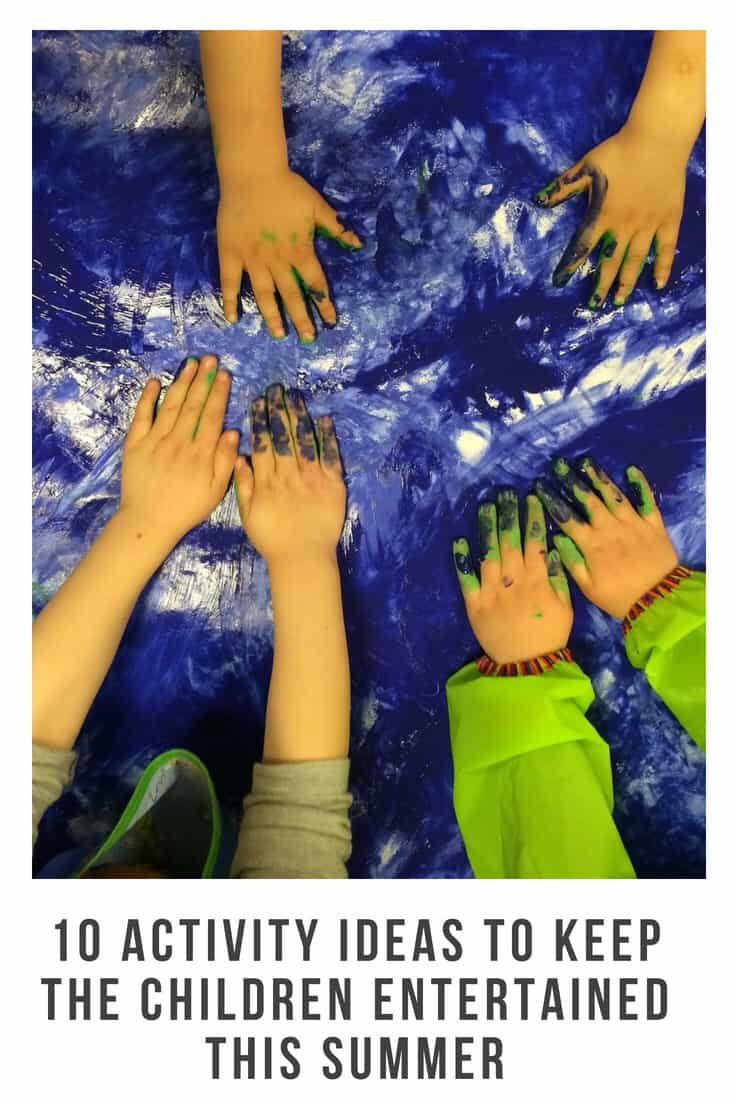 1.Colour hunt
Head down to your local DIY store like Homebase or B&Q and pick up some of the paint colour cards. Try to pick ones which you think your children will be able to match colour to. Then head down to a local park or wooded area and give the kids some colour cards. They then have to go searching for items that match the colours on their cards. You could even keep the things they find to make a picture with once you get home.
2. Nature paint brushes
All kids love painting but it can all be over so quickly and you can be left with a big mess to clean up. So why not get them involved with making their own paintbrushes. When your down the park or on a walk get the kids to pick up some leaves and sticks they would like to  make into paint brushes. You will need to attach the leaves to the sticks using string  Then you can use them to paint with. If paints not your thing then give them a pot or water and get them to paint the paving stones in your garden or along the fence panels. What's even better you don't even have to clean the brushes afterwards you can pop them straight into the bin.
3. Bug Hunts
Kids love looking at bugs when they are out and about. So why not go on a bug hunt. If you have older children you could get them to draw pictures before you go out of bugs they think they might see. If you have younger children you may want to do them a printable to look at. You can make one yourself by popping some pictures on a word document. Then once you have your pictures go outside and find the different bugs. The children can then tick the different bugs off once they have found them.
4. Water fun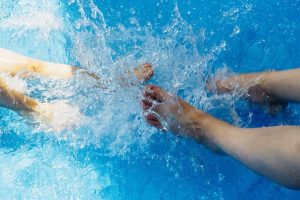 We are having lovely weather at the moment so make the most of it. Get the paddling pool out of the garage and let them splash about. Making sure they have toys to play with in the paddling pool will keep them entertained for longer. You don't need to go out and buy lots of expensive toys. Over the next couple of weeks keep things like bottles and tubs that they can use to fill and pour. If your feeling a bit more adventures you could add come food colouring to the water. Kids will find this so amazing as it's something completely different.
5. Have a cinema day
Kids love to go to the cinema but it can be so expensive. So why not make a cinema in your own home. I will say when ever I do this with Ava I make sure to have a film that she hasn't watched before. This way she will be more likely to watch it as its something new and exciting. We close all the blinds and make the front room really dark. I then get her favourite snacks and pop them into a bowl to enjoy. This is a fab thing to do when they are getting tired near the end of the holidays and need some time to chill out.
6. Den building
This one you can do either inside or outside. Older children may enjoy going down the woods and making a den using the tress and the natural environment. Ava loves it when I give her lots of blankets and chairs to make her den. She will sit in it for ages. It also gets her brain working as she has to think about the different ways she can make her den. How she's going to attach things so it stays up.
7. Science experiments
Now I'm not going to list a load because I'm sure you can take a look on Pinterest yourself. I have however popped my board below for you so you can take a look. There are some really easy science experiments you can do using the things you already have in your house. When I was working in a holiday club the children loved to make rockets. This is really easy to do all you need is a litre bottle of coke and some mints. You pop the mints in the bottle screw the cap back on and shake. Then pop it on the ground and slowly undo the cap. The pressure will get that much that the bottle will fly into the air.
8. Painting rocks
By us and I know people all over the country are doing this they paint a rock and pop a certain hashtag on the back of it. So they can share their finds on social media using the hashtag. They then go and hide it in different areas for other children to find. When you have hidden your rock you can then go looking for other rocks.
9. Chocolate Fondu
Now who doesn't love a bit of chocolate I know I do. Chocolate Fondu is a treat activity to do with the kids. They can be involved in preparing all the different dipping items . Then let them dip away in the chocolate.You will have 10 minutes piece whilst they chomp away on the yummy treats. You may want to take them to the park afterwards thought to work off some of that sugar rush.
10. Go to the Library
The library is a great place to take children to. It's not like they used to be they welcome children in with fun activates and things to do. We often go to the one by us as they put craft sessions on which is perfect for those parents who don't like to do craft at home. Plus most of the time it's free which is a bonus. Whilst your there the kids can pick up some books to take home with them.
So here are my top 10 free or cheap activities  to do with the kids this summer. I hope you find them handy. If you do have some other great activites you do with your children please do let me know.

Follow me on :