As you may have seen we made the decision to wean Alby at 4 months of age . Now his 6 months we have started to introduce a wide variety of different foods. We have made the decision to do baby led weaning with Alby. We did this with Ava and just found it worked for our family . Plus I'm too lazy to make things up in batches for him and purée them down .
I thought It might be helpful for people if I shared some of the meals Alby has enjoyed in his first proper month of baby led weaning.
Breakfast
Porridge,
Scotch pancakes,
Banana.
Lunch time
Bread and butter fingers,
Grated cheese sandwich,
Fruit and veg sticks ( pear,apple,melon,cucumber,pepper)
Carrot stick crisps either the Aldi or Orgnaix ones,
Rice cakes again Aldi or Organix ones,
Yoghurt.
Tea
Mince meat and potatoes,
Sweet potato chips or mash,
Fish cakes and mash,
Beans or spaghetti on toast,
Fish pie,
Broccoli and potatoes,
Pinwheels cheese and tomato,
Tomato pasta,
Rice and mixed vegetables,
Potato waffles,
Scrambled egg,
Jacket potato and beans or spaghetti,
Yogurt,
Fruit pots,
Garlic bread.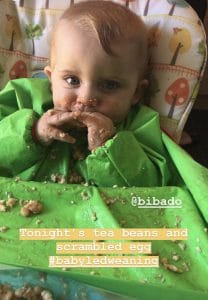 Snacks
Organix or Aldi rice cakes and carrot sticks, .
Kiddylicious wafers,
Banana,
Piccolo soft teething wafers mango or coconut.
I will say some days he doesn't have three meals. With the warmer weather he is wanting milk over food which is fine . He is loving food and I haven't found anything yet that he will turn his nose up at.
With Ava I wasn't very adventurous with the food I gave her . Which may be one of the reasons she sticks to the same selections of food. So I'm going to be making sure to try to cook different things for Alby. If they go down well I will share them with you . Or do you have any recommendations for easy baby led weaning meals . Something that's a little bit different.
The bib shown in the pictures above is a BibaDo bib and it's so handy if you're doing baby led weaning. If you want to find out more and where to purchase one check out our review.
Follow me on :