When I was on maternity leave with Ava looking back now it was so easy. I had one child to sort. Once she was happy and content I could do what I needed to do. My ironing was done as I used to do it when she was asleep.The house was tidy and I even may have had a cheeky little nap. This time around it's not like that at all .I'm constantly tidying up toys from every corner of the house but not actually tidying the house. The ironing well we best not talk about that it seems to have become I iron when were running low on things.
One of the biggest changes is. I have to watch kids TV ! When I was off with Ava I could watch what ever I wanted. Four in a bed was a favourite or I would binge watch box sets. Not this time my TV has been taken over by PJ masks or paw patrol. There is only so much kids tv you can take before it makes you go crazy. I am happy that she doesn't like Mr Tumble as I think I would be rocking in a corner right about now. Sorry any Mr Tumble fans I just cannot watch it !
Last time on maternity leave I would slowly get myself up for the day make myself look presentable. These days I'm up out of bed before I really want to be. Or I have to sit in my bed watching you guessed it kids TV ! I mean how many times can they watch the same episode of the same programme or watch the same film. I wanna say I have watched Frozen at least a thousand times in the last few months.
I'm finding maternity leave the second time a lot less lonely. I have found I did a lot of the leg work when I was on maternity leave with Ava. I have friends that we see regularly and the thought of going to a group doesn't scare me this time around. I'm also that mom who will go and sit at soft play by herself just for half an hours peace ! . Also as much as Ava can be a little monkey it's so nice to spend this time with her. It's time I will never get again and she is changing so much at the moment I'm glad I'm around to witness it.
I did contemplate taking Ava to a nursery close to my home whilst I was off work but I have gone against it. One of the main reasons was cost .Because lets face it statutory maternity pay is rubbish and nursery isn't cheap. ( roll on Easter 2019 when she gets her funding !). Also there are so many toddler groups by us that I thought I need to just take full advantage of them. Plus it gets me out the house. I hate to sit in the house It really gets me down. So I like to plan to do things each day to keep us both entertained.
This time around I have my blog from the get go and it's keeping me busy. I have had some great review items over the last few weeks and also I have been lucky to have some paid work. So that's keeping me occupied and ticking over.
One last thing if you thought getting out the house with one baby was bad enough. Try taking a toddler and a baby out. Whilst you're getting everything ready and baby in the car seat the toddler is taking their shoes and coat off you have just put on. Isn't it funny how before baby was around they wanted to walk everywhere hated the pushchair. All of the sudden baby is in the pushchair and its the best thing since sliced bread and they want to go in it. Not to mention the amount of stuff you have to take with you. If I forget bunny and dummy well you might as well go home.
How did you find maternity leave the second time around ?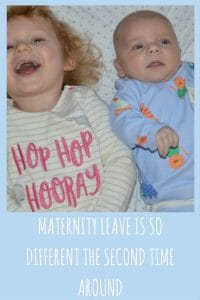 Follow me on :