Going out for a meal can be a nightmare, you have to make sure you pack enough things to keep your little one entertained. If they don't eat off the main menu then you have to pack a lunchbox full of appealing things for them to eat. Then there is the great discussion of where shall we eat where will be good to take children. Will there be enough space to take the pushchair in if she needs asleep. This is all before the drama of a highchair starts.
I have recently been in talks with Totseat who have done a survey of 109 restaurants that are deemed to be family friendly on TripAdvisor. The result that they found with regards to highchairs in restaurants is shocking.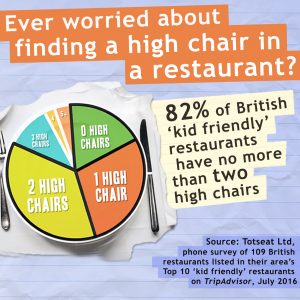 They found that 82% of British 'kid friendly' restaurants on TripAdvisor have no more than two high chairs!. This is just shocking to me as I quite frequently go out to lunch with my friends and between us we have more than two children, what do they expect us to do with the other children. I am not one to let Ava eat in her pushchair and she shouldn't have to. I think the worse thing about it all is that they are meant to be 'kid friendly'.
The other thing that really gets my back up is that I have found some restaurants have removed the straps on their highchairs!, to me this is ridiculous as it makes them unsafe. Also a lot of restaurants have these wooden highchairs that are massive meaning if your child is little then they will slip through, there is no variation in size or even a tray that attaches to it to secure them more.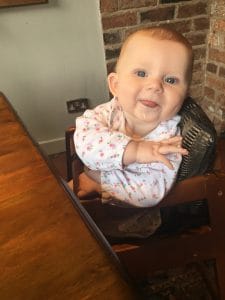 The Lovely people from Totseat also shared with me a video which featured a café called Babies and bumps which is just fantastic I wish it was closer to me. It has been specially designed so that parents can take their children there without all the stress of going to a normal restaurant. The café was designed with children in mind. The video also shows the amazing Totseat which has been made to help parents stop fearing going out to places. As you can have a foldable material highchair in your changing bag. I don't see why restaurants don't just buy these they take up very little space but would mean they can provide for more children.

What experiences have you had whilst eating out? ,
What is your favourite place to take your little one out to eat?
Follow me on :