Hoo farm holds a special place in my heart. I have such fond memories of going there when I was a child . Me and my brother used to go with my mom's friend and her daughters who are now in their late teens !! I remember going around lambing season and feeding the lambs and holding baby chicks. There is a picture somewhere of me with a chick on my head .If i ever come across it I will show it you all .
So when I had a child I knew I had to take them to Hoo Farm. I just so hoped that It hadn't changed from those childhood memories. So yesterday we packed the car up and went on a short half an hour journey to Hoo Farm Animal kingdom in Shropshire. Hoping for a day full of laugher and new experiences.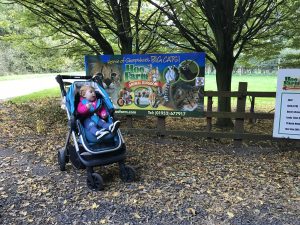 Considering it is out in the country side I though Hoo Farm was really well sign posted . When we got to Hoo Farm we drove down to the main car park to find it was full so we did have to turn around to go onto the overspill car park which was a 2/3 min walk away.
On entering Hoo farm we were greeted by some lovely staff. That gave us a leaflet and information booklet . Which contained all the show times and also a map of the farm. There is something going on literally every half an hour. You can get up close and personal with a wide variety of different animals. Ava did like giving the hedgehog a little stroke. The staff were really knowledgeable about the animals and you could really tell they were passionate about their jobs , which was lovely to see.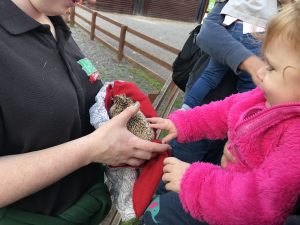 You could also go one step further and book a special animal encounter. Which offers you the opportunity to get up close with your favourite animal. Prices for this start at £50 and you do have to book in advance via their website.
I have taken Ava to farms before and not really been impressed by them they are normally small and don't have that many animals and also pretty expensive . Well Hoo farm is on 32 acres of woodland and paddocks meaning there is loads to explore. With loads of different animals to see. If you want to you can purchase a bag of animal feed from the main entrance to take around with you to feed certain animals. Do be careful with little ones whilst doing this as some of the animals can be a little greedy. One of the goats even tried to have a nibble of Ava's hair which we thought was quite funny.
With every different animal section you leave there is hand washing facilities. Which I was very impressed with these were kept both clean and stocked up .They have also thought about their positioning of their hand washing facilities as they were low down. Which was fantastic for us as miss independent Ava could wash  and dry her own hands. The other thing I found to be really clean was the toilets. Now I'm a bit funny about toilets .So for me to say they were nice and clean they must have been nice and clean. Also which I think is really important with a place like this is that all parts are accessible by pushchair . Meaning if you have a little one who doesn't walk they wont miss out on all the fun.
We didn't take a picnic with us we thought that we would see what the food they had on offer was like. Although if you did want to take a picnic there are plenty of different areas where you can sit. They had both hot food and cold food on offer from burgers to sandwiches. I personally thought it was pretty reasonably priced we had two burgers, chips, a kids lunch box that was full of goodies and two drinks and it came to £18.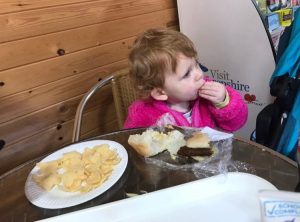 If the little ones have had enough of the animals .There is a soft play area for under 5's .Which was full of great things to climb and jump around on. Also dotted around the farm are different climbing frame areas, tractors to ride on and a crazy crafts centre.
Overall we had an amazing time .We could of easily spent all day at Hoo Farm there is just so much to do. We will be returning for lambing season as I'm sure Ava will love to feed the baby lambs.
Want to know more about Hoo Farm then visit their website. Also if you do want to visit Hoo Farm. Make sure to book your tickets online .As they are a little cheaper.
* We were given entry to Hoo Farm Animal Kingdom for free. In return for an honest review, all opinions are my own*
Follow me on :