*This is a collaborative post*
When I think of the brand Marigold. I think of yellow rubber gloves like the ones that Kim and Aggie used to wear on telly. Well theirs weren't just yellow ones were they. They had all decorative things attached to them .Sorry I digress there I am talking about telly programs again ! I do really need to get out more. So yes what I was going to say is that I was so surprised to learn that they did so much more than just rubber gloves. As a person who actually quite likes cleaning once I get into it. It was an exciting thing to learn and what was even better was that I was getting a bundle of their products to try !!
I'm not ashamed to admit that I was really excited about getting this parcel in the post. Mainly because at the moment i feel like i am constantly cleaning. We are in the middle of selling our house and we have had some really busy periods with people wanting to view. Which is fantastic but it also means that I need to keep the house looking show home ready. Well as much as my house can look show home ready with a jumperoo up the corner and toys in every corner of the house.
I have been on the look for some products that will be better for the environment. When cleaning down the sides in our house I used to use antibacterial wipes I even clean the bathroom with these most of the times. I would also get through quite a lot of kitchen roll to dry the sides down so there are no streaks. This is such a huge waste and not only are we constantly buying anti bac wipes but I was getting concerned about the impact on the environment. Yes were only one household but if we all take steps to be more eco-friendly then it will make a difference.
So my packaged arrived and I was like a kid at Christmas there were so many different products I didn't know what to use first. In my package was
Clean & Gleam Scourer
No More Elbow Grease Scourer
Cleaning Me Softly Scourer
Scrunchie Scourer
Wiper Upper Cloth
Oops Away Cloth
Squeaky Clean Cloth
Thirsty Sponge
Let It Shine Cloth
Oops Away Roll
Wash & Wipe Cloths
Who knew there was so many different products by Marigold. I have used all the products now and I can say I am really impressed they are all great. My personal favourites were
The Squeaky clean cloth– Now this is one clever cloth it feels almost like a car shammy . It's great for cleaning the sides down without leaving streaks !! I hate having streaks so this is a winner for me. You can use it on any surface and it leaves it nice and clean and streak free.
Thirsty sponge– Now Ava's at the age where she wants to drink from a cup. 9/10 she doesn't spill any but you know that one time she does it will be the whole cup full of juice. The thirsty sponge does exactly what you think it drinks up the liquid really easily.
Oops away roll– I'm trying hard not to rely on baby wipes for cleaning the kids faces . As if the news is anything to go by they want to get rid of baby wipes. So I have started to used the Oops away roll to clean the kids faces. Once its been used you can pop it in the washing machine ready to be used again.
Did you know that Marigold are so confident everyone will love their new clothes and scourer. That they are running a campaign called Try me free. Which basically means if you buy one of their promotional packaged clothes and scoures send them a short review of what you think they will give you a refund !! for all terms and conditions and for more information head over to their website.
I spend a lot of my spare time now watching You tube videos, I find it really relaxing . I recently come across some speed cleaning videos and I was hooked. So I thought whilst I was trying out my new Marigold products why not film it and pop it on the internet for you all to see. Now I know it's not for everyone but I think it's the nosey side in me that makes me love them. A chance to look at someones house . So hers my come speed clean with me video.
*We were sent the selection of Marigold products stated above for the purpose of this post. All opinions are my own*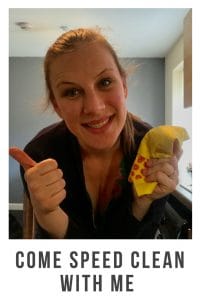 Follow me on :