How to potty train a toddler in two weeks
I think we have done it and it was so much easier than I thought it was going to be . In just under two weeks we have been able to potty train Ava . She hasn't had a wet accident in over a week and whilst we have been potty training she has only had two wet accidents and no poo ones ! Thank the lord.
This wasn't our first time trying to potty train Ava . Just before Alby was born so Ava was nearly 2 . She was showing signs of wanting to potty train. She was doing really well whilst at home but we didn't try the no nappy whilst out and about . Alby then came along and she just lost all momentum with it . If I'm being completely honest I think we did two . Having a new born and not the best birth meant I was shattered constantly.
Then a couple of weeks ago she started to tell me she needed a wee wee. So I got the potty back out and she started to do a wee on the potty . Great ! I think the other thing that influenced her to go on the potty was her friends. A lot of her friends are older so they are completely toilet trained. She too wanted to be the same as them and started to show an interest in using the potty.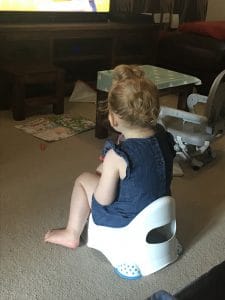 As the weathers been really nice I just let her go around the house with little or no clothes on. Trying to move clothes out the way and thinking about doing a wee all at the same time can be a bit much to start with.
At the start we rewarded Ava every time she did a wee or a poo on the potty . No matter how big or small it was she got a treat this made her really excited. I'm sure some times she would push a little one out just to get a chocolate.
For the first week if we went in the car I would pop her nappy back on . Only because she tends to still fall asleep in the car and I didn't want her to wet herself and wake up covered in wee . I didn't want it to put her off . So nappies it was whilst we were in the car or out for a long period of time . 9/10 the nappy would be completely dry. If we were out for a long period of time I would take a potty with me and kept asking her if she needed a wee. More and more she started to do things on the potty whilst we were out.
Ava hasn't for the last say 18 months ish done a poo whilst we're out . She generally only does them when we're at home or at grandparents houses. I don't know maybe she likes to poo where she feels safe . This though as a parent who is potty training is fab as I knew we wouldn't have any poo accidents whilst out. Which so far she hasn't had any poo accidents.
Into the second week of potty training I ditched the nappies all together apart from sleep times. I mean most of the time she wakes up dry but one step at a time.
She has done amazingly she has even asked to do a wee whilst at swimming. On numerous occasions whilst in the car she has told me she needs a wee. I have pulled over and she has done a wee In her potty at the side of the road.
To see her do so well just fills me with pride . I thought it was going to be a hard stressful time but she has done amazingly.
My top tips for potty training
Don't push them to do it before they are ready. Yes it may seem like they will never be potty trained and you want to ditch the nappies . If they are not ready to potty train they won't they will find the whole thing really upsetting.
Make it fun . Reward charts, treats what ever makes your little one happy. We did chocolate as Ava's a chocolate monster . When she has done particularly well like asking for a wee in the car . We have given her a bigger treat. Like a paw patrol blind bag or a hatchimal.
She does also like that we cheer after she has done something . She loves to be center of attention so this over enthusiastic response really makes her happy.
Let them be involved. From picking their own pants to flushing their wee down the toilet . Make it all about them let them have the paw patrol pants they love . They maybe less likely to wee on pants they really love. Ava loves to flush the toilet she gets really excited about this.
Let them decide if it's potty or toilet. To start with Ava much preferred the potty . It's great to have a potty in the car just incase they do need a wee when out and about. As she is getting more and more confident with potty training she is starting to use the toilet. We do have a Baby Bjorn toilet seat which is fab . As she feels so much more secure on the toilet.
Don't shout . Now this is the biggest thing don't make potty training negative. If they have an accident tell them it's okay clean it up and move on . Shouting or getting annoyed with them may set them back in their potty training journey.
Spares spares and more spares. You will need lots of spare clothes . Thankfully we have done potty training when it's warm. So it's been £2.99 dress from H&M everyday. check out our recent vlog to see what they look like.
Toddler wipes are also fab . They are as good as a baby wipe but you can flush them. Which is so handy especially if it's a messy one.
The most important thing is have fun with it . I have actually really enjoyed potty training Ava . I have felt so proud of her for doing so well so quickly . It's a lovely thing to watch her overcome. Although I am a little sad as this means she is no longer a baby.
How did you find it when you had to potty train your little one ?
*This post contains affiliate links*
Follow me on :