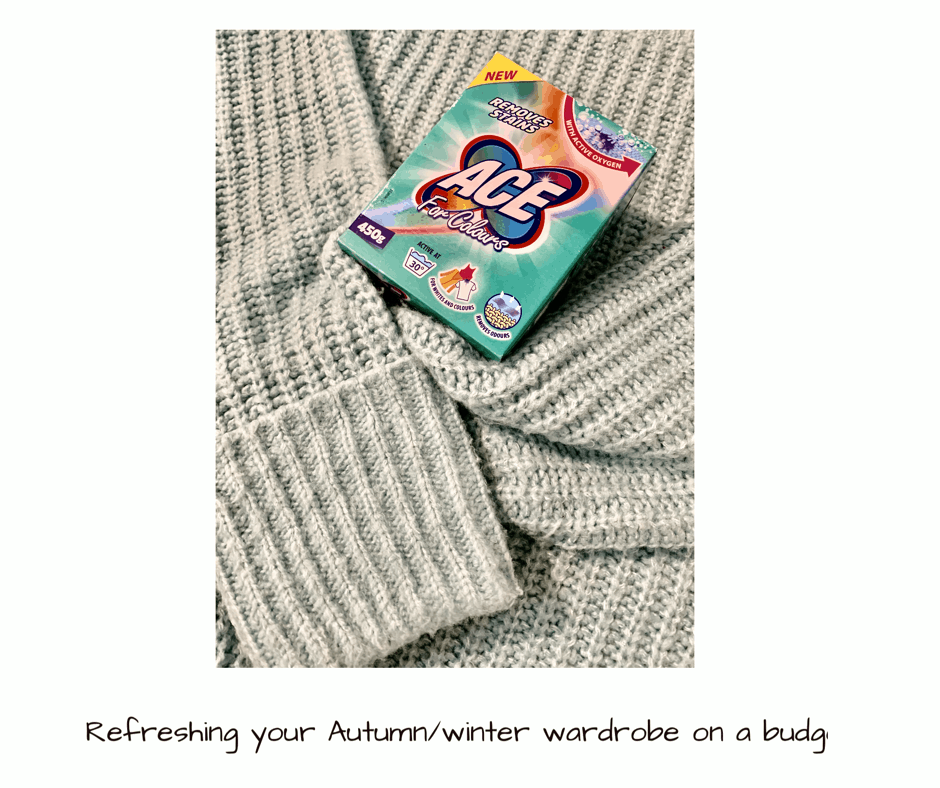 Bringing life back into my Autumn/Winter wardrobe with the #AceWinterRefresh Challenge
This post is an entry for the BritMums #AceWinterRefresh challenge sponsored by ACE for colours powder. Get help for all kinds of stains with the Ace Stain Helper http://www.acecleanuk.co.uk/ and pick up the range at your nearest Morrison's store or buy online on Amazon.
I don't know about you but I love the colder months mainly because of the clothes. I feel a more confident version of myself in my Autumn/winter wardrobe. There is nothing more comforting then a big knit jumper on a cold winters night.
Many of my clothes like most mom's I know are older than their children. They dig out the same winter clothes year upon year. A lot of mine were looking worn and needing a bit of love. So this year I have made a promise to myself that I'm going to inject a bit of life back into my wardrobe but im not going to spend a fortune doing it.
Charity shop clothing for an Autumn/winter Wardrobe refresh
Charity shops over the years have become my best friend. The things you can find in a charity shop really does amaze me. Especially near where I work as it's more of an affluent area the clothes tend to be more expensive brands. A lot of which have hardly been worn. Also I'm not one to have to be apart of the most recent fashion trends so having clothes that are " on trend" really doesnt bother me . I like what I like no matter if they are trendy. Also I am starting to be really conscious about being apart of the fast fashion scene. So buying from a charity shop I feel takes me away from being apart of that world.
I have recently been using the new Ace for colours on my charity shop finds to make them look fresh and look brand new. I was actually amazed with how they made the colours pop in the clothes I had got from the charity shops. I didn't soak them in the Ace I simply added it to my wash in the draw and used my usual washing detergent and put them on to wash.
Getting clothes out of storage
A lot of my winter clothes go into storage bags during the summer. They tend to come out smelling a little musty. So I always pop them on a wash after being stored. The Ace made them smell so fresh and brings them back to life.
I had noticed that when I packed away a few of Ava's winter things from last year I didn't do very good at checking if they were stain free. Normally stained clothes in our house get used for painting clothes or for when they go to forest school. As I dont mind them getting messy. I thought I would see if the Ace powder could bring out stains which have been on the clothes for at least 6 months. I wasn't holding out any hope really as that stain was well into the fabric.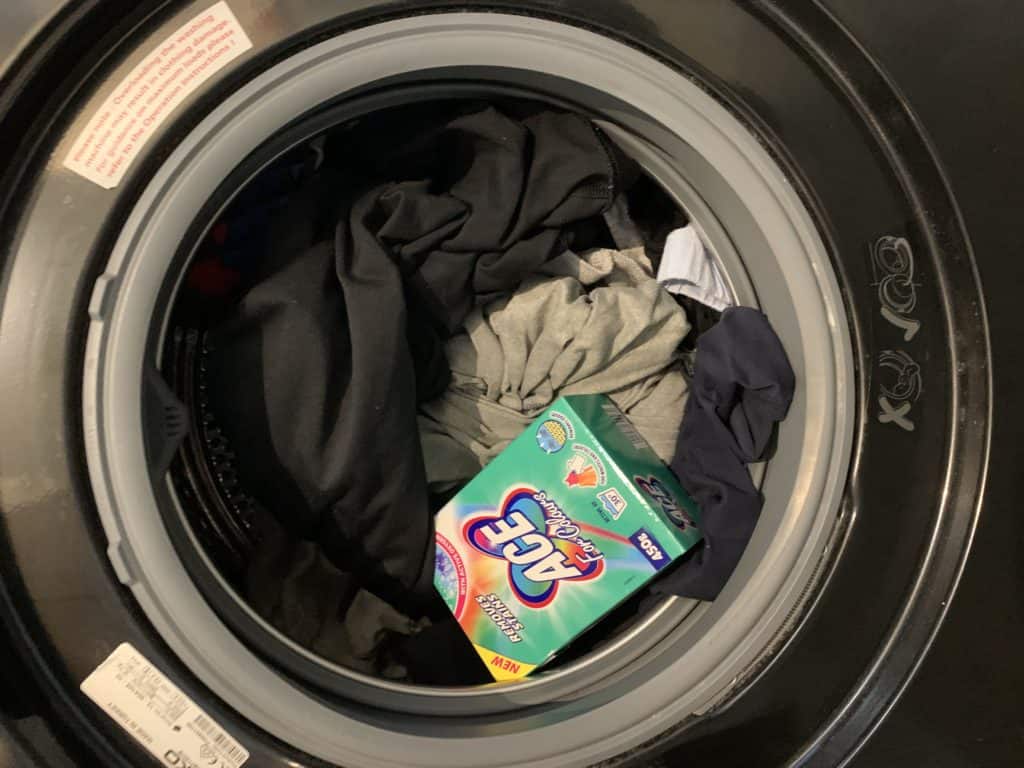 To my actual surprise it got the majority of the stain out. Like you wouldn't know it was there unless you were looking for it. This time though I did soak the clothes in the sink with the amount of Ace it said was needed on the back of the packaging.
I remember when I first had Ava my mom put together some bits I would need. Mainly things like nappies,creams,wipes. She did though include a bottle of the Ace liquid and since then it's been my go to for getting stains out of the children's clothes. Even those horrible baby poo's it gets out. It's something all parents need to have in their cupboard. It takes the stress out of stain removal I promise.
What I love about the new Ace for colours is that the packaging is 100% recyclable ! and it works on a 30 degree wash. Making it great for the environment. If you want to try the New Ace for colours out for yourself then head down to Morrison's or buy it online on Amazon.
How do you normally refresh your Autumn/winter wardrobe ?