Having children is bloody hard , even if your one of those carefree parents from time to time it's got to be stressful. As soon as I had Alby I had people asking me if I was having anymore . This time I felt so different I knew I was done after two . I didn't and still don't now feel like I want any more children.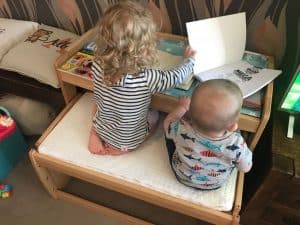 I have found going from one to two harder than I expected. Ava still wants all the attention and finds it hard at times when she doesn't get it. This normally results in a temper tantrum . Which I completely understand why she is doing it but gosh they are draining.
Alby is such a hard baby as well I think if I had had him first it would've taken me a long time to come to terms with having a second. His just in to everything and constantly wants me . Ava was never like this as a baby she just got on with things . If I told her not to touch something she wouldn't . Alby is the complete opposite people tell me it's boys and that once they get to a certain age they won't want to know you as it's just not cool. So I suppose I should make the most of it.
I just honestly don't think I would be able to cope with anymore children . I was a great mom when it was just Ava . Then Alby came along and I like to think I'm a good mom . Room for improvement maybe so I worry if I have more kids I would become a rubbish mom . I struggle with being able to split myself between the two of them equally . I hate to admit but sometime it does end with me getting stressed and shouting . Not something I'm proud of but I'm human it happens to the best of us .
Then there is the cost of having children . They are not cheap at all and they are constantly needing something new. At the moment I feel like I cannot buy Alby clothes quick enough as he just keeps growing out of them.
Plus I would never be able to return to work as childcare is just so expensive. We're just about doing it this time but if we had another child there would literally be no point in me working. Which I really wouldn't want to happen as I like going to work.
We would have to stretch every last penny and not have the nice things we do now. This is a life we have become accustomed to and if I'm honest I like living like this. Don't get me wrong I do count the days down until payday as I have £10 in my bank to last me a week. But it could be worse a lot worse.
Plus I would never get any time alone ! I don't really get any me time as it is. I have found people are more than happy to have one child off you but two is a bit much . So I'm guessing the chances of someone looking after three kids for me is slim !
I will say though fewer people have asked me this time around if I'm having more . It's as if people just assume after two that's it . I guess most people do only have two children now.
Are you the same as me did you know your were done ? Or did you think you were done then went on to have more children ?
Follow me on :