Adding some colour to your garden during the winter months
We have recently put our house up for sale. So we did a few jobs in the house that needed doing to make it look more appealing to potential buyers. This didn't really consist of much a lick of paint here and there. After doing the inside of the house we looked at the garden and thought it really wasn't up to scratch. We haven't really done much to our garden whilst we have lived here. What plants we did plant in the summer are now dead and don't add anything to the garden. Thankfully I came across this handy little guide from Sloane & Sons which highlighted easy ways to add some colour to your garden. I think that's what were missing from our garden some colour. So I thought I would let you know what I took from this guide and what I'm hoping to implement.
Install a bird feeder
Gardens can look dull during the winter months and adding a bird feeder can add that bit of colour straight away. Not only will you have a lovely new feature in your garden you will have some bird visitors.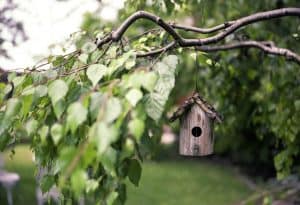 Add some colour with winter flowers
When you think of flowers you think of lovely summer days. The truth is that flowers are not just for the summer time, there are a great ;