Aska Maternity Movement bracelet : Review
Near the end of my pregnancy with Ava I was in an out of hospital a lot with reduced movements. It was such a scary experience. Thankfully as soon as I got on the monitor at hospital she would always wriggle around and I felt like I could breath again. I would always worry that the nurses at the hospital would get sick of seeing my face. Which they didn't of course they were always so reassuring and lovely.
It's only been just over 2 years since I was last pregnant and the different products that have come out in that time are so different to what I had during my last pregnancy. One of the brands I have been made aware of is Aska. Which is a maternity movement bracelet. This is something so new to me but something I wished I would of had when I was pregnant with my two.
I have very kindly been sent one of the Aska maternity movement bracelets to review and share with you. As I'm not planning on having any more babies. I'm going to run a giveaway for the bracelet I have been sent. As I want it to be used for the purpose it was made for. Although it is a beautiful bracelet to wear after the pregnancy days.
How to use your Aska Maternity Movement Bracelet
Every design of the Aska bracelet has a pearl bead which is known as the starting bead. Each morning you need to ensure that your movement counter bead is next to this pearl bead. The counter bead is the loop of clear beads with a charm hanging from it.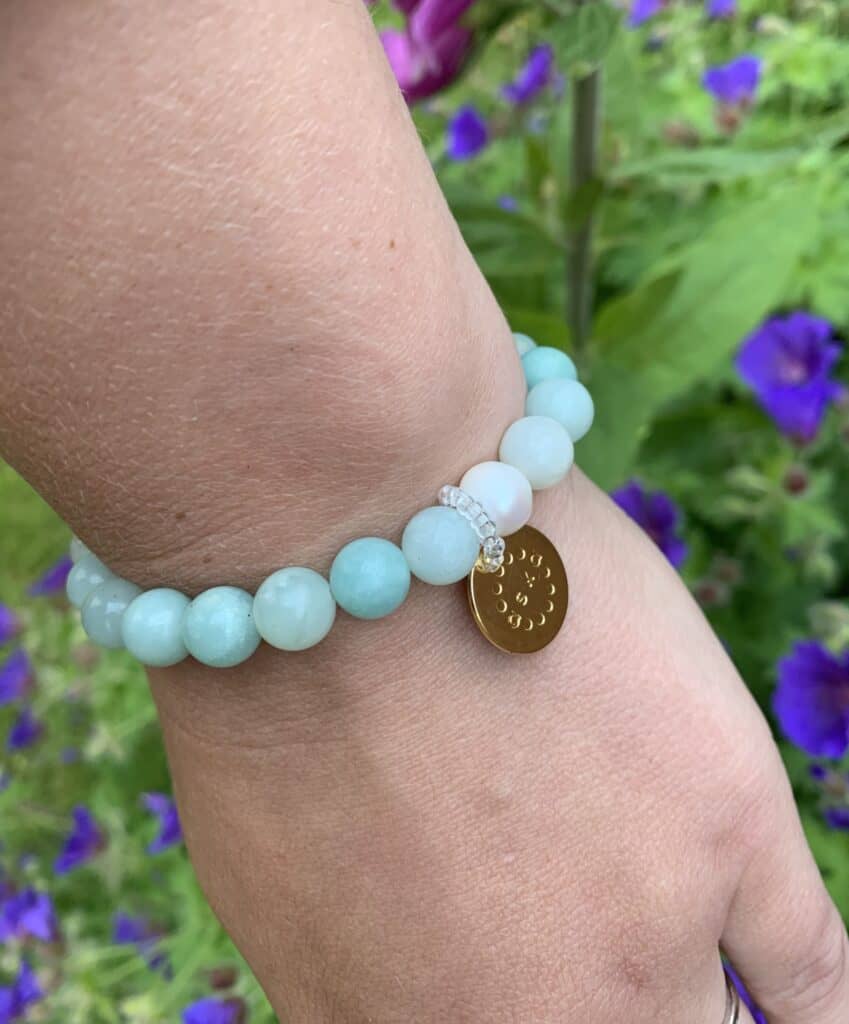 For each period of movement you need to move the counter bead over the next bead. I did find to start with the counter bead was a little tough to get over the beads. The more I tried it though the easier it became I'm presuming it just loosed off a little.
The more you use your Aska bracelet the more you will get to know your babies normal pattern of movement . So when I was pregnant with Ava she would always move around after meals, also a lot in the evening but she would have a less active start to the day. This was normal for her. Using the Aska Maternity Movement Bracelet enables you know what your babies normal pattern of movement is. If you notice a change in their pattern of movements then call your triage unit, consultant unit or your local midwife unit. Also it's important to note that every babies pattern of movement is different. My two were very different in their movements.
Using the Aska Maternity Bracelet after birth
Now this is something I could of done with for sure. Especially in the early days the Aska bracelet helps you to count feeds if your bottle feeding. So for each feed move the counter bead over a bead. That way you will be able to see from looking at your bracelet how many feeds your little one has had in that 24 hour period. A question you will get asked a lot by health professionals during the first few weeks/ months of having a baby is how many times do they feed. Which can be hard to remember especially if like us you feed on demand. So the Aska bracelet can help you to keep a count of these feeds.
Using the Aska bracelet as a breast feeding aid
You can use your Aska braclet as a breast feeding aid. you can move it from wrist to wrist so you can remember which side you fed on last.
Even once your children are no longer babies and you dont need to wear the Aska braclet to keep a count of movements or feeds, It can be worn as a lovely piece of jewellery. It comes in many different colour stone beads. Each colour of bead also represents something different. So for instance the Aska Amazonite bracelet shown in the pictures above the amazonite stone has been known as ' the stone of hope'.
You can also have the charm in either sterling silver or gold plated sterling silver. Which you could get engraved with your babies name after they are born.Which I think is just adorable.
Where to buy the Aska Maternity Movement Bracelet
You can purchase the Aska Maternity Movement Bracelet from their website for £30.
A little bit more information about the Aska movement bracelet
The Aska Maternity Movement bracelet was first developed in 2016 and in the early days was funded by the NHS. 1000 prototype bracelets were given to pregnant moms and the feedback was really positive and they were given the go ahead to be developed further. Now the Aska bracelet can be purchased worldwide with a percentage of the sales given to the NHS Telford and Wrekin clinical commissioning group.
As I said right at the start of this review. I am not going to be having any more babies and I really don't want this bracelet not to be used for it's intended purpose. As someone who has had reduced movements with their baby I wanted to share this amazing product with you all. So I am going to host a give away where one lucky person will be the winner of the Aska Maternity Movement bracelet shown in the pictures above.
Terms and conditions
The winner will receive the Aska Maternity Movement bracelet shown in the pictures above.
UK entrants only
No cash alternatives
The winner has 30 days to respond to the email before I will redraw.
Aska Maternity Movement Bracelet