Why is my baby blue around the mouth ? 
When Ava was very little we started to notice she had a blue ring around her mouth, I started to worry I mean why is my baby blue around the mouth surely it's not normal . Maybe she was cold ?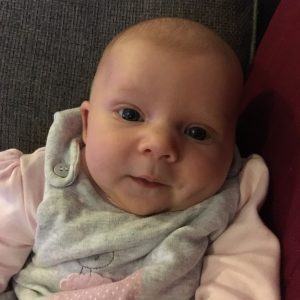 After speaking to my health visitor she assured me it was nothing to worry about . That in fact the blue ring around her mouth was due to her having wind . How right she was . We found that if we got her to bring her wind up then the blue ring would go . Don't get me wrong we did wind her during feeds but she must not of brought it all up .
Ways to bring up a babies wind to prevent them having a blue ring around their mouth
The first way we would try was to gently rub or tap her back . We would do this is two different positions . The first would be to pop her over our shoulder . Word of advice make sure to have a Muslin over you shoulder !. The second would be to sit her up and support her under her neck . She much preferred the second way and we found it more successful.
We did also do some massage techniques to help her which,involved rubbing her tummy in circular motions .
Lastly we would move her legs as if she was riding a bike . This we also found was very successful .

It can be such a worrying time being a parent. You just have to remember your doing your best . Also that there are people around you to help . Speak to your family or friends or even your GP.