Please stay a baby for longer, i wont rush you to grow up i promise
I remember when Ava was little I couldn't wait for her to reach the next milestone . Be it rolling , walking or weaning . When it comes to Alby I want him to stay a baby for ever . Well not for ever but you know what I mean.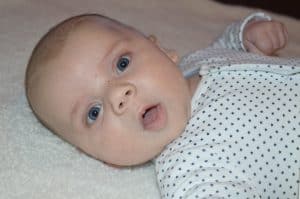 When we had Ava we knew we wanted another baby. Now I have had another baby I know I don't want anymore . I'm so lucky to have two children it makes our family complete . I just don't see us having anymore. Hence the reason I want Alby to stay younger for longer . I want to make the most of his baby days . This makes me sad though because I feel as though I didn't feel the same with Ava.
As we have quite a small age cap between the two of them Ava has had to grow up pretty quickly. She was in a big girl bed earlier than I probably would have done if I wasn't pregnant. It was the best thing we did though . As she sleeps so much better in her bed then she ever did her cot. She has had to learn pretty quickly that she has to wait for things and that I'm not able to help her as quick as she would like me to. I just thank god she is an independent little miss as this would have been so much harder.
It's little things like when Ava falls asleep in the car and wakes up a little upset . She has to walk to the house . It's not far but all she wants is for me to carry her but because I have to carry Alby and the bags I just cannot manage to carry her as well. Which does make me wanna cry a little as she's only two she is still a baby. This is something I forget and do have to remind myself at times.
The other reason I don't want Alby to grow up quick is because . These baby days are so much easier than when they are on the move. I really took this for granted with Ava . I know I can put him somewhere and he won't move . I can put something on the floor and he won't walk off with it . In Hindsight the early baby days are a walk in the park . Compared to a stroppy toddler and boy I have one of them !!
This time around the thought of having to do weaning again I'm not so excited about. It was pretty easy with Ava and I'm not sure it's going to be that easy with Alby. already I can tell he has a different personality to Ava. He is more clingy and if he cannot see me he kicks off. Where as Ava really and still isn't bothered.
I also think first time around I felt that competition between parents. You know the one ' well my child did this at this age !' . I didn't want Ava to be the only child that wasn't doing something by a certain age. This time around I really don't care what others think. I have gotten such a thicker skin since having Ava. I think blogging has helped with that as most weeks I tell you all about our life and there's going to be someone who doesn't agree with what I'm doing. You know what though I don't care what joe blogs thinks down the road. I used to but not anymore as long as my kids are happy I'm happy.
So Alby please take your time growing up don't rush to be a big boy please . I'm going to make the most of every moment and make sure I don't push Ava to grow up faster than she needs to.
Did you find the same when you knew your last baby was your last ?