Barefoot coaching cards review and #yougotthis blog tour
I have recently been sent some coaching cards from the Barefoot company. These cards enable you to think about your experiences as a parent and talk to people about what it is your experiencing. These cards don't have to be used everyday but can be dipped into from time to time. The cards are designed to be used through the first year of parenthood and then through into the toddler years. These cards come in a pack of 50 question cards and 2 information cards and are priced at £15.
How to use them
All you have to do is pick a card at random or a particular card that may be relevant at that time in your life . Then start an open discussion with your partner. These cards provide the opportunity to talk honestly to each other. You may find a solution to situations that are occurring or praise each other for the positive things that may be happening.
Lets try a card out
I thought the best way to review these cards are to answer a question. I will give you my honest answer to the question I picked.
Life has changed completely changed since having Ava. I used to be able to do what I wanted when I wanted . I loved my routine of going to work and knowing what to expect to a certain extent what was going to happen in my day. Now I have to plan my day around Ava to when she may be wanting a sleep or a bottle . Now you will very rarely see me out the house past 5 o'clock on a evening. As I don't want Ava to fall asleep in the car. Sleeping past 4 o'clock is banned in our house !.
emotionally I have done a big U-turn in many different aspects. Before having Ava I wasn't too emotional now I find it hard to watch Britain's got talent with a child performing and not cry. I'm not sure if this is due to the lack of sleep that I am more emotional or because I understand the pride there parents must be feeling.
Also before having Ava I would let things wind me up and could at times be very angry, normally this would be taken out on Jordan ( sorry Jordan). Now I think I have mellowed a lot I don't let things get to me as much. I let things go over my head a lot more as I think what's the point !. I however do find I worry about a lot of thing mainly what other people think about how I am bringing up Ava, Especially as todays world is such a judgmental place. I always worry about what branded items I by for Ava. How I have chosen to wean her and what others expectations are.
Even with all of this I would change it for the world . I love being Ava's mommy and it cannot be that bad as I would like to have more.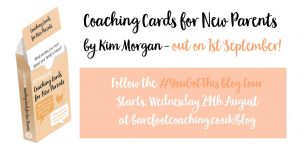 Where to buy these cards from
Coaching Cards for New Parents by Kim Morgan will be available to buy from 1st September at http://bit.ly/CoachingCardsforNewParents. Or for more information on the Barefoot's Coaching Cards range visit their website .Or check them out on twitter or Instagram.
Want to know what others think about the coaching cards. Then be sure to follow the blog tour and keep an eye out for the hashtags #yougotthis and #coachingcards. Next up on the tour is Jenny from Mum in practise and her post will be live Monday 29th.
*I was sent the coaching cards for free in return for an honest review. All opinions are my own*