Our fun day out to Birmingham Sea Life centre
Since Ava was little i wanted to take Ava to the Sea Life centre . I personally think it's one of those places you have to go to as a child . It's like a right of passage into adulthood.
We're really lucky that we only live about half an hour away . So we jumped in the car and drove there .There are so many places to park near by that we knew finding a parking space wouldn't be too much effort.
In no time we arrived , I had pre ordered out tickets online and I also had a 50% off voucher from work . Meaning that the tickets for two adults and one under 3 was £21. Which I think is fantastic in fact you don't have to pay for children until they are over 3. So I can see this will become a regular place to visit.

I really liked the fact that everything was accessible for Ava . She was able to independently look at all the different things . Meaning she could be the big girl she wanted to be. So we popped on her very apt fish reins and off we went to explore.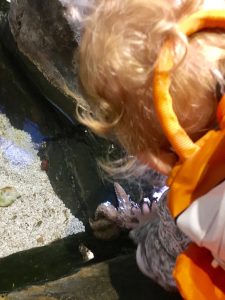 There was even a little pool with starfish in which you could touch . I really didn't think Ava would be that interested in this but how wrong I was . She was straight in there stroking it saying Ahhh.
Ignore my laugh on the end but this video really makes me chuckle . There were sections where you could walk through a Perspex tunnel and have the fish swim around you . Well Ava after the 100th time of walking through it must of thought a fish was coming to get her !

You really do get that up close feeling with all the creatures it's great . I lost count how many times Ava shouted WOW as she ran to the next thing to look at. It really is a great place to visit with loads of things to see .For older children there is also a activity they can do which involves them looking for things all the way around.
I wouldn't say it is a place that would take you all day to explore but you are able to return in the same day. So like us you may go to lunch at one of the restaurants close by and then return afterwards.

Of course no day trip out would be complete without a trip to the gift shop. Where of course Ava took to cuddling all the soft toys in there looking very cute . In the end she went for a little shark which she finds funny to pretend that it's eating you.

She was even given a little extra something from the cashier lady in the gift shop. It was a medal to remember her day by which I thought was a cute little added extra.

So all in all we had a great day at the Sea Life centre and I'm sure we visit again. There are so many different Sea Life centres across the UK why not see what one is closest to you on their website.
Want to see what someone else thought of the Birmingham Sea life centre then head over to Mummy to Dex.
Or maybe your spending a few days in Birmingham and are looking for something else to do . Then you need to go to Cadbury world take at what plutoniumsox thought of Cadbury world Birmingham.