Making a start on Christmas shopping early
I know some of you will be reading this and think what ! It's still the 'summer' but the thing is sorry to say Christmas will be here before you know it . I normally am one to be quite organised for Christmas but seen as I'm due December 5th I'm having to be that little bit more organised. The last thing I want to worry about is having to sort all that out . Plus it's Ava's birthday the 1st January so it can be a very expensive time for us .
I have found spreading the cost over a longer period of time really helps . I have tried to buy one or two people's present each month. Or at least have in mind what I'm getting for people. So this way I don't notice the money going out my bank as much and pre planning means I don't just frantically buy presents.
Ava's nursery have really helped me with presents this year as they have the photographer in and a pottery company . So I can literally do all the adult presents with one order from nursery. So any close family and friends you best be happy with a picture of Ava as that's what you're getting !
I have been watching the sales like crazy the last few months. As more and more of my friends have children the more toys and kids presents I have to buy. Now this can get really costly but I have taken full advantage of the summer sales this year. I have recently found a Facebook page called Extreme couponing and bargains UK. I have become a little obsessed with it if I'm honest . What happens is people post their bargains on this page, things that are sale or just items that are scanning at a lower price . Then you can go and bag yourself a bargain . If you have ever watched extreme couponing on telly it's like that people are so passionate about it and really get in to it . If I lived in America I would be that crazy coupon women though with a huge stock pile.
So this year what I have done is made a list of all the people we buy for . Then when I have brought it I have written what I have brought next to them . Then crossed them off with a highlighter. I love a good list and crossing things off makes me feel like I'm getting somewhere.
I'm hoping by the end of October I will have all presents brought to be wrapped in the first week of November. During this time im also hoping to get Ava's birthday presents sorted but I'm really needing some inspiration with this. So if you have any ideas of presents for a two-year old please pass them my way.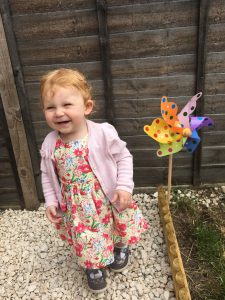 A picture of Ava for inspiration