Eczema treatment during the summer months
The summer is here which means you're getting hot and sweaty and putting sun cream on your skin. If you have eczema this can cause you some irritation. Ava can get really dry patches of eczema which can become really sore and bleed. I find it gets worse when she is hot. So with the weather being so nice, I'm making sure to take extra care of her skin and do additional things to prevent her skin from becoming sore.
1. Moisturise
We use QV cream on Ava daily to make sure her skin isn't dry and to keep onto of any area that may need some extra attention in order to repair. I also make sure I have some QV cream in the changing bag so I can give her skin a top-up if needed.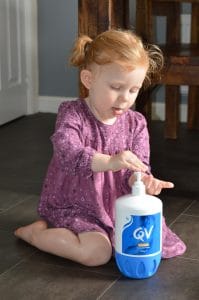 The reasons why we love QV cream are
It's free from irritants such as SLS,
Free from fragrances, Colour, And propylene glycol,
Doesn't block pores,
Is suitable for all ages,
It's also one of the only creams that actually work and leaves her skin feeling amazing.
2. Choosing the right sun cream
Many sun creams that have a tropical smell may smell nice but they really don't help with eczema-prone skin. It can actually dry them out. I have searched for ages to find the right sun cream for Ava. I have tried all the top brands and even supermarket ones. None of them has been overly great. That was until we tried SunSense.
A little more about SunSense products
They are rated at the highest UV protection available in Australia and is suitable for all ages and skin types,
They are formulated using the highest quality ingredients,
Broad-spectrum to help protect against UVA and UVB radiation,
They are free from para aminobenzoic acid derivatives and Lanolin
They contain physical blockers and/or chemical absorbers formulated to deliver the highest level of sun protection.
The best thing of all for me is that Ava's skin hasn't reacted at all . If anything it leaves her skin feeling great. The cream itself is really easy to apply. Even in this beautiful weather, we're having she hasn't burnt.
I do make sure to apply it 20 minutes before going outside and reapply every two hours. I did learn through from reading information on their website that waterproof sun cream doesn't exist. So I have been extra vigilant when she has been playing in water.
3. Clothing
Make sure to think about the clothing you're putting on yourself and your little one in the mornings. Loose clothing that allows airflow is best. As it allows airflow meaning that you won't get as sweaty. Which can irritate the skin.
4. Avoid heat
Yes, the weather is lovely but make sure you keep a check on how long you're in the sun. I don't know about you but when it's hot my skin dries out so quickly. So I make sure to limit how long I'm in the sun so mine and Ava's skin doesn't dry out. Also limiting the amount of time outdoors can reduce sweating which may aggravate dry skin.
5. Warm baths
Making sure not to have bath water too hot can help as the hot temperature can dry the skin out. Also making sure not to stay in the bath too long. Also parting the skin dry after a bath is kinder on the skin. Rubbing dry can make the skin sore.
As I do with sun cream I make sure that our bath products don't have any nasty chemicals in them. Also, I have found bath products with a strong fragrance over time can dry out Ava's skin making it very sore.
Recently we have been using the QV Gentle wash as I have found this to be the best. It keeps her skin full of moisture and doesn't strip the natural oils in her skin. I also take a sample bottle of this in my changing bag as it makes a great hand wash. As Ava is now potty trained she is washing her hands more and this can be very drying. So keeping this in the changing bag means I can get it out when she needs to wash her hands.
Generally taking better care of the skin and using products that don't contain any nasties will make sure a difference. This is why we use products like QV and SunSense.
If eczema is something that is getting you down and you would like someone to talk to it. If you're looking for some advice or support. Then you need to check out the A hand to Hold campaign by QV skincare. They are there for you so why not take a look. Don't let eczema get you down they are there to help.
What are your top tips for helping to keep eczema at bay? Or what are the best products you have found?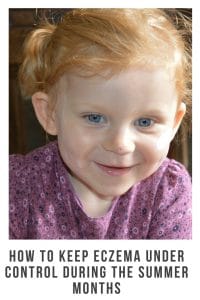 *We were sent both the QV cream and SunSense sample shown above for free in return for inclusion in a post . All opinions are my own *