Essential tips for going on holiday with your baby
In collaboration with Emily J
Travelling with babies may bring up some concerns that a lot of parents can relate to. The things you might worry about are normal, but at times we tend to worry a little more than necessary- and these concerns definitely aren't reasons why you should miss out on a great holiday! Just because you have a baby with you doesn't mean that you can't have a really relaxing holiday that will be enjoyable for both your baby, and you. Lots of questions come up before your departure (and even more while you're organizing it), but you must be reassured that all of the questions have answers, and the most important ones are answered here! So relax, know that you are still capable of great holidays with your baby, and start looking for your next destination!
Keeping them Happy
Happy baby, happy parent- right? While holidaying, one of the most important things that will keep you sane and relaxed during the travelling period is your baby smiling and playing. Crying babies are not that much fun, especially when you're on the road and surrounded by other travellers. First things first, make sure you and your baby get a good night sleep before your departure the next day- it won't do you or your baby any good if you're grumpy and tired. Next off, make sure you bring your baby's favourite toys and a couple of new ones too; anything shiny and/or noisy will do the trick. Bringing along a tablet to watch something, and letting your little one eat when they're hungry even if it's a little out of the routine are also ideas to keep them happy- you don't want a grumpy child with low blood sugar if you can help it. You can find lots of tips online about flying with a small baby to help you prepare a little.
The Importance of Accommodation
Just like the way you get there, where you stay is also important for your baby's happiness. Staying in a villa is a great idea for any families travelling with a baby. Being able to enjoy the comfort of staying at your own place for the vacation means that you can enjoy many of the same comforts you have back home. You won't have to worry about other guests complaining about a crying baby during the night, and with your own kitchen feeding time and keeping them in a good routine is much easier. IF you travel to a country where you can buy local produce and delicious food at a low cost, you will save money cooking for yourselves at home and having a few treats one in a while. Countries such as Greece or Italy are ideal for this kind of villa rental, and there are companies such as Wishsicily in Italy who can provide you with a locally owned Sicily Villa. You can decide just how simple or luxurious your accommodation will be, and the price you are willing to pay.
Packing
When you're thinking of what you could possibly need (and even what you don't) try and think simple and direct. You definitely don't want to over pack, nor forget something important. A good way of understanding what you need is thinking of the holiday from a day-to-day point of view. Try and think of the situations you and your baby could possibly be in, and what you might need on such occasion. You might realize that some items you will need more of, and that they can substitute another item as well. Think straight and start from your basic necessities, like: bibs, nappies, bottles, tissues, formula milk, toys, and don't forget sunhats and sunscreen!
Remember you will be able to buy things while you're away too unless you've chosen a very remote destination- which I would advice when travelling with a baby anyway. Writing a packing check list or finding a checklist online will help you to stay organised and sure that you don't forget something.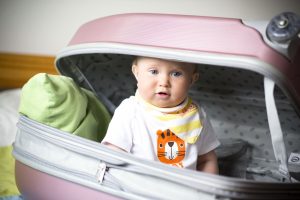 Travelling by car or plane
Whether you're travelling by car or plane, each one has its own method on keeping your baby happy in each. In a car, you'll want to secure that your baby is comfortable in the car seat, and that you can easily turn around towards him/her. Toys can be lifesavers; so the more you have the more distractions you'll be able to give your baby. Where you can bring more toys in a car, the plane is more difficult in that respect. However, even though you might not have that many toys on the plane, you have more mobility than the car. Your baby will be happy if you walk up and down the aisles or let him/her kick their feet about once in awhile by carefully laying them down!
Of course holidays are different when you have a family with you, but seeing your child paddling in the sea, or taking gorgeous photos of them in a new sunhat in a beautiful destination are all worth it. Plus who needs a holiday more than new parents? So why not take one while your baby still can't move around too freely.