7 free or cheap activities ideas
Even more so this year I feel that I want to provide my children with a fun summer holiday. The only problem is that days out cost a lot of money and like many people, money may be a little tighter this summer. We are hoping to take the children on a few bigger days out during the summer holidays, but there will be days where I just need some free or cheap activities to do with the kids.
For me planning in advance means that I have a selection of different activities I can call upon. It means that when the kids start to moan they are bored I can easily pull out an activity for them and hopefully stop any meltdowns from happening.
7 free or cheap activities ideas
1.Colour hunt
Head down to your local DIY stores like Homebase or B&Q and pick up some of the paint colour cards. Try to pick ones which you think your children will be able to match the colour too. Then head down to a local park or wooded area and give the kids some colour cards. They then have to go searching for items that match the colours on their cards. You could even keep the things they find to take a picture with once you get home.
2. Nature paint brushes
All kids love painting but it can all be over so quickly and you can be left with a big mess to clean up. So why not get them involved with making their own paintbrushes. When your down the park or on a walk get the kids to pick up some leaves and sticks they would like to make into paintbrushes. You will need to attach the leaves to the sticks using string Then you can use them to paint with. If paints not your thing then give them a pot of water and get them to paint the paving stones in your garden or on the fence panels. What's even better you don't even have to clean the brushes afterwards you can pop them straight into the bin.
3.Team sports
Sometimes enrolling your children into sports programmes during the school holidays can be expensive. However, you could just grab yourself some of the equipment pretty cheaply and head over to your local free tennis courts. Or even just a local field if you don't have a tennis court. Tennis HQ has some great starter kits and who knows you may have the next tennis star in your family.
This is a sport that can be enjoyed by children and adults of all ages. Maybe you could get a few families joining in with a team sports. Come together and have some fun, bonus if the children play together for a bit letting you sit back and take a moment.
4. Litter Picking
Now, this may seem like a strange thing to put on an activity post, but my two always comment about litter on the paths. Ava talks about it a lot and about how we need to make sure we use the bins or take our rubbish home. I feel It's important that we all do our part to keep our planet clean and safe for our animals and for our children. So we need to make sure that we teach the younger generations about how important it is.
You can go on your normal walks and see how much rubbish you can find. Or go on new adventures and take your litter picker along with you.
If you are wanting to do more activities that teach children about environmental issues then head over to Emma Reed's blog where she has 12 great activity ideas.
5. Paper boat engineering contest
Each member of the family will get the same boatbuilding materials Things like paper, card, paper and anything else you think may be useful for boat building. Then give them an allotted time to make their boat. If you have older children each parent or adult may want to support younger children.
Once you have all built your boats it's time to set sail. You just then need some water, so this could be a trip to some local ponds or water source just as long as you can get your boat back at the end. Or fill the paddling pool with water for your boat race. Then see which boat travels the furthest in the natural breeze.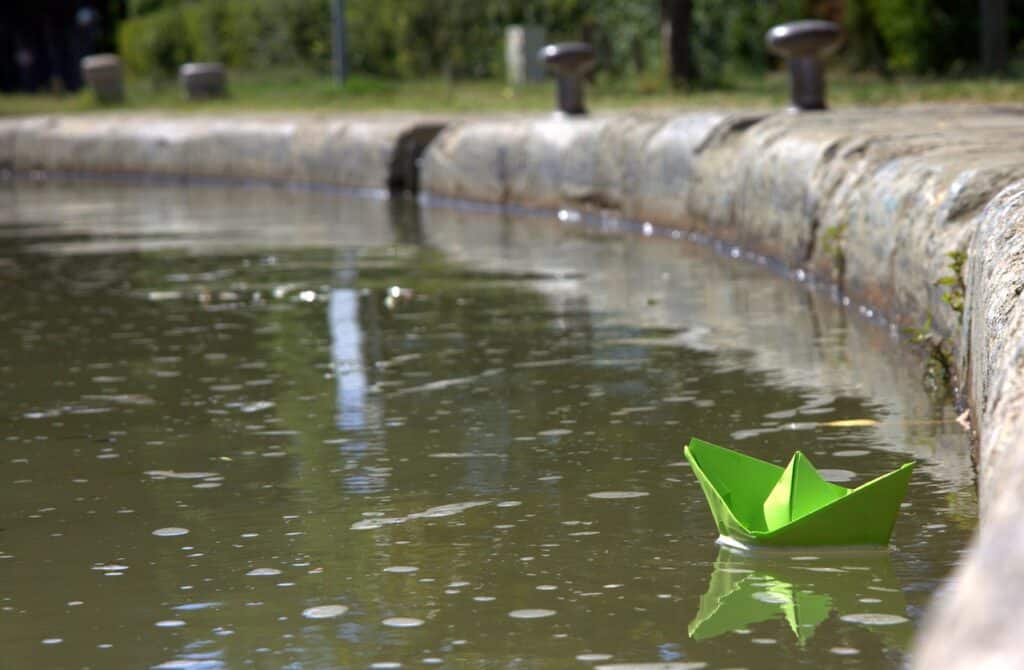 For younger children, you could also make this into a sink/ float activity. Collect a range of different items like penny's, stones, marbles, cotton wool etc. then ask them to guess if they think their boat will sink or float if these items are put in their boats.
Paper aeroplanes are also another good way to have a little bit of friendly competition. Again give everyone the same materials to make their aeroplanes. Then see who can get their plane to go the furthest.
6.Make your own movie
My two love acting out things they have seen on telly or make up different scenarios. You could take this one step further. Start by making a storyboard, so what would they like to happen in their movie. Younger children will need fewer scenes to act out whereas older children may want more.
Once you have your scenes decided them look at what their characters may need to wear. Do they need any props to make their movie come to life.
Then it's time to act out their movie. You could even record it for them to watch back or so you could send it on to family and friends for them to watch.
This is one of those activities that you can make as simple or as complex as you want. See how engaged the children are and let them plan where this activity goes and just go with it.
7.Build a back garden obsticle course
My two love competition and a timed obstacle course is something that is really up their street. I just go into the garage and see what random things I can find in there to make an obstacle course. Like when they get to the hula hoop they need to hula for 5 seconds and then jump inside it to the count of 5 then move onto the next part.
You could do this as a team or as individuals. We generally work as teams and take one child each. It's as much fun for the adults involved as well as the children.
I know the summer holidays may feel like a long way off but they will be here before you know it. Making some plans now for things you can do will make it easier when the summer does come. Activities don't have to cost a lot for them to be fun so I hope these free or cheap activities help you out this summer. Or maybe just anytime you need an activity idea.
What are your favourite free or cheap activities to do with your kids?