Graduation cards with Basic Invite
This is a collaborative post with Basic Invite
You may have seen 2 years ago I graduated from university. It was lots of hard work but so worth it. Whilst completing my foundation degree I was pregnant and had a new baby to look after. I then went back in September 2016 to top up my foundation degree to a full degree. Me being me cannot just do one thing at a time I got pregnant again . I did it thought I completed my top up and my graduation is in July. I'm not going to go sadly as I don't have the childcare and taking two kids with me to graduation would be just too much hard work. I have been thinking maybe I should have a little party with all the people who made it possible for me to go to university.
Without my parents and Jordan I wouldn't have been able to do it. My mom had Ava each week so I could attend University and Jordan took care of Ava in the evenings and some weekends so I could get my work done. So a little party to show my appreciation would be nice. I have recently been shown these thank you card for graduation. They would be great to write a personal message to each person that helped me achieved what I did.
I'm not one to be centre of attention really so I wouldn't want to have a massive graduation party. Even going to my first graduation was very overwhelming for me. Going onto a stage to accept my certificate was horrid. All eyes were on me and I just felt so self-conscious. So a small party would be lovely just to say thank you. I could even go and get some senior graduation party invitations made. Make it seem more like a celebration of my achievement than just a normal meet up with family.
A lot of my friends who will be graduating the same time as I should be are so excited for it. They cannot wait to walk onto that stage and collect their certificate. I can completely understand why , why shouldn't they be excited. We all worked so hard for it. Most of us were parents and also worked full-time. I was showing one of my friends who is graduating at the same time these senior invites. She really liked them and said they would be a great thing to keep as a memory of the day. As it will have the date time and venue on it.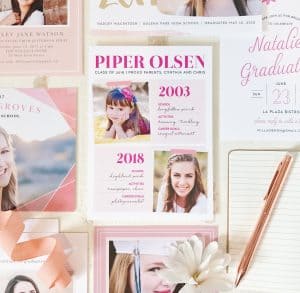 Want to know a little bit more about basic invites and their products before you buy well take a look at this
Almost Unlimited Colours – Basic Invite is one of the few websites that allows customers almost unlimited colour options with instant previews online. Once you select a design you can change the colour of each element on the card to over 180 different colour options so you can make sure the card is exactly how you want it down to the littlest detail. This is what we feel sets us apart from almost any other online stationery company and is what we feel is our biggest draw.
Custom Samples – Basic Invite is one of the few websites that allows customers the ability to order a printed sample of their actual invitation so they can see exactly how it will print as well as the paper quality before they ever have to place their final order.
Over 40 Different Colours of Envelopes – Basic Invite is just as colourful with our envelopes as we are with our invitations. Customers can choose from over 40 different colours when it comes to their envelopes. So that they can make their invitation stand out even before it is opened. All of our envelopes are peel and seal so the envelopes can be quickly and securely closed.
Address Capturing Service – Basic Invite offers an address capturing service that allows customers to simply share a link on Facebook, Twitter, Instagram, or any other form of social media. To request their friends and family's addresses which will be stored in the customer's account and can then be selected during the design process. Basic Invite offers recipient address printing at no cost on all Christmas card orders.
Foil – Foil cards are available in gold, silver, and rose gold. Customers can choose flat or raised foil on all of Basic Invite's foil designs.
Right now Basic Invite is offering 15% off with coupon code: 15FF51
Graduating is such an amazing time it does need to be celebrated even if it's a party in the garden with your nearest and dearest.