Hoo Farm Animal kingdom the home of Shropshire's big cats : review
Hoo farm holds a special place in my heart. I have such fond memories of going there when I was a child . Me and my brother used to go with my mom's friend and her daughters who are now in their late teens !! I remember going around lambing season and feeding the lambs and holding baby chicks. There is a picture somewhere of me with a chick on my head .If i ever come across it I will show it you all .
So when I had a child I knew I had to take them to Hoo Farm. I just so hoped that It hadn't changed from those childhood memories. So yesterday we packed the car up and went on a short half an hour journey to Hoo Farm Animal kingdom in Shropshire. Hoping for a day full of laugher and new experiences.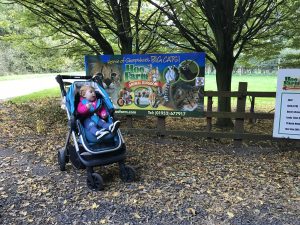 Considering it is out in the country side I though Hoo Farm was really well sign posted . When we got to Hoo Farm we drove down to the main car park to find it was full so we did have to turn around to go onto the overspill car park which was a 2/3 min walk away.
On entering Hoo farm we were greeted by some lovely staff. That gave us a leaflet and information booklet . Which contained all the show times and also a map of the farm. There is something going on literally every half an hour. You can get up close and personal with a wide ;