Inflata Nation Birmingham a bouncing good time : review
Whilst most of you were waking up on Boxing Day and deciding if to have chocolate or turkey sandwiches for breakfast. We were at Inflata Nation in Birmingham. We were very kindly given free entry in return for a review. Although we were given free entry my review is completely honest. 
Why Boxing Day I bet a lot of you are thinking . Well I knew I wanted to go to one of their Tots sessions which I will tell you more about in a bit . Also on Christmas Eve Ava was saying goodbye to her dummy so I thought it would make a nice treat .
What is Inflata Nation
Inflata Nation is a space packed with fun-filled inflatable activities. It's a place where kids can let off some steam and adults can just have a laugh at how shocking they are at climbing the obstacles.
Some of the inflatable activities are Inflata Drop which is a slide into the U.K's biggest ball pool. Inflata race which is a two lane assault course and Ava's favourite the Inflata which is a huge slide.
How to book
Booking is really easy. You simply head over to their website select which location you would like to visit ( Beverley, Birmingham,Cheshire,Glasgow Manchester) and select how many people you are wanting to book a place for. The price shown next to each age range is the price for a hour bounce. You can then if you wish to pay more for an extra hour. You will then be taken to another page where you can choose what date and time you would like to go.
Along the top you will also see that it says classes. Inflata Nation have some really fantastic classes available these are
Inflata Tots- This is a session for pre-schoolers where they can use the whole arena. You dont have to worry that their will be big children around that may be too much for you little ones. This session was particularly good for us a Ava could explore the main arena and we could also take Alby on with us. As babies in arms and non walkers are not aloud into the main arena unless it's an Inflata Tots session.
Disability friendly- These sessions are designed specifically for those children and adults on the autistic spectrum and their families. What makes these sessions different is that the amount of participants is halved and the music is turned down.
Grown-Ups only- want to bounce around like a big kid but worried you may knock a little one over. Then this is the session for you .Enjoy the whole arena without having to worry about little ones. This session is for aged 16 years and over.
Inflata Fitness classes- This is a class run by a fitness instructor that will guide you through each section of the arena. They will show you how to use each area and how to get the most out of it for you. This is aimed at all levels of fitness and the instructor will tailor the activities to suit you.
Our experience of Inflata Nation
Turning into the car park I was a little underwhelmed. Like a lot of these kind of places they are in big hanger type building. The outside didn't look inviting at all.
We got there at half 9 which was half an hour before our allotted time. Which on the website and on emails it says to get their half an hour before you session. So the staff can give you a saftey briefing and also check you in.
They did open later than half 9 which wasn't a major issue .As the kids were happy in the car but if they weren't so happy I could see this being very annoying.
On entering Inflata Nation I was impressed with how nice it looked inside. It is true dont judge a book by its cover. It was nice, bright and clean. We checked in with a member of staff who asked us to fill in a waver form. It did ask on the email to do this prior to going but I was unable to read the form they had on their website. Im not sure if it was my phone. Anyway we signed the forms and the member of staff just asked us to go and read the saftey notice . She also told us we could pop our things in one of the lockers ( The lockers are £1 which you do get back)
I was expecting if im honest more of a saftey talk. There were televisions and chairs in the space we were.So im not sure if they were meant to show us a video but they just didn't. It would of been nice for Ava to be able to watch a video as she is unable to read . So we had to tell her the saftey instructions.
As we were ready before our allotted time they allowed us onto the main arena early. We were actually the only people in the whole arena for the whole time we were bouncing. As we were leaving though it was getting busier .I guess if it wasn't boxing day people may be their earlier. We were just the one crazy family out of bed and ready to bounce around at 10 in the morning.
The actuall areana itself was fantasic it was so much fun. I think me and Jordan may have been enjoying it more than the kids. Ava though really surprised me with how brave she was. I mean Im not sure I would have gone down those slides when I was her age.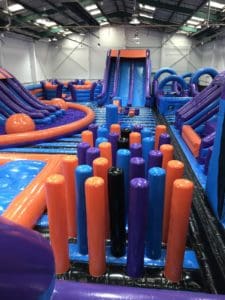 She tackled the assault course like a pro using the handles and the stepping stones like a pro. The more she did it the more confident she got and she was having such a great time.
The Floor it self was really slippy me and Jordan at times found it hard to stay upright. It was as if it had recently been polished or cleaned. I will say though that the whole arena was really clean. Which for me is so important as I find so many places for children can be a little grubby and it puts me off returning.
If you dont want to bounce their is a seating area where you can get yourself a drink and something to eat. So perfect if your taking older children that dont need you to be in main arena for them.
There is also a under 4's area which had a range of different things for little ones to enjoy. From a ball pit to a slide. Having seen how good Ava was in the main area .I think she would find the smaller under 4's area a little boring. So for me I wouldn't go to Inflata Nation unless it was to go to a Tots session so that Ava could go into the main area. The under 4's area however would be good for younger children maybe those that have just started to walk. We didn't take Alby into the under 4's section as adults aren't aloud into the area.He wouldn't of wanted to stay in their without us. So I suppose it really depends on how your child is to if this younger area would be a good fit for your child.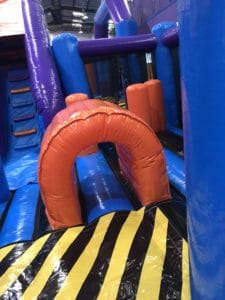 Our overall thoughts on Inflata Nation Birmingham
Overall I was impressed with the main area. It offered a wide variety of different activities for children of all ages. We bounced for over an hour and the time just flew by as we were having so much fun and just giggling at each other. It was lovely to be able to do something as a whole family. Something that we could all join in doing.
Im not sure if it's the norm but I would say the saftey talk needs to be more of a talk. Not just letting people read over the rules. A video for younger children would be lots better. Especially as we went to a Tots session I would of thought it would have been geared more towards younger children.
I can see that we will return to Inflata Nation for a Tots session again. If it didn't take me over half an hour to get there. I would have loved to try the fitness session. Just going around their with the kids I was shattered .So I can image the fitness sessions would be lots of fun and a great whole body workout.