Pass the pigs for Xmas : Giveaway
You'll be snorting with laughter if you play with these piggy games for Christmas. The original party animals, Pass the Pigs, use hilarious pigs for dice. Will you roll a sider or start makin' bacon? Having fun with friends, on the road entertainment, or just chilling out – the game is on for every pig in the parlour!
Fantastic fun for the whole family, Pass the Pigs is so easy to play. Simply throw the 2 piggies up in the air and see how they land. Compare the pigs landing positions with your scorecard and earn points, the first to 100 wins.
Pass the Pigs comes in a handy travel case, pop into your bag and you are ready for a game anytime, so if you are traveling to see family it's the perfect entertainment on the go. Pass the Pigs Party are ideal for when you want to play with family and friends at Christmas.
Pass the Pigs
• Hours of fun are guaranteed with this exciting Pass the Pigs game. Perfect for taking on the road, the Pass the Pigs game comes in a handy travel case, so there's never a dull moment to be had!
• Pass the Pigs is a game of skill for 2-6 players, it comes with a handy carry case, 2 pencils, 2 pigs and a pocket-sized score card.
• Suitable for ages 3+ and available for £9.99rrp.
Pass the Pigs party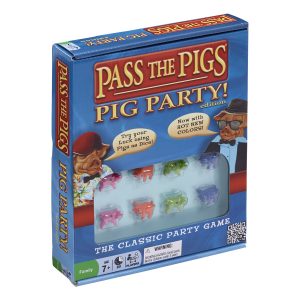 • The version for party animals! Now there are EIGHT pigs in the game to play with. Roll your piggies to try and be first to match the position on your card, get bonus points if you do it on your first go! Be the first to rack up 100 points. £14.99rrp.
o 8 small plastic piggies (four pairs)
o Deck of 30 cards
o Carry case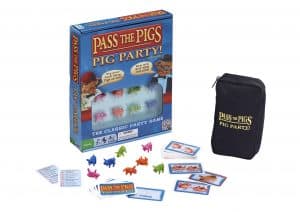 *This is a collaborative post*