Picking your child's name !! 
I found Being a nursery manager and working with children for many years it is so hard to pick a name for your little one !!. Certain names become less appealing to you because of one thing or another . So when we started to think of names for our baby I wanted a name that I had never looked after a child before with that name .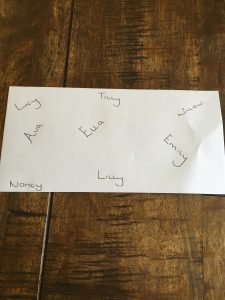 The other thing you have to think about is that they will have that name for the rest of there lives ( no pressure !). Some names I liked were cute for a little baby but just didn't seem to be right for when she was a teenager or even a parent herself . It's such a big decision to make !
When we started telling people we were expecting ,our little baby was meant to be the size of an avocado ( that's what one of these expecting parents apps said , how true it is I'm not sure !). Jordan just said to me what about Ava the avocado and from that day on it stuck . I loved the name and still do . I know it may sound odd but she really suits her name and looks like an Ava whatever one of them looks like 😊.
I can now also understand why I have no middle name finding a first name can be hard enough !!.