Scruff-A-Luvs Blossom Bunnies review and giveaway
We were sent a Scruff-A-Luvs Blossom Bunnies for free in return for an honest review. All opinions are my own.
We often go to the free zoo the garden centre to look at the animals . Every time Ava sees the bunnies she asks me for one . We just don't have the time at the moment to have a pet bunny. Thankfully though we have been sent a scruff-A-Luvs blossom bunny for Ava. It's like having a pet bunny, they need the love, care and attention to transform them from a ball of matted fur into a fluffy cute bunny.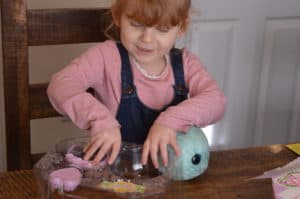 The only way you know what bunny you have is to open the box . Which just made it even more exciting for Ava . Kids love a mystery don't they !
In the box
In the box you will get
A Scruff-A-Luvs Blossom bunny ( Lemon drizzle, poise or peppermint)
A Special flower crown
A Brush
An adoption certificate
When you first get your Scruff-A-Luvs blossom bunnies out of the box you will notice that it's a big ball of matted fur like peppermint above . You will need to wash , dry and brush your bunny to turn it into the most adorable fluffy bunny ever !
Ava really enjoyed giving it a wash and using the hairdryer to get it all nice and dry . I'm sure this is something she will ask to do pretty regularly. As the joy on her face whilst she was doing it was just adorable.
Ava some how didn't even realise it was a bunny until she started to wash it. The excitement on her face was a picture. Ava loves bunnies and has had a cuddly bunny since she was a baby. So anything bunny related is a winner for her.
Ava being just three isnt very good at waiting and the process to get the bunny from a matted ball of fur to a cuddly bunny was a little long for her. First you have to wash them, then dry them and then give it a good brush to make it all fluffy. We did find it took a long time to dry out even when using a hair dryer. So she did loose a little interest at this point but once it was dry she did enjoy brushing it.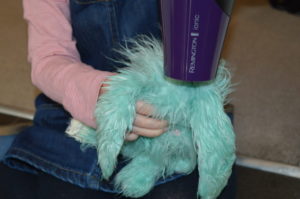 I have to admit I was expecting it to be really fluffy and sadly I couldn't get it to be as fluffy as I expected. I have washed it since using baby shampoo to see if that would help fluff it up a little which it did a little . I did find though using a hard bristled brush instead of the brush that came with it made it fluffier.
As you can see from the photos though Ava really wasn't bothered with how fluffy the fur was. She just really loved having another bunny to look after and snuggle in bed. Like most kids she loves a surprise and opening the box to find a matted ball of fur that transformed into a cute little bunny was the best for her.
Peppermint has gone everywhere with Ava since she had her. Since the weather has been so lovely we have been spending a lot of time outside and peppermint has come with us. So I'm thinking she will need to have another bath soon. Ava seems to think bunny likes to climb trees , So she has been loving getting Peppermint to climb the trees in our back garden.
She also likes to draw around her . Im guessing this is something they have been doing at nursery as I have never seen her do this before. She carefully drew around Peppermint then drew her face. It was so cute, although she wasn't too impressed when it rained and washed her drawing away.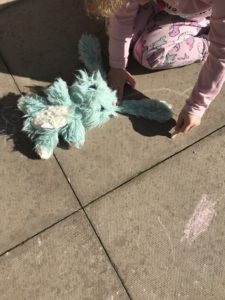 Our overall Thoughts of the Scruff-A-Luvs Blossom Bunnies
As much as I was disappointed with how fluffy I was able to make Peppermint Ava wasn't bothered at all. She did enjoy transforming the ball of matted fur into a bunny friend . It does take a while to dry but once dry and she was able to brush and play with peppermint she was over the moon with her new Scruff-A-Luvs Blossom Bunnies.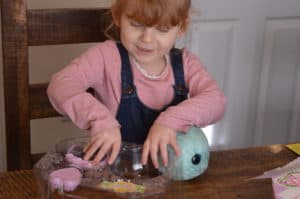 If you have a little one that would love to give a Scruff-A-Luvs Blossom Bunnies a forever home. Then head over to my giveaway where you can enter to be in with chance to win one Blossom Bunnies of your own. Click here to be taken to our Giveaway.