why is sensory play so important for babies ?
Sensory play is so important for little ones development it's how they learn about the world around them. You are more than likely doing sensory play at home and not really realising.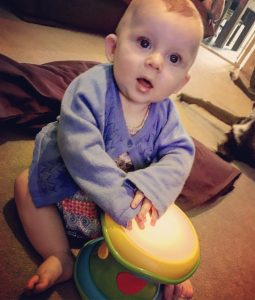 Using simple things like tin foil or shakers are a really good sensory experiences for children. Sensory play doesn't always have to be messy its play that involves all the senses
Touch,
taste,
smell,
sight,
sounds.
We have done lots of sensory exploration with Ava since she was a very young age. When she was around 3 months old I took her to our first sensory class at our local craft centre. Which she absolutely loved and her art work is in our bathroom pride of place.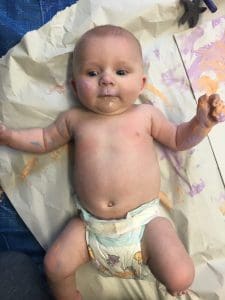 Yesterday we return to the Hive in Codsall for a winter themed sensory class. The lady who runs the class had set the room out lovely. With lights and things coming from the ceiling and a tough tray full of things for Ava and the other children to explore.
In the tough tray was ice and marshmallows which is great fun . Ava enjoyed obviously tasting them and seeing the differences and also the coldness of the ice on her skin. This is a great activity you can do at home . All you need is an icecube tray and a freezer . You could also add paint into the water so when it comes out of the freezer. They can use them to mark make on some paper.
They also had some food bags full of different things to explore . These were fab Ava really enjoyed the ones filled with paint. As she could move the paint around with her fingers and also her toes at some points but still stayed clean. They also had ones filled with flour and glitter.
Like all the classes at the Hive you get a little keep sake to take away with you. We made a penguin design on a ceramic ball ball which I cannot wait to go and collect next week.
We are very lucky to have a place like this just down the road where we can do things like this. You to can do these things at home you just need to be willing to have a little mess if you decide to do messy sensory play.
Here are a few ideas of Sensory activities you can do at home with your little ones,
Shaving foam play – you could add in paint or food colouring to make it different colours,
Treasure baskets- these are baskets full of things for your little ones to explore like foil,bubble wrap, sponges, wooden spoons the possibilities are endless.
Play dough- this doesn't have to be expensive you can make your own really easily,
Gloup – this is made of corn flour and water,
Edible paint- this can be made with natural yoghurt and food colouring.
Do you do sensory play at home ?
What sort of things do you do ?