Is it me or is Christmas getting all a bit much ? It's become a lot of stress
This is a collaborative post
The crazy time of the year that is Christmas is just around the corner. Which is really starting to scare me as I'm not ready for it to come at all. Alby turns one at the start of December and I haven't even started to buy for that. The thing with Christmas is that every year it get more and more stressful. Especially when you have children. Ava's changed her mind about ten times with what colour bike she wants from Santa. She best settle on purple as that's what she's getting.
The thing is I do actually like Christmas just as I have gotten older its not that fun anymore. There are more and more things I need to organise. More events that we have to go to especially now the kids are at nursery. Yes for the first year this year I'm going to have to sit through 2 Christmas preferences and act like they sing like angels and look adorable. When in fact they will scream and shout the words which just hurts your ears and Mary doesn't look sweet and innocent at all. She's probably secretly poking the child next to her.
I really wish Christmas got back to it's basics. For me Christmas should be about spending time with family and friends. Not how much money we have all spent on the latest gadgets for our children. Is it me who just hates the pictures on Christmas Eve that go around on Facebook of all their kids presents? I mean if you want to get burgled go ahead your just showing everyone what you have in your house !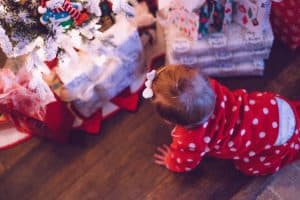 I feel like I need to get back into the spirit of it all . Be a little less like the Grinch. I was watching a re run of a Christmas programme the other day and it was all about Christmas in Cornwall and it looked so magical. There were so many different things to do to get you in the Christmas spirit. I headed over to Google and had a look what else there was to do. Maybe one day I would make it to Cornwall before Christmas and have a pre Christmas rest. There is actually loads to do.
I have fond memories of going to Blackpool lights when I was a child. Going back a few years ago I learnt they weren't so glamourous as I remembered. However Erika from The Incidental Parent said The Christmas lights at Mousehole are amazing. Mousehole for those of you that don't know is a village and fishing port in Cornwall.
Whilst on the topic of things to do in Cornwall Racheal from Rachel Bustin told me about Ice skating at the Eden Project. She said it's lots of fun for the whole family. There are also Christmas Workshops there like wreath making. Meet Father Christmas and they also have a lights show after dark which she said is amazing. Now wreath making is actually something I have always wanted to do but never got round to doing it. I see so many people with these beautiful wreaths on their doors. It seems over the years they have become more and more popular.
There is nothing wrong with dreaming right. So I had a look at places I could stay. I'm telling you one day this will happen !! Maybe when the kids have left home so that gives me maybe 20 odd years to wait. Any way yes accomindidation now these ones from Cornish Horizons look amazing. They have places by both the places I mentioned easier and also cottages available by the ever-growing popular Padstow. Maybe we should do Christmas away one year looking at these photos I can just imagine being away with the kids. Not sure our families would be too happy about it though.
If you could spend your Christmas anywhere where would it be ?