What colour shirts do women prefer?
This is a collaborative post
When choosing a shirt to impress, a few questions might cross a man's mind: does it match with the trousers? Is the material of a good quality? Is it suitable for the dress code? Something that men should also be asking is – what does this colour shirt say about me?
Research has shown that the colour of a man's shirt can perceive them in a certain way, if you're looking to come across as powerful; choose red. If you want to show confidence, always opt for black. We have teamed up with Charles Tyrwhitt, experts in gentlemen's fashion and retailers of men's formal shirts to investigate further and find out which colours women prefer on men.
Choosing the right colour
When it comes to deciding which coloured shirt to buy, there are some that are perceived more positively by the opposite sex. Consider purchasing one of the following coloured shirts on your next shopping trip if you're looking to dress to impress…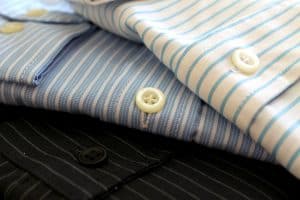 Red
Associated with Valentine's Day and all things romantic, red signifies love and passion. It is thought that the attraction to red comes from our biological roots – many animals such as baboons are attracted to the opposite sex if they display bright colours. To wear this on a first date might be slightly overpowering, however it does give off some vibes that your date might be interested in.
If you're looking to demonstrate power and a strong social status, red is a good colour to go for. Research found that wearing red can actually boost the wearers own confidence, which will be a good thing during a first date for women who are looking for a man with some self. A red shirt can indicate that you have good health and are financially stable, two more things a woman may have on their checklist when looking for a new partner.
In a survey which explored the attractiveness of men in different coloured shirts, red was found to be more attractive than blue or green. This perception was a global consensus – so wherever in the world you go wearing a red shirt, expect to get a similar reception.
However, although the colour was linked to romance it was not associated with the wearer being kind or sociable – perhaps you'll have to demonstrate these traits through the power of conversation instead.
Black
Although originally kept in the wardrobe for mourning, black is now worn for ;