This is a collaborative post 
The last time I went on holiday was over 5 years ago now and was for my 21st birthday. Me and Jordan went to Zante in Greece. It was partially alcohol fuelled but we did have a good chill out too. I long for a holiday I need some sun on my skin. I know that my holidays are going to be different now I have kids. A holiday is a holiday right ! It wont be for a while. As the thought of taking a new-born aboard makes me want to cry. But it will happen I can tell you that for sure. There are however some things I would be wanting from a family holiday.
It would have to be a shortish flight so say maximum 4 hours .With a swift transfer from the airport to the hotel. I couldn't think of anything worse than taking two children on a 9 hour flight. To then have to sit on a coach transfer for another hour or so.
child friendly so pools for the kids. Outdoor play areas maybe even a good kids club just incase it all gets too much and they need to be occupied by someone else. I don't want to be in the midst of older couples having holidays that constantly tut at us for having screaming children.
All inclusive now Ava likes to eat a lot.If her brother is anything like her then it will cost us a lot in food if we don't go all-inclusive. This would have to include all-inclusive ice cream as what children don't like eating lots of ice cream.
Close to shops and the beach. The hotel would have to be near local amenities. There are going to be times where we may need to run to a shop so they need to be close. Also the beach would need to be close as it can take long enough to get kids ready and out without a long commute to the beach to deal with.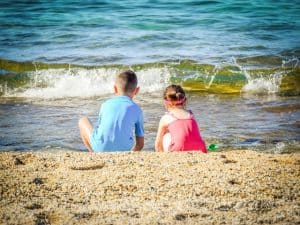 Reasonably priced. As I'm heading into my second lot of maternity leave there isn't going to be a great deal of spare cash around. This means its going to take a while to save for this holiday. So I need it to be reasonably priced. We need to take full advantage of being able to go out of school holidays .So looking for the term time discount holidays is a must !
What would you say is a must for a family holiday ?
Follow me on :