Wednesday or hump day as many refer to it is a rubbish day. It still seems so far away till it's the weekend but it's also nearly in grasp. This is a day where I am pretty rubbish at cooking I just lose all motivation. This normally results in us having a takeaway or a quick fix meal in the microwave. Then I look down at my waist line and think I really shouldn't have eaten that !.
A couple of weeks ago an email dropped into my inbox asking me to take part in the #ThankGoodness challenge with Dolmio. This consists of easy and simple meals that can be done quickly. Now I'm not the worlds best cook and I will never be a foodie blogger. But I thought lets give this a go. So I got to thinking of some of our favourite meals these mainly involve pasta and sauce .
When the delivery man dropped off my ingredients I couldn't believe how much variety there was. Also things I had never tried before in my life-like aubergine and kidney beans.
The first meal we created was Spaghetti bolognaise a family favourite and one that I knew would go down well
Ingredients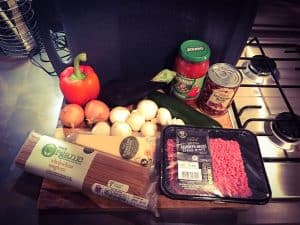 This is the most simplest of meals to make all you need to do is brown the mince off . Whilst at the same time fry the mushrooms,peppers,onions and carrots to make them a little softer. You will also need to fill a pan with water and bring to the boil then pop the spaghetti in.
Once all is cooked serve it all up and sprinkle with some grated Parmesan. We also did something a little extra by chopping and roasting the aubergine and courgette in the cooker. This went down pretty well Ava ate most of them and she had never tried them before.
As always we had plenty of left overs so I was able to have some the next day on a jacket potato.
Chicken, Jacket potato with tomato and mixed veg sauce
The second meal we made was grilled chicken, Jacket potato with tomato and mixed veg sauce.
This to is really simple and easy to make all you need to do is grill or oven cook your chicken. fry the vegetables like we did earlier and add in some Dolmio sauce. Whilst all this is going on you will need to cook your jacket potato this can either be done in the microwave or in the oven.
Once everything is cooked serve and add a sprinkle of cheese.
This also went down really well so I will be doing this meal again for sure.
Here are my two go to meals what are yours ?
This post is an entry for the #Dolmio #ThankGoodness Challenge, sponsored by Dolmio.
*I was sent the food for free in order to take part in the Dolmio #ThankGoodness challenge, All words and recipes are my own*
Follow me on :