Best Side Jobs for Stay at Home parents in 2022: 9 Money-Making Ideas
This is a collaborative post
Staying at your home with your kids is nothing but amazing. If you manage to work and take care of your kids, you can easily provide a better lifestyle to your lovely kids. We are sharing nine simple side jobs that you can do at your home!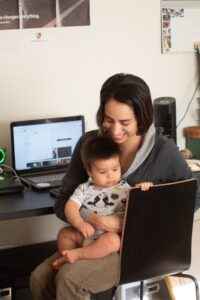 Side Jobs for stay at home parents
Start your blog
Blogging is a great way of making money online. You can start your blog on any topic that inspires you the most. Monetization of your blog is easier once you build your readership. And the best part about blogging? You can do it while taking care of your kids.
Become a freelance writer
Freelance writing never goes out of demand. Businesses around the world need content to stay connected with their audience. You can start your journey after choosing a writing niche. If you have any specialized degree, you can offer writing services around topics related to your education.
Get started on eBay
Starting your eBay store is another great way of making money online as a stay-at-home mom. Running an eBay store is easy as it doesn't require you to spend all your day staring at the computer screen. You can hire a virtual assistant to handle your eBay store once you get sales.
Help companies with graphic design
Graphic design is the essential element for the marketing strategy of any business. If you have good design skills, you can easily offer graphic design services and make good money by only working for a few hours daily.
Become a transcriptionist
You can provide transcription services easily on online platforms like Upwork. The best thing about transcription work is that you don't have to spend months learning it. Your transcription work can easily be integrated into your daily time with kids.
Sell handmade products
If you are a creative mum who loves making handmade products, you can start your side job of selling handmade products online. The best part about selling handmade products is that it will help you make money by following your passion. You can also promote your products on social platforms by making short videos using a video maker tool.
Become a photographer
Photography is one of the easiest things you can do with kids. If you don't have time to get out of home for on-site photography, you can offer product photography services from your home. The good thing about becoming a photographer is getting photography work based on your availability.
Start teaching English online
A good way of making money online is by teaching the English language. There are several online platforms that you can choose to provide teaching services. Another thing to note about teaching English is that you can teach your kids at night when your kids fall asleep.
Become a babysitter
When you are already taking care of your kids, you can provide babysitting services. Many mums want someone to take care of their kids when they are outside working on their job. Start your daycare service if you have some free space in your home.
Car rental
Sometimes working nights or weekends work better. This is why getting a PCO licence could be a way for you to do this. Having a private hire licence means you could work with operators like Uber, which gives you the flexibility of hiring on a short-term basis, in your own time and when it suits you.KJPCO can help you to gain your PCO license.