This is a collaborative post
When it comes to hair and beauty, most of us moms want two things to be certain: that the style looks fabulous, but that it doesn't take up all of our time. Trying to wash, dry and style your hair with a little one around is near on impossible, which is why most new mothers walk around looking like their hair has been dragged through a hedge! Well, we've all been there. But if you're sick of your hair letting down your whole look, here are some ways you can become the queen of the quick yet stylish hairdo.
Learn how to braid your hair
We all have those days where our hair is flyaway no matter what we do. When this happens, most of us will spend a frustrated 5 minutes in front of the mirror (which is already eating into our morning commute time) before giving up and pulling a hat on instead. But this can lead to many of us feeling self conscious throughout the day, and whether you work full time or you're a stay at home mom, no one wants to be spending their time worrying about their hair!
Braids, therefore, are a great way to hide a multitude of hair sins, and what's so great about them is that there are tons of different styles. Embrace your inner hippie with a loose side braid – just pull your hair to one side and loosely plait, securing with a flower band. Pull up tendrils out to hang around your face to soften the look. Or, take on the recent 90s trend that has resurfaced by opting for some French braids – great for keeping your hair off your face. Got somewhere a little more fancy to be? Go for an elegant fishtail plait.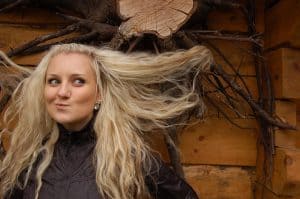 Fake it
There aren't many things in life you should fake – but hair isn't one of them! If you struggle to get your natural hair looking good on a daily basis, extensions and wigs could be the best option for you. No more messing about in front of the mirror in a morning. Just clip in or slip on and you're good to go! You can find a huge variety of hairpieces available from places such as Celeb Wigs, whether you're after a set of coloured extensions or a realistic lace front wig.
Style second day hair
Ever noticed how beautiful and silky your hair feels right after you have washed it? It's a lovely feeling indeed – but it's not so good for when it comes to styling. Trying to style freshly washed hair will end with you fighting a losing battle.As fresh hair simply won't hold a style. If you want to do anything to your hair – whether it's curling it or putting it in a funky up do – .You will need to make sure you are doing it on hair that's at least a day or two old. Don't worry about any greasiness either, as a quick blast of dry shampoo will sort that out. Happy styling!
Follow me on :