Easy Easter crafts to enjoy with children
I don't know about you but I have found more and more Easter is becoming about receiving presents. It's not just the one chocolate egg these days. Its loads of chocolate eggs and clothes or toys. It just gets too much I mean they have only just had Christmas. What more do they actually need. So I thought it would be nice to look show you some simple crafts. That you can do with your kids so that you can spend some quality time together doing something creative and fun. To enable us to crate some Easter crafts we have been sent some products from Crafts merrily thanks to Tots100. I'm not sure if you saw but last month we did some valentines crafts. The Bunting can be made for any occasion so maybe a good one to take a look at.
As I was saying this month we have done some Easter crafts to show you. These include decorating eggs for an egg hunt, Making bunny ears and also a cute Easter chick card.
Lets start our easy Easter crafts with the Eggs for our egg hunt.
You will need
Egg shapes ( these can be cut from anything etc. paper / foam,
Paint,
cotton buds,
This is so simple all you need to do is put some paint in a paint tray of muffin tin and get your egg shapes. Then using the cotton buds decorate the eggs with paint. By placing the cotton buds in the paint and then onto your egg shapes. TIP: to avoid all the colours mixing together and making a brown mess pick colours that complement each other. I tend to use pastel colours as they go together nicely.
Once you have painted all of your eggs and they are dry you need to go and hide them. This may make the perfect opportunity to get some fresh air. You don't just have to do this in your own back garden. Why not take your eggs to the park where the kids can have more of a run around.
We did also decorate a cute little Tote bag so that she could put the eggs in it once she had collected them.
Cute Easter Bunny ears
You will need
A strip of card that is big enough to go around your child's head,
paints or pens,
2 bunny ears,
2 small pink insides of the bunny ears,
Glue,
Bostik tape disks or selotape.
First of all you will need to make sure that you have a piece of card long enough to fit around your child's head. Then let them decorate it how they wish. As we still had the paint out from making our eggs we used the paint and cotton buds. You may choose to have it as a less messy activity and use crayons.
leave it to dry if you have to and go about making the ears for your bunny. Simply cut two bunny shaped ears out of card. Then cut two smaller shapes that will go in the centre of your bunny ears. We then Used a  Bostik fine and wide glue pen to glue the pink bits onto the centre of the ears. Remember this is your child's creation so It doesn't matter if they don't stick the pink bits right in the middle. As that's how they wanted their creation to look like. 
Once you have done this and your head band section is dry you need to attach them all together. I used some Bostik tape disks to attach them all together. As I don't like to use stables as they can be pretty sharp and as this will be on and off your child's head I would be concerned the staples may scratch their face.
Now your ready to let your little ones transform into little bunnies with their bunny ears headband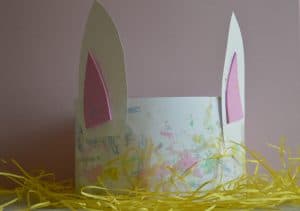 Last but not least is a super easy Easter chick card.
You will need
Card folded in half to make a card,
Yellow paint,
Fork,
buttons or googly eyes,
orange and black felt tip pens.
With your piece of card folded in half put a dollop of yellow paint in the centre of the card.
Then with the fork move the paint from the centre of the card to the outside. The marks of the fork make for a really interesting pattern. Which looks like the fluffiness of a chicken.
Once dry you will need to add the finishing touches to your card. We used some buttons for eyes attached with Bostik glu dots. You could if you wanted to use some googly eyes but this may be away to use some of those spare buttons you have been keeping for years but never actually needed. Then draw a beak on your chicken and some legs and your done. A simple and easy Easter card.
I hope you have enjoyed these easy Easter crafts do let me know how you get on.
*We were sent a box of craft materials from craft merrily as part of being a Tots 100 Bostik blogger*