2 simple flower crafts for kids of all ages
I cannot believe it's time for our next Bostik blogger craft post. Last months theme was flight and we made some cool peacocks. This months theme is flowers. I love flowers I don't very often have them in the house though and I wish I did. So to brighten up our house we have come up with two easy flower crafts.
Potato print flower crafts
Most people will probably remember doing potato printing as a child at school. I know I did and I used to do this activity a lot when I was working in the rooms at work ( If you didn't know I work in a nursery).
You will need
Potatoes,
Knife,
Paint,
Paper,
Forks.
First of all you will need to cut your potato in half. Then at the top of the potato you will need to shape it to look like a flower. We did a zigzag pattern along the top. This may be a little hard for younger children so they may need you to do this for them. TIP once you have cut your potato to the desired shape place a piece of kitchen towel on the freshly cut section of the potato This will dry out the potato and make it easier for the paint to absorb into the potato ready for printing.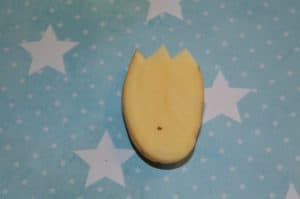 Once you have all the potatoes cut how you want them. Let your child dip them into some paint and print them onto some paper. TIP it can be hard sometimes to get the potatoes from the plate when they have paint on them. So we used a fork in the potato .This can be used as a kind of handle. This is also great for children who don't like to get their hands covered in paint but want to do a painting activity.
Once you have printed enough potato shape flowers onto the paper. Then you will need to paint the stems coming off them.
Hand and foot print flowers in a vase
You will need
Paper,
paint,
scissors,
sticks/lolly pop sticks,
Bostik tape disks,
Modelling clay,
Fabric to decorate,
Bostik glitter pens.
Firstly you will need to do some hand and foot prints onto some card.
Once they are dry you will need to cut them out and let your child decorate the hand and foot prints with some glitter pens. To add that little bit of sparkle.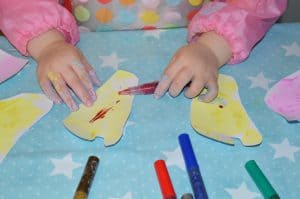 When the glitter has dried you will need to attached them to your lollypop sticks or sticks. I did this by tapping them to the back of our hand and foot prints using some Bostik tape disks. It's a good idea to have your sticks different lengths to give some ;