valentine's bunting and easy valentine's card that children of all ages can enjoy creating
I am so excited to share with you all that this year we have been picked by Tots100 to be a Bostik blogger. This means that each month we will have a step by step craft tutorial for you. Using a craft box sent to us from Craft Merrily. I'm really looking forward to sharing with you the different things we make. Also I'm looking forward to this one on one time with Ava doing something we both love. This month in preparation for valentine's day we have been making some valentine's bunting. This is a great activity and can be enjoyed by children of all ages.
You will need
Heart shapes,
decorative things to stick,
Pipe cleaners,
Ribbon,
Glu dots ( we used Bostik Glu dots)
Hole punch.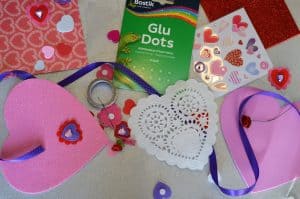 First of all you will need to decorate your heart shapes. As a toddler and a glue stick can be messy we used opted to use some Glu dots. I simply placed them on different parts of the heart and then let Ava decide what she wanted to stick on them.
2. Once you have decorated your hearts you will need to make a small hole using a hole punch in the top centre section of your heart. To put a pipe cleaner through for hanging. As I used foam for some of my heart I didn't need to use a hole punch as they cut through the foam with ease. Once you have put the pipe cleaner through this hole twist the end of the pipe cleaner together so that you can thread them onto your ribbon in a moment. Repeat this for all of your hearts or hanging decorations.