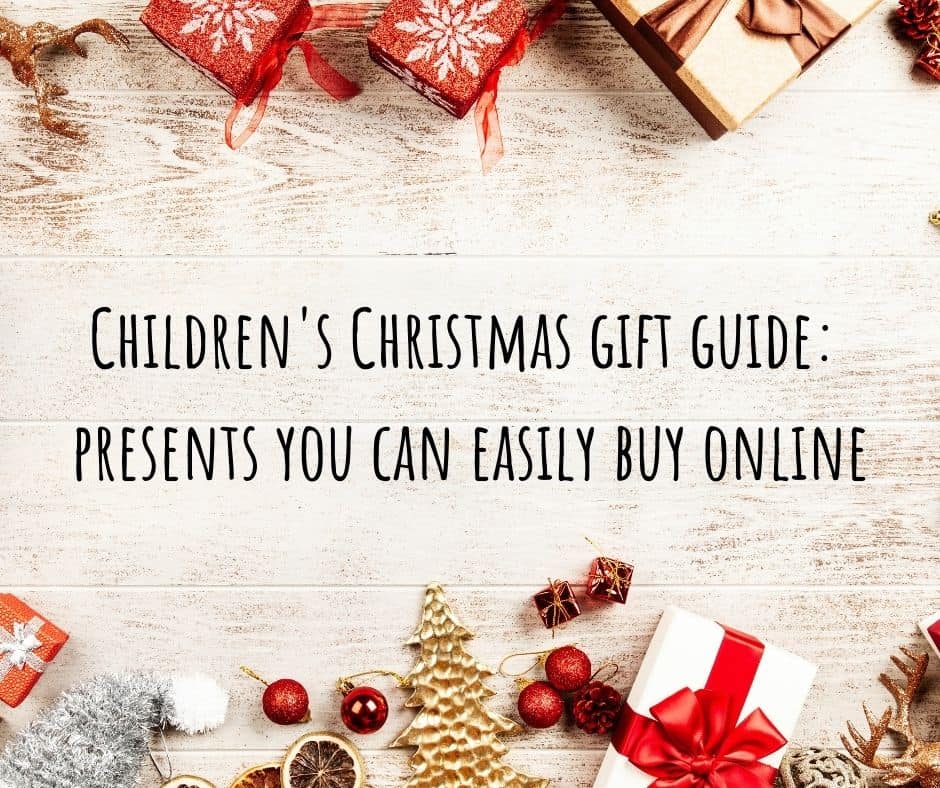 11 Christmas gift ideas for children aged 3-5 years which you can buy online
This year I know I will be doing a lot of my Christmas shopping online. As I'm sure so many other people will be. The thought of going out and doing Christmas shopping just feels me with anxiety. So I'm not going to go out to the shops unless I have to. So this year's gift guide I have made sure that all the products can be brought online.
There is a mix of products I have been sent and also products I have brought myself. If they have a * next to the product name in the heading then they are gifted items. This post also contains Amazon affiliate links.
Locks in Goodness*
Locks in Goodness isn't necessarily just for children but as soon as I showed it to Ava she wanted it. So this for me was the sign that I needed to this product in my children's gift guide. The lovely Vicky over a Locks in goodness very kindly put together a gift box for us which includes some awesome products.
Starting with the hair smoothie which detangles and smooths hair. Which is something Ava definitely needs as she has naturally wavy hair that tangles so easily. We have used so many detangler products and yes they work but I wouldn't say they were amazing at removing all the tangles. The Hair smoothie is used after your normal hair washing routine. Just pop a small amount onto the ends of the hair and comb through. The comb easily glides through. Meaning no more tears when brushing her hair after a bath.
The spike, Shape and fix hair gel is also really good. This unlike other gels is actually applied to wet hair. Both the hair smoothie and the hair gel is 100% natural and has no nasties. The products are preserved by natural essential oils. Which makes them great for helping to prevent nits and lice.
Vicky also included 4 lovely scrunchie's which Ava has told me are for her as she loved the colours. Although I may have to take one back for myself and relived my 90's childhood. There is also a beautiful bamboo hairbrush which also has natural rubber bristles which are biodegradable.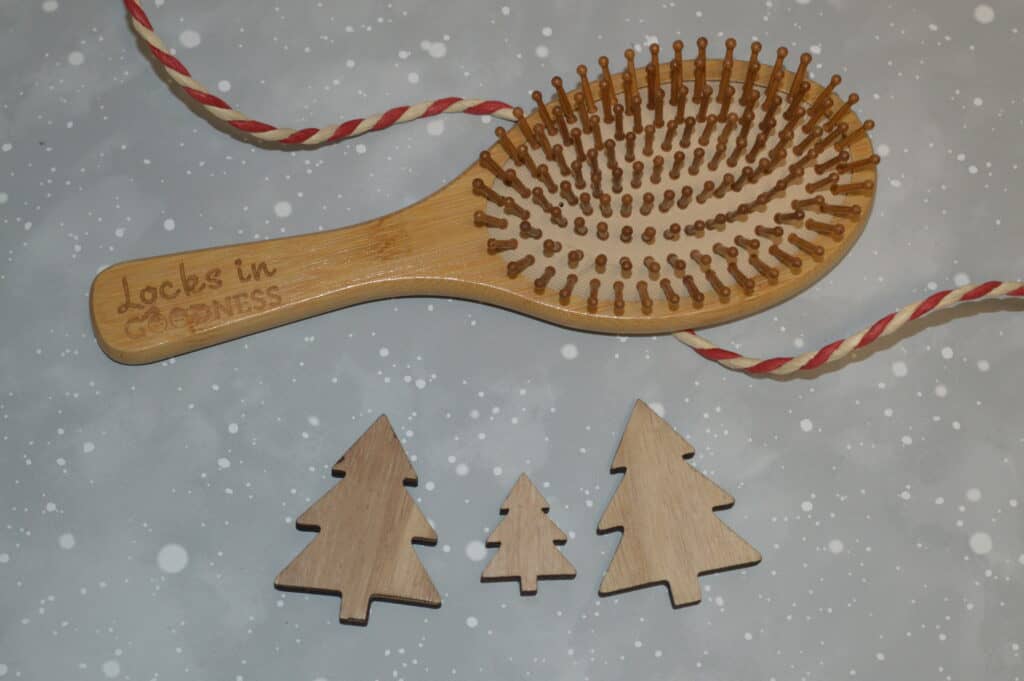 All locks in goodness products are 100% plant-based, vegan, organic and eco friendly. All the packaging is fully recyclable and made from sustainable sugarcane tubes. They only use ingredients that have been approved by ECOCERT or the British Soil Association. Which for me makes me want to purchase from this brand.
You can buy all the products from this gift box from their website or Amazon. The products range from £2.49 for the satin scrunchies to £10.95 for the hair smoothie.
Dantoy I'm green Tractor*
I have previously been gifted a tea set from the Dantoy I'm green collection and I think they are amazing. To think that all toys from the I'm green collection are made from Bioplastic and sugarcane is amazing.
The front-loading tractor is great for pretend play. It encourages social skills, Interaction and helps children to learn whilst having fun. Dantoy believes that we need to buy less, buy well. This is why all their products are made from sustainable products. Dantoy makes eco-friendly choices for children's toys so easy.
The Dantoy Bio-toy front loader tractor costs £22.99 from Amazon
Fisher Price Code-a-pillar
Where I work the children love the code-a-pillar. They are learning the basics of coding without even realising as it's so much fun. When I saw that this was reduced from £54.99 to £28.99 on Amazon I had to buy it for Alby and Ava. From what I can see this is the older version and they have updated it since. Which is great but I think personally it's great as it is and the lower price tag made me buy the older version.
Each segment of the Code-a-pillar does a different thing. From different directions and sound segments. The Code-a-pillar comes with two different circle pads which are like a finish and start line. The children then need to arrange the segments to make the Code-a-pillar make it's way to the finish line. Or even just experiment with what the different segments do.
Marvin's Magic Tricks*
Ava has recently been mesmerised by the magic tricks on Britians got talent especially the children's acts. So I thought this magic tricks set would be a great gift for her.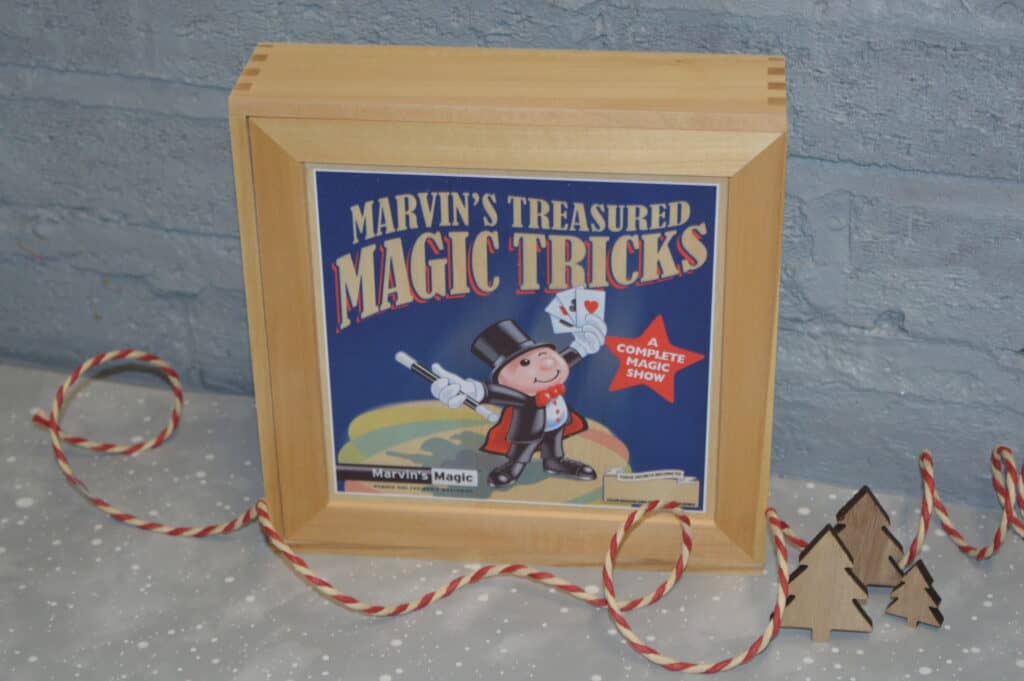 Presented in a wooden box is the ideal introduction to magic for children aged 6 plus. It includes the incredible escaping colour block, the vanishing rabbit illusion, the amazing rising card and much much more.
Ava loves to be centre stage especially when we have people around. So I know she is going to love this for sure. In the box is an instruction booklet which shows you how all the tricks work. So with a little help from me and her dad, Ava can wow all her family with her magic tricks.
The Marvin's Magic Tricks box can be purchased from Amazon for £27.99
Magicube from Geomag *
Magicube's have been a favourite in my house since my kids were little. The magnetic bricks make building so much fun and easier for little hands. It's also really great that you can mix and match sets. So you can keep building on your collection knowing that they will all work together.
Magicube have now realised a word building and maths set. This is perfect for Ava who has just started school. She so badly wants to learn and is always talking about all the things she has done at school and what new letters she has learnt.
The Magicube word building set comes with 16 magnetic cubes and 16 magnetic clips made up of letters and pictures. The pictures are of simple three-letter words. The letters are colour coded with blue for consonants and red for vowels.
It's just a really fun way for children to do some phonic work. Without them really realising that's what they are doing. The Magicube word building set can be purchased from Amazon for £38.80.
So Bomb DIY*
My kids love love love a bath bomb. A lot of the time now if I say they can have a special treat they pick to go to the local posh card shop and get a bath bomb.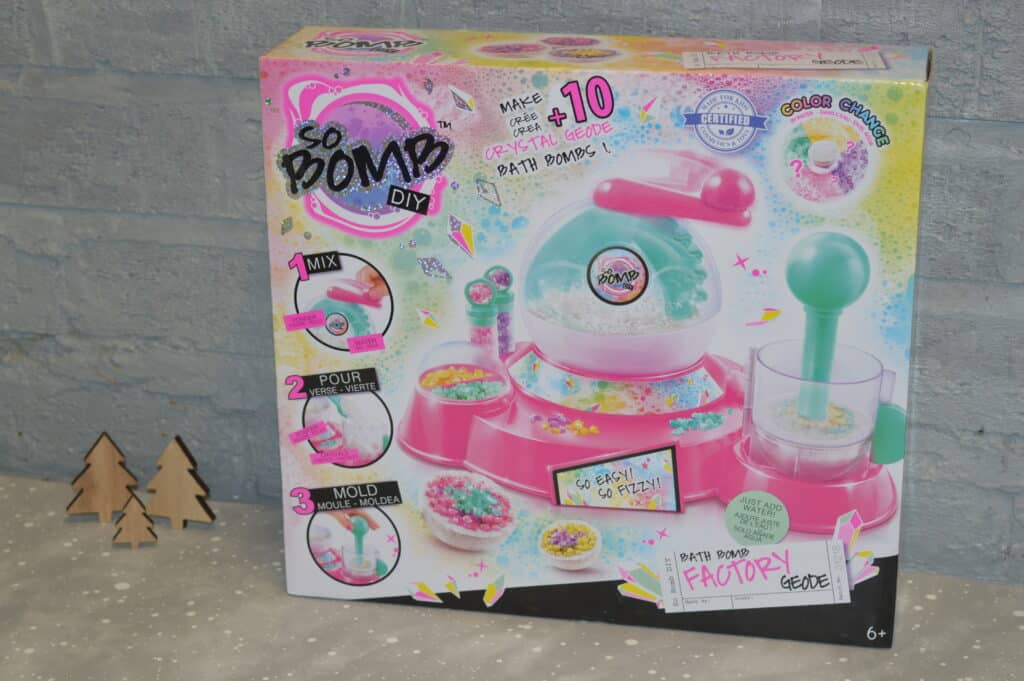 Earlier in the year, we reviewed the So Bomb DIY factory which is a fun and easy way to make bath bombs at home. The children are able to mix and make the bath bombs and add extra special geode crystals on the top.
This would make the perfect gift for a child that likes to get creative. Plus in the long run, it will actually save you money if your children love bath bombs likes mine do.
You can purchase the So Bomb DIY Factory from Amazon for £19.99
It's your story Christmas book*
This would actually make a great gift to kick start the Christmas season. It always baffles me that people wait to gift Christmas themed books till Christmas day. As by the time they get round to reading it Christmas is over.
This is why any Christmas themed books I like to give to the Children at the start of December. The Christmas storybook from It's your story would be the perfect way to start the Christmas celebrations.
We have been sent the Where's Alby? book which Alby loves and has been read most bedtimes since we have received it. Alby loves the fact that it had his own face in the story. This was actually really easy to do via their website. I simply uploaded a picture from my phones camera roll.
The only thing I would have liked was an option to make the book about two children as Ava would have loved to see her face in the storybook to along with her brother.
We was sent the the hardback version which is £22
My first book of comparisons*
One thing I think children can not have too many of is books. Both my two love books and as they are getting older the type of books they like to read is changing. They like books that are full of different books and information. That's why this book of comparisons is the perfect book for them.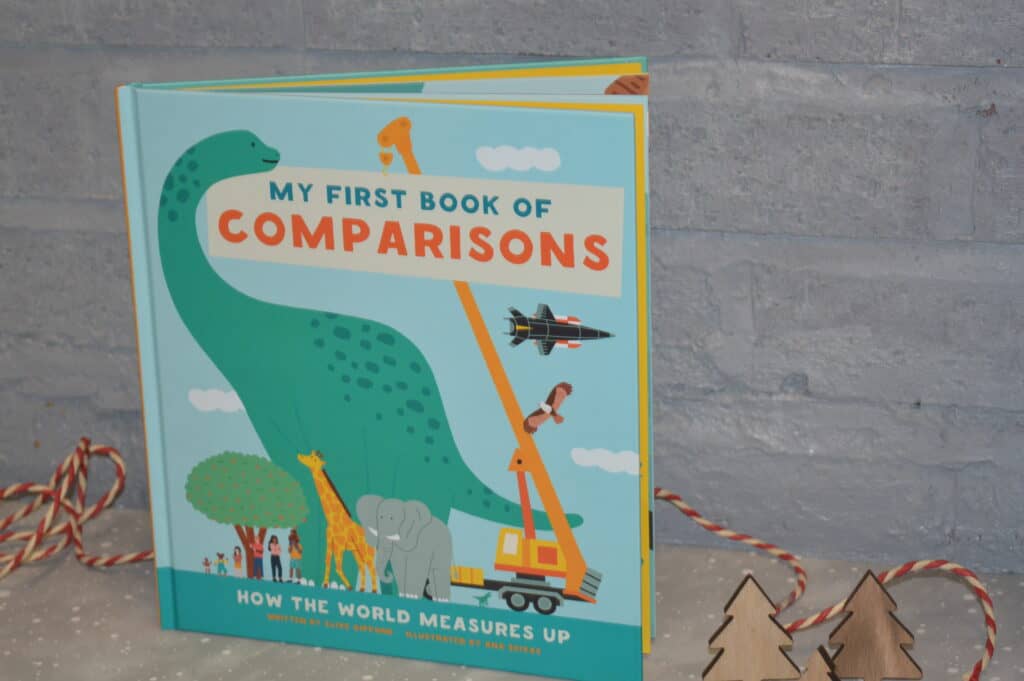 This book is jam-packed with information about so many different things. I even learnt a thing or two myself!
We were very kindly sent this beautiful book from the Children's book club. Which is a children's monthly subscription box. Boxes differ depending on the child's age. You can pick to have a box delivered every one, three, 6 or 12 months. Starting from £11.99 per month, including free delivery.
Barbie Colour Reveal pets
We have YouTube to thank for this. Ava like most kids loves to watch videos on YouTube of other children playing with toys. I don't get it and I don't think I ever will be Ava loves it. One video she watches a lot of are Barbie colour reveal and colour reveal pets.
Now if you haven't seen anything in the colour reveal range. They are basically normal Barbie's and pets but they come with a colour painted over them so you don't know which one you have. The only way to know is to submerge the Barbie in water and watch the colour wash away to reveal your Barbie.
Well, they also do a pet's range just like this and Ava has been asking for them for so long so we got her one for Christmas. It contains a heart shape container which you can pop some water in to wash them in to reveal them. There are also 5 surprise packages to open which can contain things like sunglasses, carriers and bottles for your pets.
You can get your hands on Colour Reveal pets for £9.42 from Amazon.
VTech Kidizoom Smart Watch
This is Ava's main present this year and one she has been asking for for a long time. Ever Since I started wearing my apple watch more at the start of Lockdown she wanted one the same. The thing I like about the Vtech smartwatch is that like some other smartwatches on the market. She won't be able to message or ring anyone on it. She is far too young for this feature.
Ava has the VTech camera and the smartwatch is set up the same. Just with added features like new games and two cameras. One of which is a selfie camera which she is going to love! my camera roll is full of selfies from her.
The watch is also splash proof which is handy as I know once she has this watch she will not want to take it off. I also like the child-friendly clock faces you can change on the watch front. Ava's showing more and more interest in wanting to tell the time so this is going to be great for her.
The watch is currently priced at £36.99 on Amazon. However, we paid £25 on a Prime Day sale so maybe worth looking if there are any Black Friday sales on for this one.
Unicornhole*
This year I think is the perfect year to have some great family games. With the uncertainty of what we will be able to do over the festive period. Having a stock of family games you can play for me is important. As those long winter days can be made a little bit more fun by playing a family game.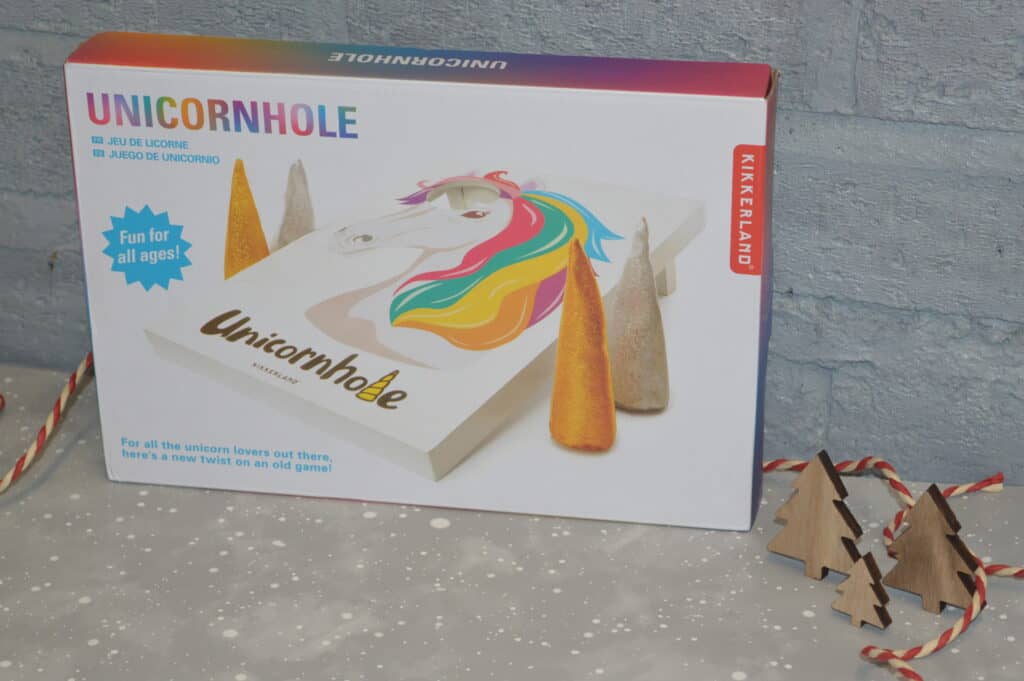 The Unicornhole is like the old fashioned game bean bag toss but it's been given a new lease of life as a unicorn. The aim of the game is to get the horn through the hole. I know my kids are going to love this. I also like the fact that the unicorn is actually made from wood so it won't bend and break.
You can get the Kikkerland Unicornhole for £28 from Amazon.
I hope whatever happens at Christmas you have a good one. We just need to stay positive and stay safe.