Children's gift ideas- for 2 and 4 year olds
We have been sent the products below for inclusion in this gift guide. All opinions are my own. This post also includes affiliate links.
Christmas is fast approaching I know I know you don't want to think about it but just be glad you don't have Christmas and both your children's birthdays within weeks of each other ! So some children's gift ideas are really needed. If you can think of anything else please do let me know.
Let's start with 2 year old children's gift ideas
Hape 2-1 kitchen & grill set
Alby is really staring to get interest and excited by role play . At the moment we have a big play kitchen downstairs but it just takes so much space up . Where as the Hape 2-1 kitchen and grill set is a lot smaller and can be put away so it's not always out.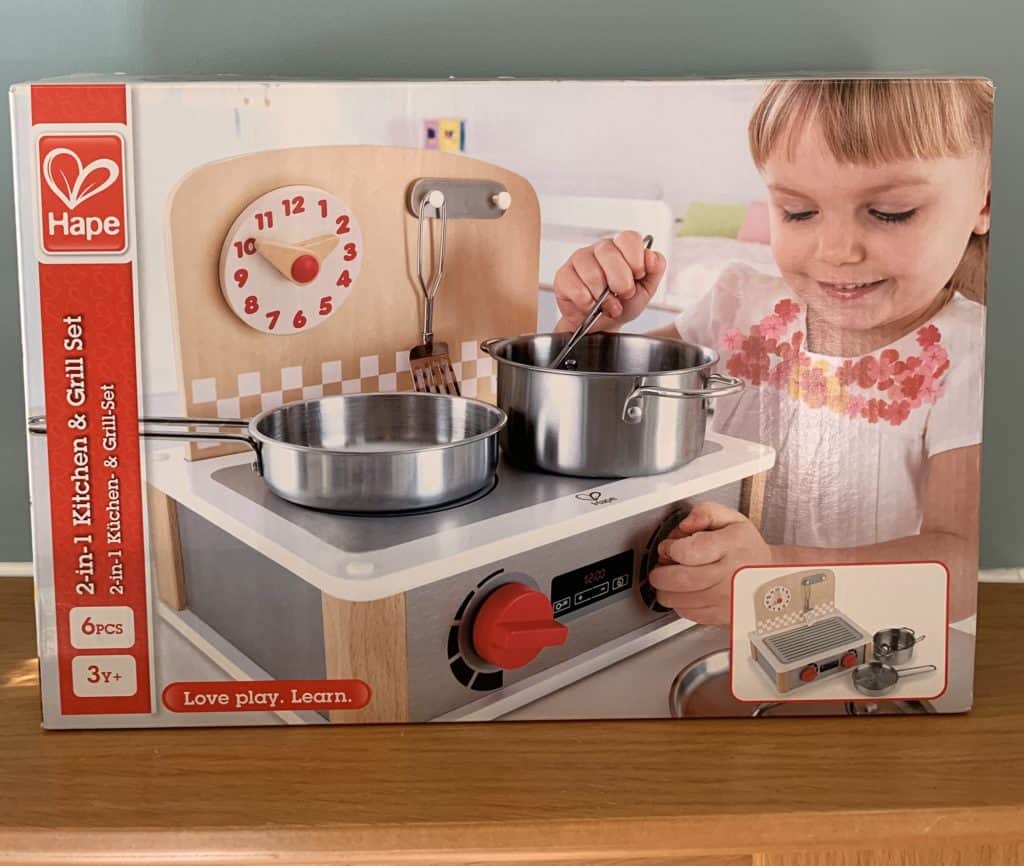 The set included adorable mini metal accessories. The clicking turntable knobs on the front of the set can be turned to replicate the knobs of an adult cooker. They can also move the hands of the clock around . Which I know Ava will love as she started to ask more about the time and tries to guess the time by looking at the clock.
His little imagination can run wild with this play set . I love the fact that I can put it away when his not playing with it . Making more space in our downstairs playroom area.
The Hape 2-1 kitchen and grill set can be purchased from amazon for £31.69
Hape Bath cascade
Bath times in our house are a little crazy. Alby is that child who loves to splash and throw himself around the bath . So we were needing something to keep him occupied whilst in the bath . Which the Hape bath cascade really does.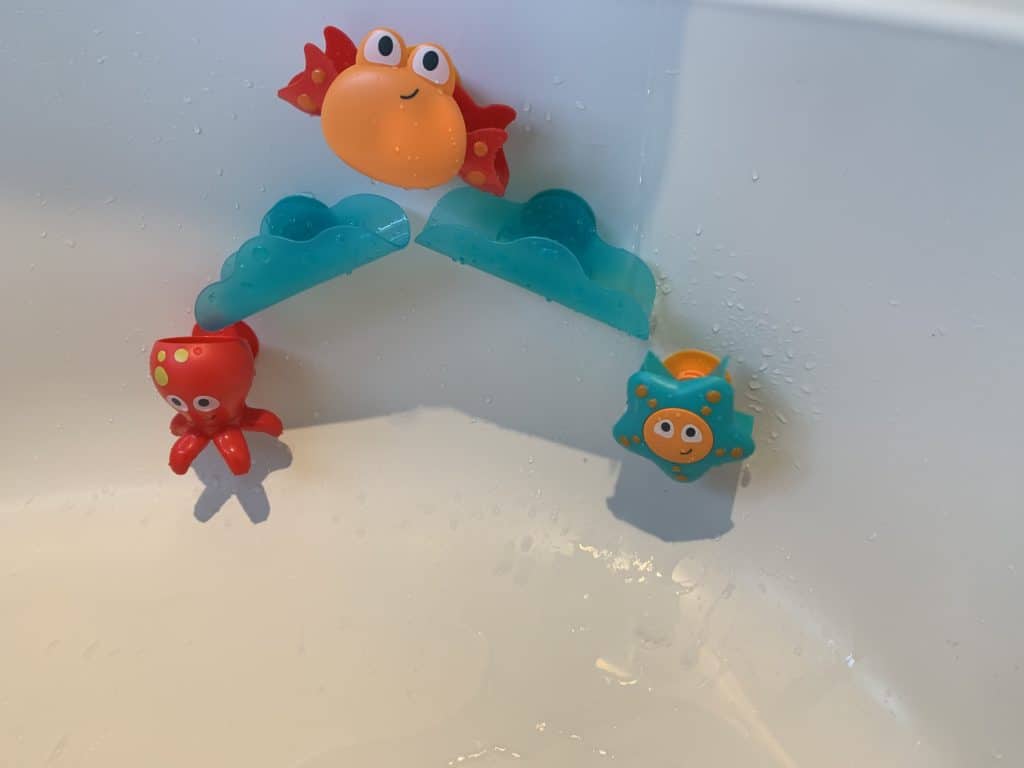 The adorable ocean creatures and accessories suction either to the bath side or a tiled wall. When positions correctly water that's poured into the little down the different parts creating a fun bath toy for your little ones to explore.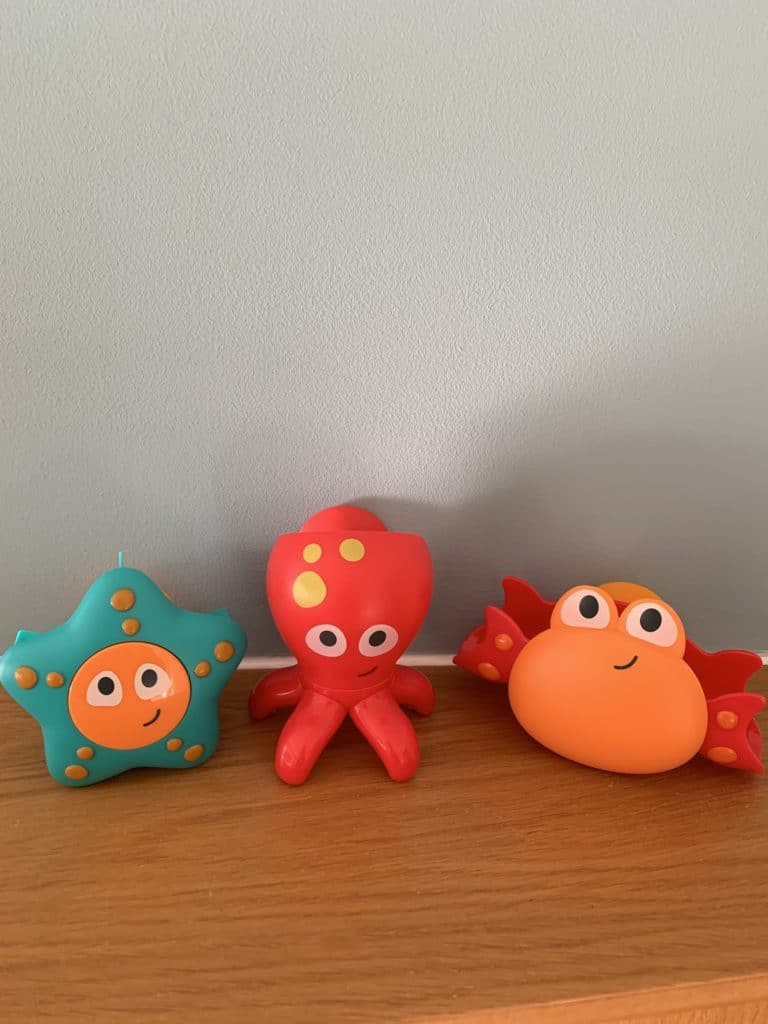 My kids have been loving this . Interchanging all the different bits to see if they can make the water cascade down. I really like that it comes with a little jug also which is perfect for little hands. Having a toy like this in the bath has really calmed down bath time as it gives them something fun and exciting to concentrate on.
You can purchase the Hape ocean cascade from amazon for £16.17
Count with Peppa
Peppa has become a new interest for Alby. I think the fact George has a dinosaur really drew him into loving Peppa . Another love of Alby's is posting things. Normally pushing them back out the letter box! So with this Count with Peppa . He can have two things he loves in one toy. Which also hopefully will stop him posting my post back through the letter box !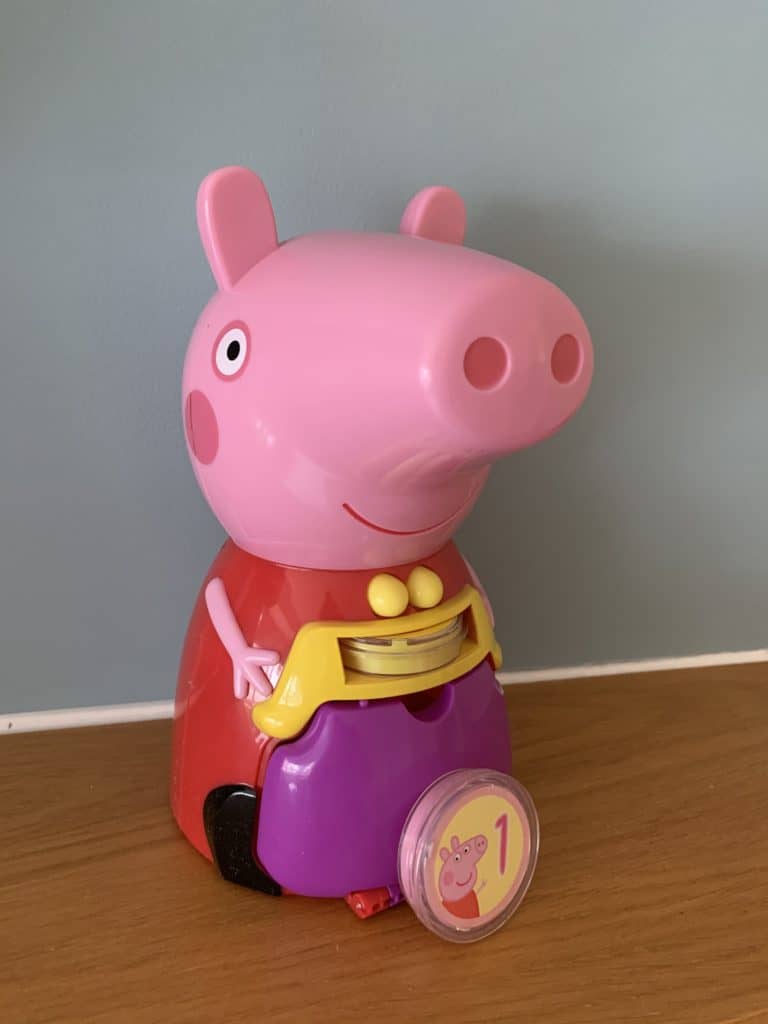 Like all Peppa pig toys this interactive count with Peppa come with three songs you know your little ones will love . Along with 10 interactive play coins. Peppa asks the children to insert different colours, number and pictures into her purse . So it will keep them busy for ages . I also love the fact it has two different learning levels meaning it will last then for so much longer.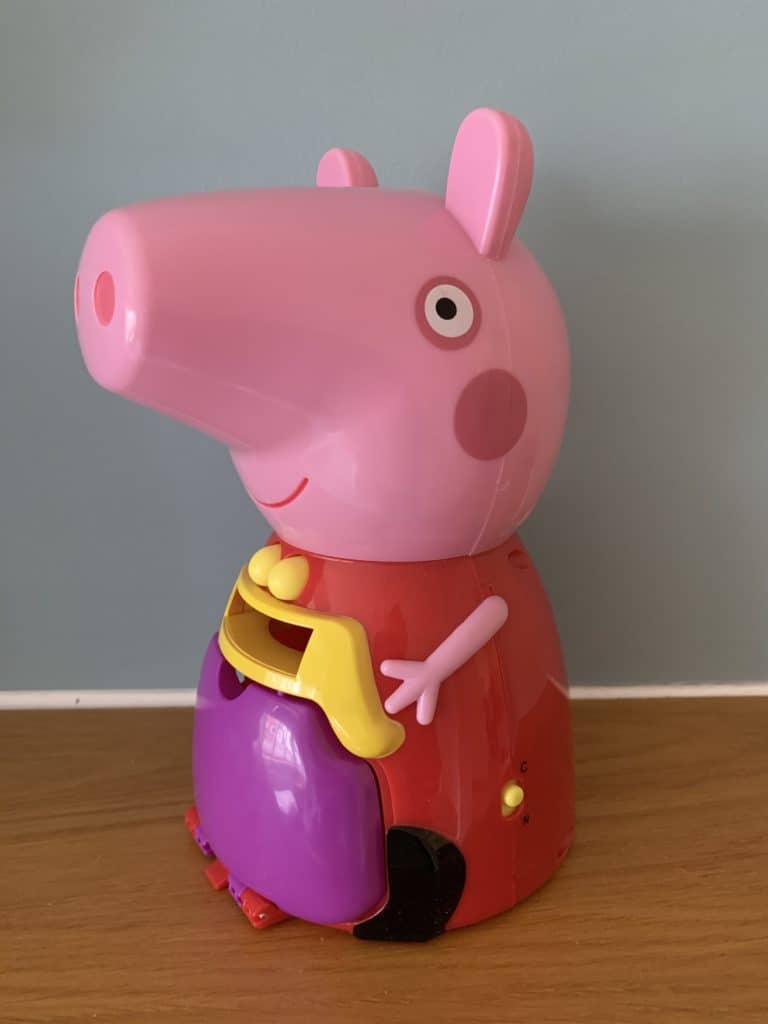 Like all good toys should come with Peppa has two different volume settings !! Also to stop you scrambling around for batteries count with Peppa also comes with batteries included !!
I can see this isn't going to just be a toy Alby will love but a toy Ava is going to go crazy for !
You can get your hand on this count with Peppa from Amazon for £19.50
Teamsterz Light and sound fire engine
The fire engine has realistic lights and sounds . Along with an extendable ladder and turning wheels. So it can vroom onto it's next emergency.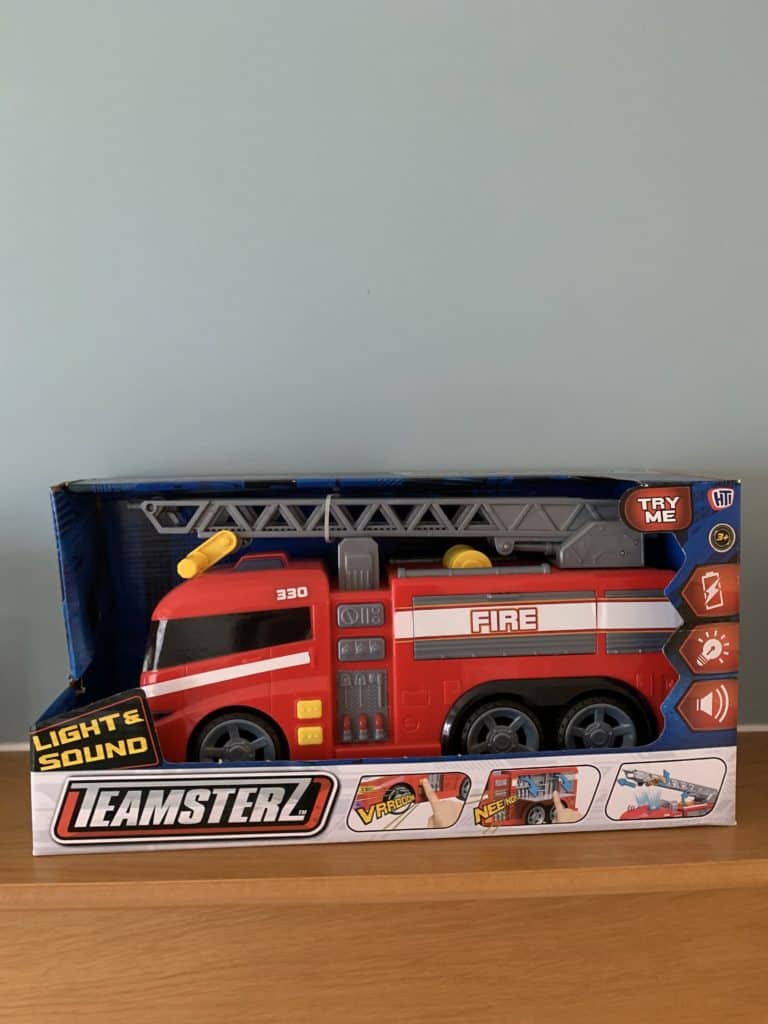 Alby is loving all vehicles at the moment . On the way to nursery he will get so excited when he sees a tractor out the window. The other day we saw a fire engine and he lost his tiny mind . He was so excited so the light and sound fire engine is something I know he will love !
With Multiple buttons to use and sections that pop open children will be entertained for ages.
The fire engine does come with 3 AAA batteries so no need to scramble around for batteries ! You can get this Teamsterz fire engine from amazon for £17.60
Now onto gift ideas for a 4 year old
Little bit of background about Ava . Ava has recently turned into a very girly girl who loves her dancing, unicorns and anything that sparkles . So you may notice a theme with the next lot of gifts
Fairy Garden
Ava has been asking for one of these for such a long time and is on the top of her Christmas list .
To create the cute my little fairy garden children need to add soil and then some grass seeds . Then watch as your fairy garden grows beautiful green grass . This flower Edition also come with beautiful flowers to add to your garden along with a cute little flower house.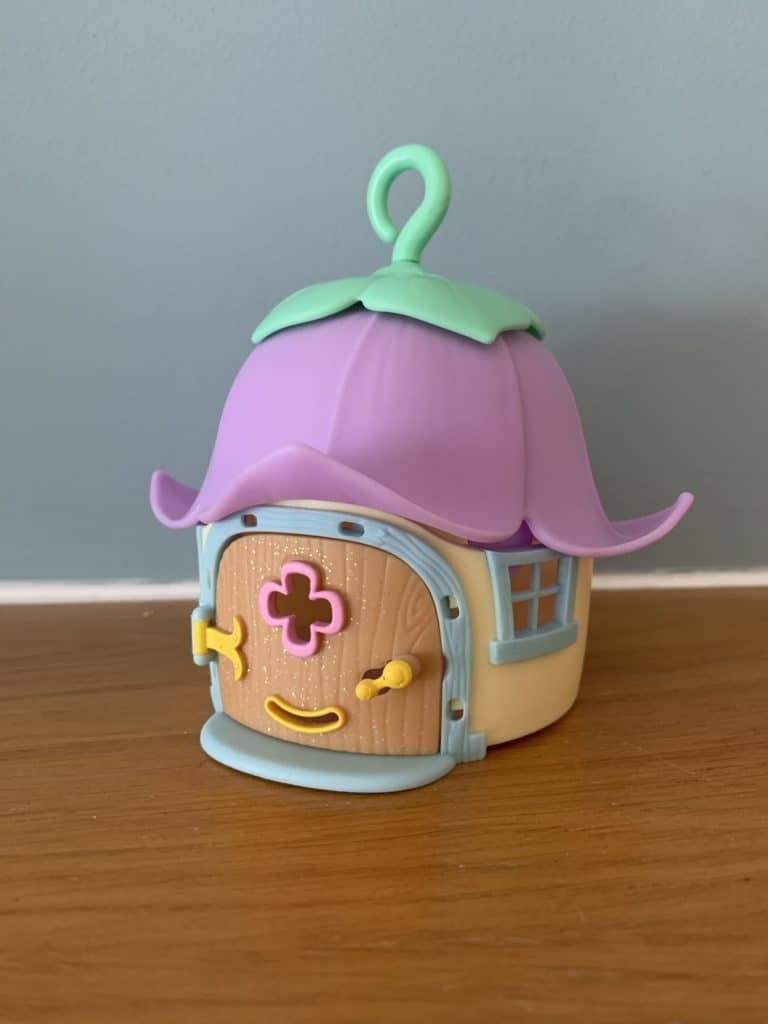 Children can really let their imagination run wild with a my fairy Garden. Along with the adorable little house you also get a door mouse, a fairy and other magical props to keep children's play going for ages.
My Fairy garden have a wide range of different gardens to pick one and I even spied a unicorn one which I might also get for Ava.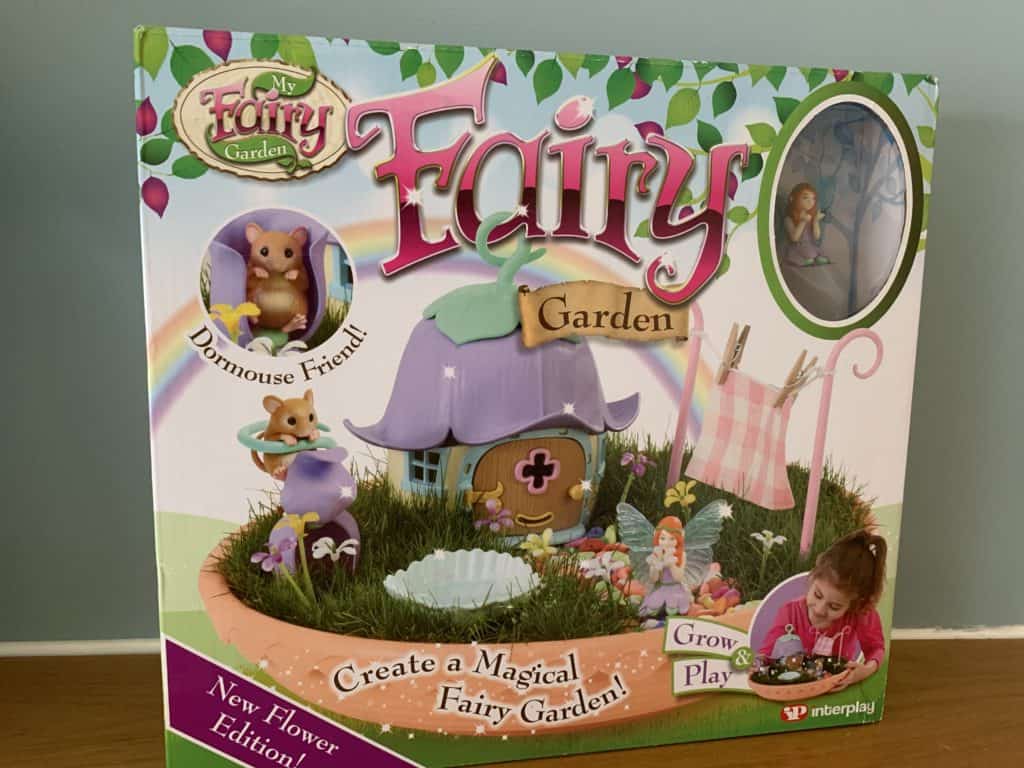 The fairy Garden new flower edition is available from amazon for £8.99
Fuzzikins school edition
Now this combines two of Ava's interests playing schools and drawing. Children can decorate the teacher owl , four pupils and school using the special pens that come with the pack . Not to worry if they want to change to look of their characters as the pen can be washed off with water!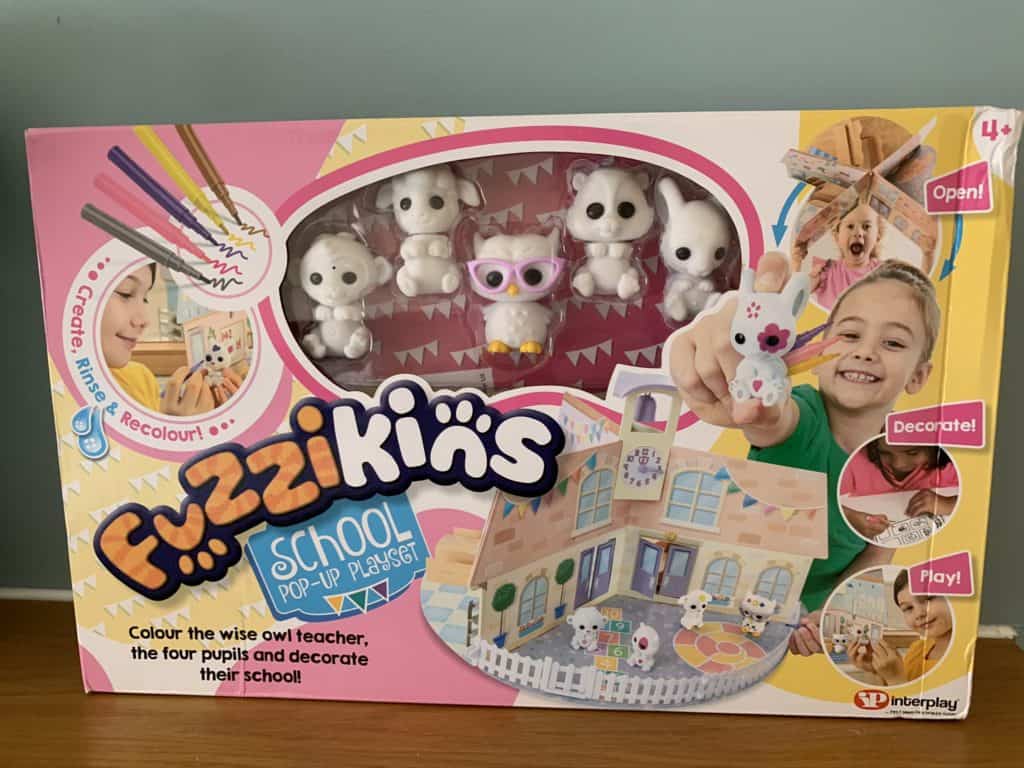 Children can rein-act things that have happened at school . Or just let their imagination run wild and act out all kinds of different sevens . Using the different animal character and the pop up school.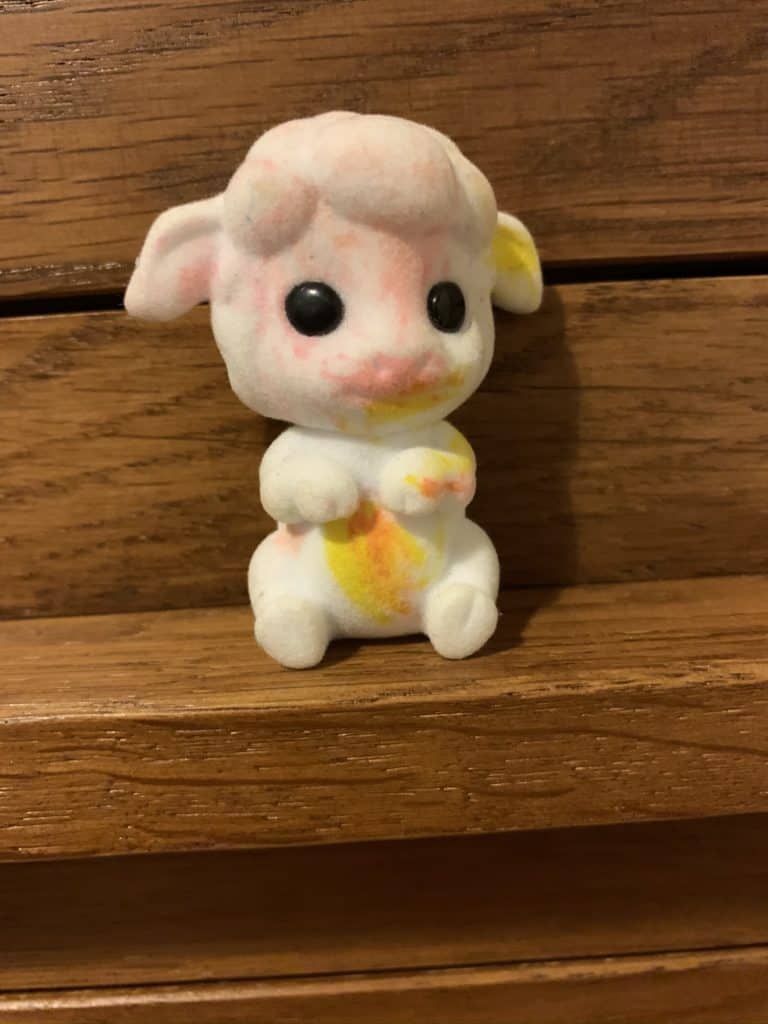 The pop up book opens up to reveal three school scenes all with built in furniture.
Just a word of warning the pens can stain certain services so make sure they have a Matt out whilst they are using the pens.
The Fuzzikins school edition is £24.75 from amazon.
Pop hair surprise
Ava has just started to actually let me do her hair . It's been a long hard struggle and this pop hair surprise has made her excited to have her hair done each morning without any kick offs.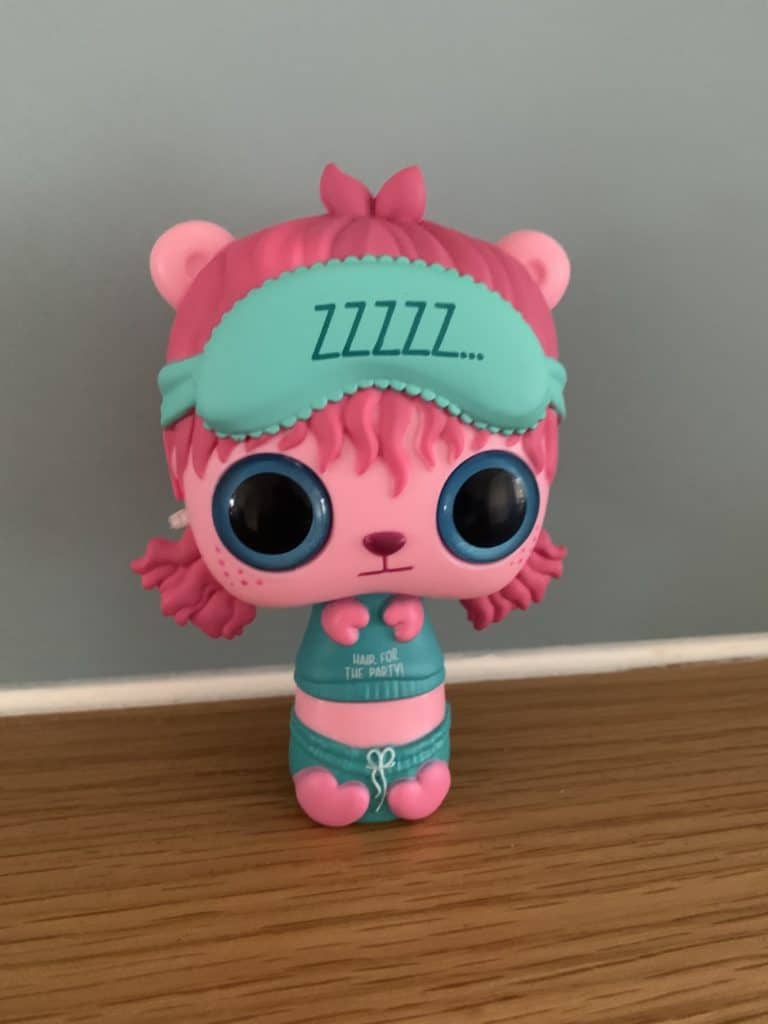 These cute little brushes offer so much more than just a brush . The bottom second pulls off to reveal a spray bottle . Which is great for us as Ava has to have spray in conditioner on her hair so that it doesn't get too knotty and horrible. The brush itself is a really lovely brush that doesn't pull on her hair.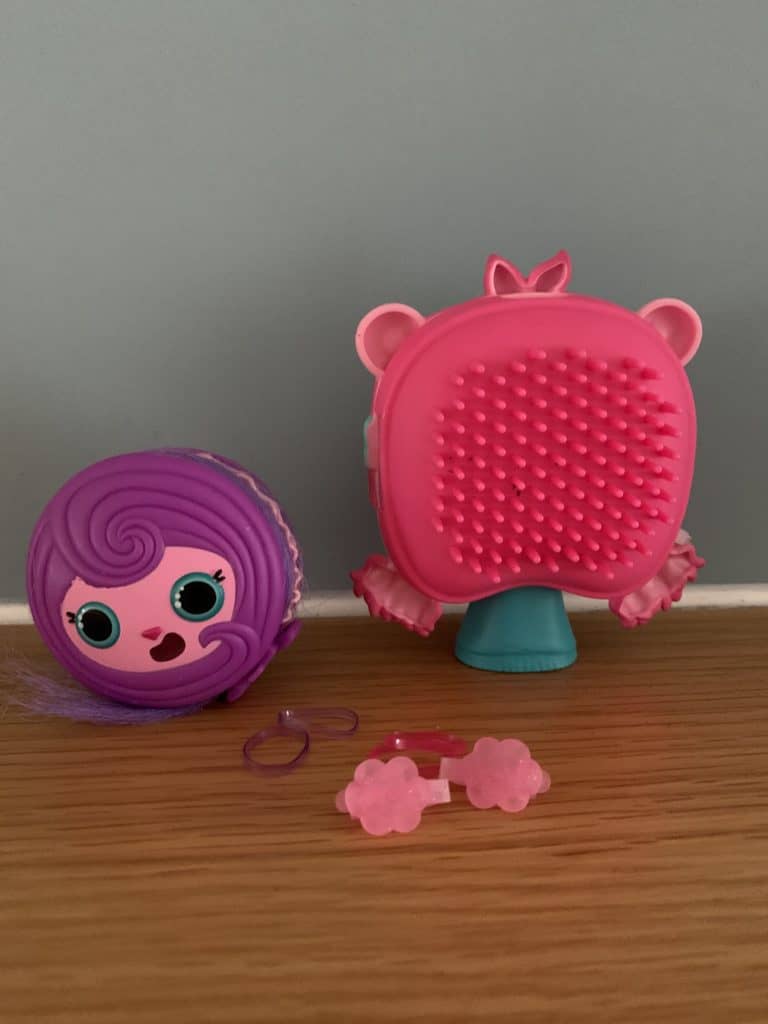 Now this is where the fun begins. You can open up the brush section to reveal a secret wrapped up pop hair pet. Along with with a packet with some small elastic hair bands and clips. Which can be used in your child's hair or on the pop hair pet.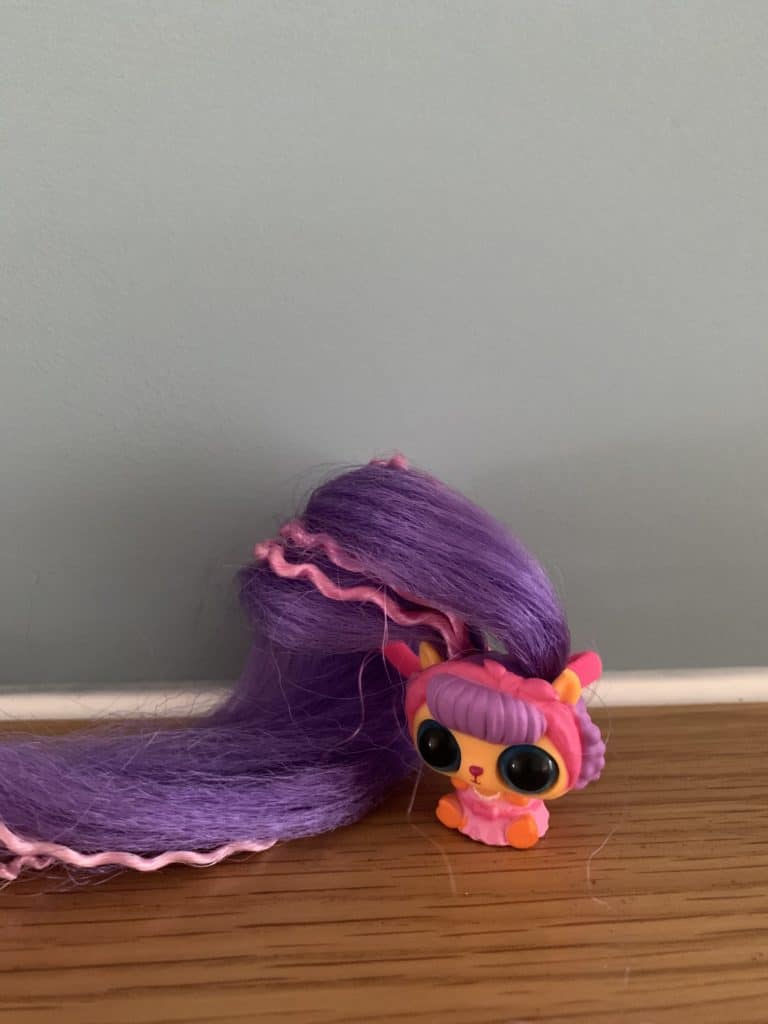 The hair pet can be unraveled and used as a hair bobble which Ava loves ! As she said it was like long princess hair . The fact that it's pretty colours is also a big plus for Ava . You can if you wanted to style your pop hair pet in an array of different ways . The information booklet that comes with the pop hair surprise shows you all the amazing ways you can style your hair pet along with all the different hair pets you can get.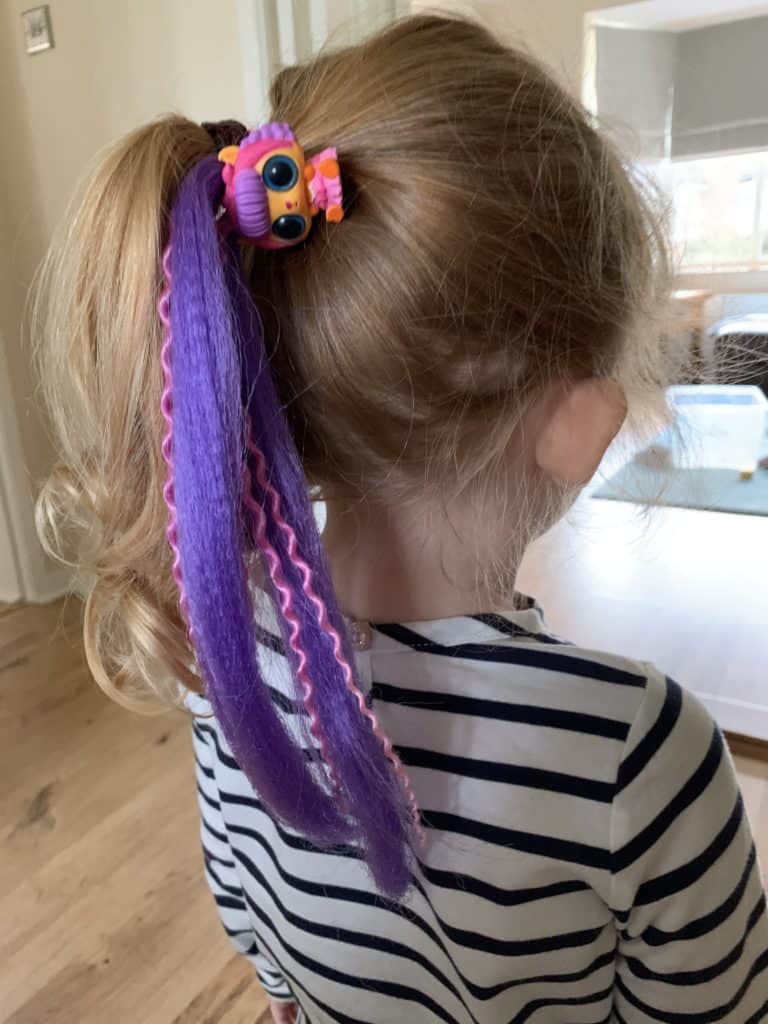 You can purchase the Pop hair surprise from amazon for £9.99 . Making it a great stocking filler or a small gift for a child's birthday.
Ion8 water bottle
How many of you brought your child a water bottle for school in September and they have already lost it !
Why not help a parent out and think about getting their child an Ion8 water bottle as a gift . Yes it may not seem like the most fun and exciting gift but sometimes the most practical gifts are the best.
Ion8 have so many amazing and interesting designs to their bottles . Children for sure won't want to loose them . The main thing that I as a parent want from a children's water bottle is that it doesn't leak . There is nothing worse then them throwing it in their book bag to get home and find everything swimming in water. The Ion8 water bottles are 100% leakproof 100% of the time .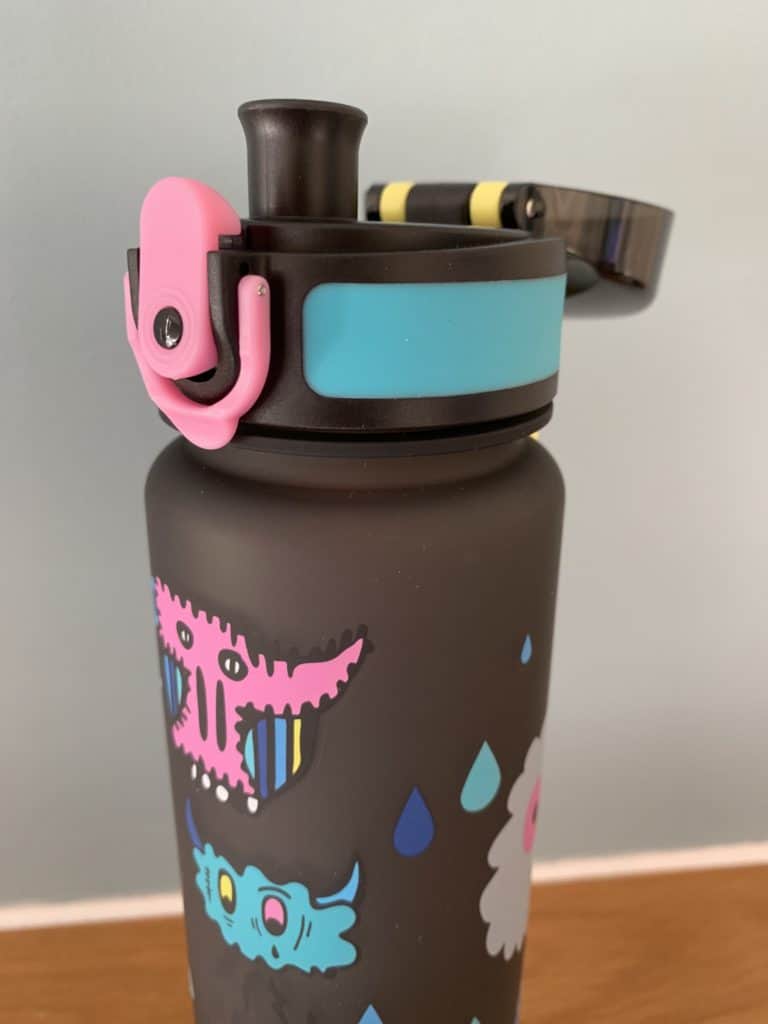 I will say though that once the bottle top is open then the liquid inside will flow out freely. So make sure if you have little ones around they don't get their hands on the bottle. The best way to do this is to use the clasp on the top of the bottle to ensure the lid is secured into place . The clasp is a little tricky to open so younger children won't be able to open it by themselves.
This great little bottle and loads of other designs can be found on amazon for £9.99.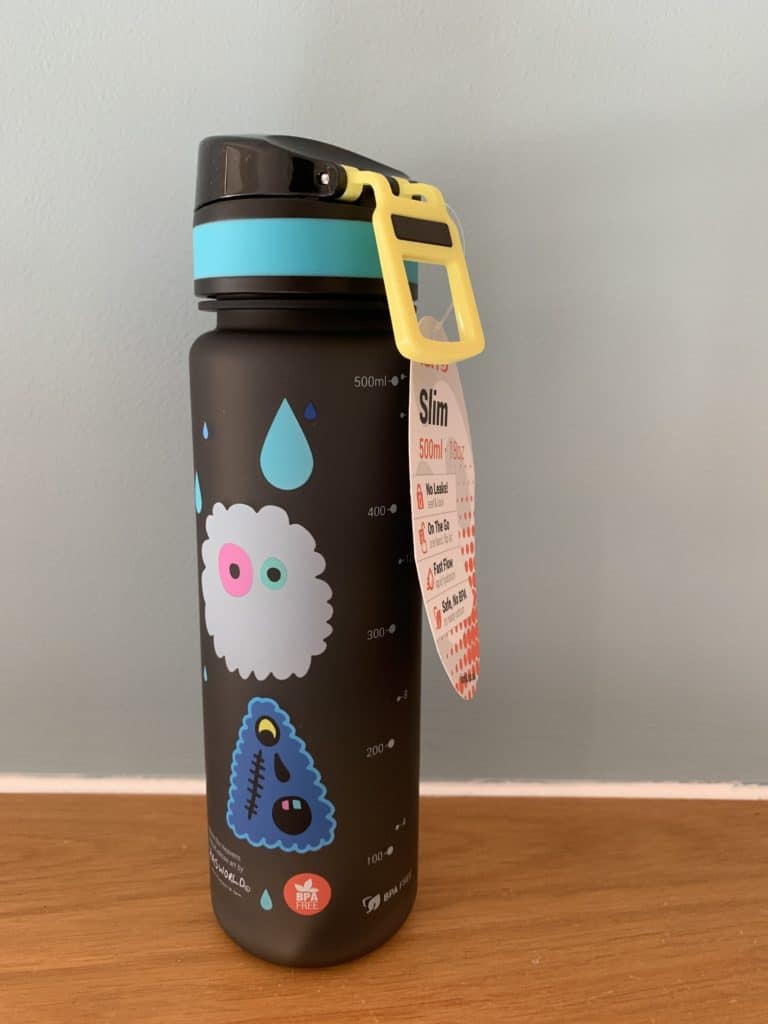 Love Leggings
If your kids are anything like mine then they go through so many clothes. Especially Ava and her leggings they get so mucky at nursery. Or they just loose their shape around the knees. So a good pair of leggings is a great gift . Help a parent out and get them some they they actually need. I'm always happy to receive clothes for my two as it saves me a fortune.

These Love Leggings are amongst some of the only leggings I have found to actually fit Ava. Normally they don't cover her bottom. So she ends up with a builders bottom all day long which isn't the look we're going for.

These Love Leggings are really great quality and are really thick . Which is perfect for the time of year ! What most important is that they wash well . They haven't lost their shape at all and the colour still looks as fresh as when we first got them.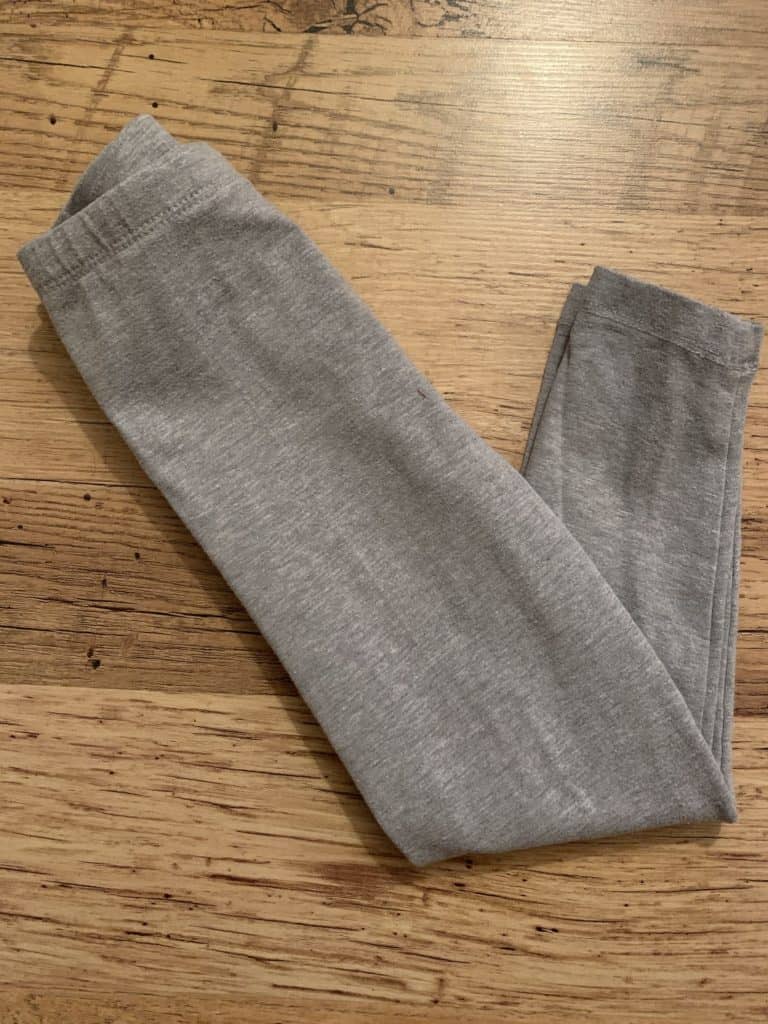 I myself have Love Leggings sports leggings and I love them. If you would like to get some for yourself or for a little one check out their website.
So there's a whole bunch children's gift ideas for you . I hope this helps ! if you looking for adult gift ideas make sure to check out my gift guide for adults.