Father's day gift ideas – Something for all dads
Father's day is fast approaching and if you have a dad like mine you will be stressing about what to buy him. Whenever I ask my dad what he would like he says nothing spend the money on the kids. Jordan's exactly the same it's so annoying. The thing is both Jordan and my Dad are the best dads nothing is too much of an ask for them. They work to provide for their families and go above and beyond to make sure we are all happy. So I thought it might be helpful if I put together a collection of potential gifts ideas. So if you have a dad like mine or are trying to find something off your kids for their dad then this may give you some inspiration.
Personalised pocket watch
I don't know about you but I love a personalised gift. I don't think there is anything more special than having a gift. With a personal message on from someone you love. We have been very lucky to have had the opportunity to pick a personalised pocket watch from Giftsonline4U for inclusion in this gift guide.
Now I know you may be thinking why a pocket watch when will that ever be used. Well Jordan has loads of watches and he switches between them all dependant upon where we are going. He hasn't got anything that's really special for those fancy occasions. Now we don't go to fancy places a lot but. We have been invited to a few weddings recently and I think this pocket watch would make a perfect addition to his suit for such occasions.
So I headed over to their website and started to personalise my pocket watch. This was really easy you simply fill in the boxes with the message your want to be put on your product. You can pick from different font styles which I thought was nice as not every likes the same font styles. I placed my order and waited excitedly for it to come.
A few days later it arrived and I'm so happy with the outcome. The engraved writing is perfect and is done to perfection. The actual clock face is simple but still interesting. The cover opens with ease and secures shut really well. I personally think it will make such a great conversation piece and it's also personalised with a message from your kids. What could be better right.
The Engraved pocket watch in gum metal black shown above is £34.99 which includes free standard delivery. If like me you leave things to the last-minute don't worry you can change the delivery option and pay a bit extra to get it sooner. There's isn't just watches there are loads of personalised Father's Day gifts.
Sliders
Now Jordan assures me that the new trend is to wear sliders and socks. I always thought this kind of thing was a no go like socks and sandals but apparently not. Since he told me this I have been seeing more and more men wearing sliders with socks. If the dad you are buying for is a lover of shoes and keeps up with the latest fashions then these shoes are for you. Jordan was very excited when we were sent these Ralph Lauren sliders from Mainline as he had been looking at some for a few weeks now. He said they are really comfy and they support his feet really well in fact he has been wearing them a lot around the house instead of his slippers so they must be comfy.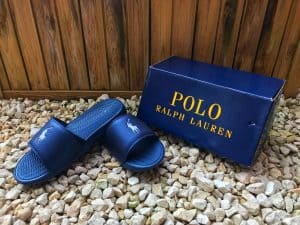 The Ralph Lauren sliders shown above are from Mainline and are priced at £39.00. Jordan normally takes a size 9 shoe so we got these in a size 9 and they fitted perfectly.
Luke polo shirt
I would say the staple piece for most mens wardrobe is a polo shirt be it a long-sleeved or a short-sleeved one. Jordan has many polo shirts ones that he can dress up and others for everyday. So this would be a perfect gift for father's day don't bother with my dads the best t-shirt because come on when are they really going to wear them. Get them something that they are actually going to want to wear out. This Luke long sleeved Polo shirt is a great option. It can be worn to many occasions and they wash really well. We also went for grey aswell as this can be worn all year round and goes with so many different trouser and shoe combinations. Which is perfect for Jordan as he has a million and one different trainers so needs clothes that go with them all.
The luke Polo long-sleeved polo shirt shown above is priced at £29.99 and can be purchased from Getthelable.com.
Shave kit
Like I said earlier when I asked my dad what he wanted he said nothing. After me asking and asking he came back with just get me a razor. My dad shaves most days unless his trying to annoy my mom with his overgrown facial hair ! So a shave kit would be prefect for him. At the moment you can sign up to the BIC shave club for just £2 for the first month. This first kit will include a handle and +1st blade refill. Following boxes will include a blade refill back which includes 4 new blades. You don't have to have the box delivered every month though you can opt for every other month it just depends how many blades you will need.
This will make a great gift for those Dads out their that shave regularly. It's convenient to their door and includes a high quality razor that gives a great shave. Dont worry though if you find this isn't for you and you would like to cancel you can at anytime.
Wilkinsword razor
There are other options if you have a dad like my kids and only occasionally shaves due sporting a big beard. A monthly subscription is probably not for them but they will still need a razor to keep their beard looking neat and tiny. This is where Wilkinsonsword razors comes in.They are affordable razors that are great to use. My dad has been trying his out for the last few days and he says it gives a great close shave. It also leaves his skin feeling great. If you don't just want to give your dad a razor why not pop this is a gift hamper with some other presents.
Armor All
Do you have a man in your life that loves his car . One that could spend hours cleaning it , yes I do and this is the reason why we need Armor all products in our lives. The Armor All products shown below can clean your car in one easy step and don't need water. Which means they wont need to waste time putting the hose pipe together or using lots of water filling up buckets. They can simply grab these products and get started. They still get the satisfaction of cleaning their car and you will know they wont be out there hours with buckets and sponges.
Pictures from Tru print
When I think of Tru print I think of photos. Somewhere to go to print of cute pictures of the kids to put in frames. I was very surprised to learn that they do much more than photo prints. I have given £20 to spend on their website. So off I went in search of the perfect gifts. Now my problem with Jordan is he doesn't drink hot drinks so cups and mugs are just not worth me getting. He has a protective case on his phone which I know he wont change. So I was a bit stuck then I noticed they did Father's day cards. Where you could upload pictures and put them on a card. So I made two cards one for Jordan and One for my dad and I love them the quality is really good.
I had some money left over after the cards so I kept looking a bit more at the products they had. I then saw the Keying's which I thought would be perfect. Now the Keying's we have at the moment are from when Ava was a few weeks old.I keep looking at them thinking I really need to update them. So I picked a selection of pictures and made them into keying's. The casing is really good and look like they wont fall apart easily which is great for £2.99 each. I also got some made for my dad also as he hasn't got an up-to-date one either.
Tru print are running a great campaign this Father's day called #swapsocksforselfies . Which basically is all about stopping giving dads boring socks for Father's day gifts and give them a gift they can enjoy for years to come. Which I think is such a great campaign. As why do we get our dads socks they deserve so much more.