Gift ideas to get you in the Christmas sprit including adult and children advent calendars
When it comes to Christmas it's not just things you need for the big day there is also things you will need on the run up to it. One of those things is Advent calendars gone are the days of getting a £1 chocolate one. Over the last few years I have seen some pretty awesome advent calendars released. I have two to share with you .
Yankee Candle Holiday Sparkle Advent
I get a Yankee advent calendar every year for both mine and Jordan's moms. For us its a nice treat to give them to thank them for all the things they do for us through the year. Plus as parents normally if you don't buy yourself one then no one will so we like to get both our moms ones.
This years Advent calendar is a beautiful wreath shape which also has space on the back so it can actually be hung. Which I thought was a nice touch. The holiday sparkle calendar comes with 24 tea lights, including the new icy blue spruce and new glittering star and one tea light holder. The added tea light holder is a perfect addition to the advent calendar. The Holiday sparkle advent calendar is priced at £24.99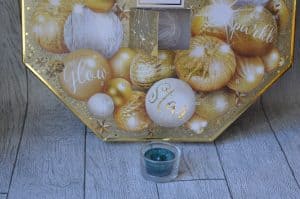 They don't just do this advent calendar Yankee also do a fold out advent for £34.99 which includes 12 votive, 12 tea lights and 1 votive holder. Also if you have a little bit more to spend they do a Christmas tower advent for £74.99 which comes with 2 small jars, 12 votive, 6 wax melts 1 smart scent, 1 vent clip, 1 wax trimmer, 1 snuffer and 1 tower votive which is exclusive to the tower advent calendar. Now that is a lot of candles for you money. You house will be smelling beautiful for most of the year
Playmobil Advent calendar Royal skating trip
Playmobil is loved by all kids so if you're looking for an advent calendar that isn't chocolate for the kids then this is a perfect one. We were sent the royal ice skating advent calendar and Ava loved the fact it looked like her favourite film frozen.
In total there are 101 pieces from an ice skating queen figure to cute little foxes and squirrels. Which your children can explore and create an exciting winter wonderland scene using the backdrop that comes with the advent calendar.
The great thing about this advent is that each day they get a new piece to play with and can play with them for years to come. So personally I think it's better than a Chocolate one as they will have something to keep and play with.
Due to small parts this calendar isn't suitable for children under 3 years
Pickering's Gin Baubles
Looking to add a twist to your Christmas tree or do you just love Gin. If yes then these Pickering's gin baubles are perfect for you. These baubles are available in a rainbow of colours with a silk red ribbon so you can attach them to your tree. They will certainly add a splash of colour to your tree for sure. Then when the stress of Christmas gets too much you can sit down at the end of the day and try the tasty gin inside.
For those Gin lovers out there you really need to get these. The Gin is just beautiful in them. It's full of flavour and it's the perfect little treat to have at the end of a busy festive day. They recommend that you serve it on ice with tonic and a slice of pink grapefruit. Now that sounds perfect to me ! Why not get yourself a bottle of Pickering's Gin so you can keep them topped up.
I'm sure these will sell out fast as they have done in previous years. So make sure to get yourself some from