Gift ideas for children three years plus
This post contains affiliate links
You may have seen a few days ago I did a gift guide for one year olds. That means today's gift guide is for Ava's aged children and she is nearly 3. This is the first year that Ava actually understands what's going on . She getting really excited for it all and is actually asking for things . When I say things I mean every toy she sees on the TV. Whenever she sees something she just goes I ask Santa . How I wish I could use Santa all year round .
So I have put together a selection on gift ideas to suit all budgets and interests . I hope you like them . Please do let me know if you get any of them . I love to hear feedback on what you thought of the products are.
Talk back unicorn
Unicorns are still very popular amongst both children and adults . I have a big feeling many unicorn lovers are going to love this talk back unicorn . It repeats everything you say . So you can just imagine the fun that the kids are going to have with this .
Since being sent this to try Ava hasn't put it down. We have had to change to batteries in it pretty quickly but this may be down the fact that she plays with it a lot . Also normally they only come with a slight battery charge on things like this.
You can purchase the Talk back Unicorn from Studio and at the time this post was published they are £14.99
DUPLO
It seems that Duplo is like a right of passage for a child . Every child needs to have at least one Duplo set in their life right ! This Lego Duplo farm adventure is a fantastic set . Not only can you build the barns on the farm you can attach a pulley system to one of the barns to ring the bell. The imaginary play opportunities with the set are endless.
For children who are lovers of farm animals and farm life this is perfect . It comes with Lego Duplo people to ride the tractor and animals to pop in the pens.
This set is aimed at children 2-5 years but you just know the older children will want to play with it also.
Happy Sloth Water bottle
How many of you brought a brand new water bottle in September for your kids and they have lost it already . I bet there is quite a lot of you out there. This happy sloth water bottle would make the perfect replacement and the perfect stocking filler.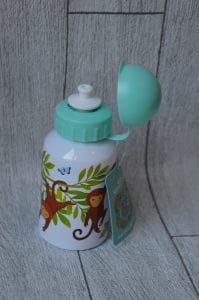 The water bottle has a push up and down mouth piece that once pushed down stops any of the liquid from leaking. Making it perfect for keeping in children's book bags . It's also metal so it withstands a lot which is what is needed from a children's water bottle. You can purchase this water bottle and lots of other lovely products from the World Animal Protection website.
The Playbrush smart sonic
Children get to an age and cleaning their teeth becomes boring. que the arguments every morning and bedtime about brushing their teeth. The smart way tooth-brush makes brushing their teeth fun buying using an interactive app. Sounds pretty snazzy right ! You child can play games on a smart phone or tablet whilst brushing their teeth. The games make sure that children clean all areas of their mouth by making them move the brush around their mouth to complete goals on the game. As a parent you can see how well they are brushing their teeth as their tooth brushing quality is recorded and assessed through the game.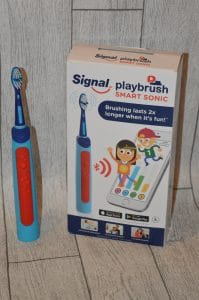 Ava did really enjoy using this some of the game she didn't quite understand but the more she played the more she understood the different movements she had to make in order to complete certain levels and tasks on the game. The Playbrush smart sonic costs £29.99 from the Playbrush website or Amazon and it includes 1 Playbrush smart sonic, 1 brush head, 1 charging dock. On the packaging it also shows you how to download the app on to a phone or tablet so you can also join in the fun.
Hape tea for two
If you saw Alby's gift guide the other day then you may have noticed that we are loving Hape toys at the moment. This Tea for two set is another of my favourites. This tea seat enables children to let their imagination run with life-like tea bags and beautiful wooden tea set pieces. This set comes with teabag, tea-pot , 2 cups and saucers, tray to carry it all on, milk jug and sugar bowl . That are all beautifully made and have such lovely details to them.
This set is perfect for encouraging children to share and taking turns whilst developing their communication skills with such a lovely set of role play toys. Ava finds it funny pretending to be mommy asking if anyone would like a cup of tea then making her teddies a cup. I think this is just a beautiful gift and any little person would be so lucky to receive this. The Hape tea for two set has a RRP of £17.99
Hape mini band set
Both my kids love music so a band set is perfect from them. This one especially as Ava has been asking for a ukulele for ages after seeing one at a friend's house. The Hape mini band set is perfectly sized for little hands. In this mini band set there is a ukulele, tambourine, clapper, rattle and rainmaker.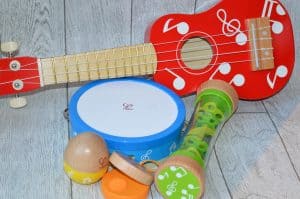 Children can start to learn how to make their own music. They are able to explore a wide ;