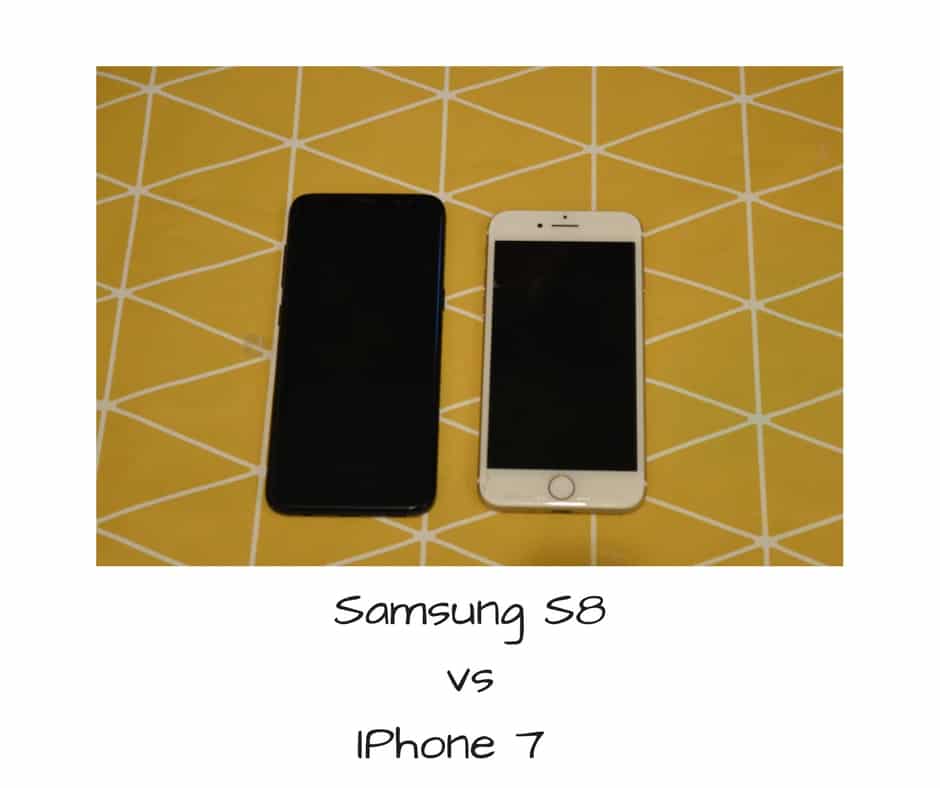 Apple Iphone 7 Samsung S8 which is the best for a blogger ?
I have been using an iPhone for the last 5/6 years and I have always said I would never change it for a different brand. I do everything on my phone , I do a lot of my social media coverage for my blog on my phone . I occasionally write the odd blog post from my phone. So I need a phone that can keep up with my life. The other thing is we have a lot of Apple products in our house and they link together seamlessly . So the thought of changing my phone does scare me a little . But I have been set a challenge from the lovely people over at Three. To see if I actually do love the iPhone or if I'm just so used to it now I'm blinked to what else is on the market.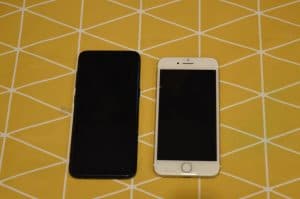 So for the last month now I have been trying out the Samsung S8. It did take me a long time to get used to how the phone works. I would swipe and things would pop up from all directions. After I had been using it for a while I did get more confident with the phone but did find it more confusing than the IPhone. This may be because I am so used to IPhone's layout and shortcuts. That anything different just baffles me. There was however some things I really liked about the S8 and the first things was the Camera.
Camera
Being a blogger having a good camera to hand is really important . I'm updating pretty regularly on my Instagram stories what were up to and there is nothing worse than a fuzzy image. I do find that my front Camera ( just above the screen) on my iPhone is a little rubbish. The picture quality on the iPhone 7 isn't the best if I'm honest . I know that the newer models do have a lot better picture quality than the iPhone 7. The Samsung really impressed me with how good the images are. There are loads settings you can use , making sure the light is balanced to smoothing your face ! ( I do like this one). Take a look below at the difference between the two cameras. I took both pictures of Ava at the park on the phones both at the same time. The difference is huge I think , they were both just on the basic settings , so just point and click.
I also do a lot of my photo editing on my phone I have lots of different apps for this on my iPhone . As I'm not 100% happy with any of the inbuilt filters. Below you can see the same picture edited on both phones.
I found the S8 had a wider range of filters and your able to edit these filters easily. Giving you the results your after without having to have an app to do this with. I did like the fact I didn't have to switch between apps to edit the picture to how I liked it. I much preferred editing pictures on the S8. Which for me is a big thing as I edit all my picture before they go on my blog. So they are the best version it can possibly be.
We are the generation for selfies and this is rubbing off on even the youngest of children. Ava loves to take a selfie or two. We did this on both phones to see if there was a difference in the cameras on the screen side.
Both phones were on the basic setting and I personally think the quality of the S8 photos are much better. They are brighter and clearer to see. This is a big positive as if I ever take pictures with the kids they are this way. So to have better quality photos would be great.
Video quality
Along with photos I like to capture the kids growing up on video. I share a lot of these videos over my social media pages. So I want them to look good as well. When I say look good I mean I want the video the be clear and crisp. I didn't realise how bad the video quality was on my IPhone until I started to compare the two phones. Take a look at this short video underneath to see the difference in the quality.
Security
On my iPhone I have set up the finger print recognition . I find this really easy to use and it works straight away . I do also have a number combination password on my phone but that's very rarely used I just have it on for that added bit of protection .
The S8 has a variety of different ways you can make sure that only you can access your phone . The first is a basic password like you do on many phones . You can have either a numerical one or combination of letters and numbers . The second way is finger recognition. The sensor for this is on the back of the phone next to the camera . This really took some getting used to. I did a lot of the time find myself swiping over the camera. I don't think it works as well as the iPhone sensor as I have try multiple times for this to work . The third method I used on the S8 was the retina recognition . If I'm honest I just found this a faf . I was either to close or too far away from the camera . So most the time I didn't bother with this one.
Features
Now I was a little bit annoyed when apple removed the headphone jack if I'm honest. It's not very often I use it but now I no longer have that option to use it it's  annoying I'm unable to. The Samsung S8 however does still have this feature so I can see this will be appealing to many people.
Battery life is the biggest thing for me. I'm a mom who is out and about a lot, So I like to take pictures of what were up to. I answer a lot of my emails during the day whilst I'm out. I'm not ashamed to admit that my phone sometimes can be used to keep Ava entertained whilst were waiting for food in a restaurant . So I need a battery that lasts me most of the day. My iPhone is slowly getting worse for its battery life and I do find that it can take a while to charge up and be used if the battery is fully dead. The S8 has a bigger battery so does last a lot longer but neither phone go more than one day without being charged. The S8 also has a wireless charging ability and I have seen that some coffee chains and fast food restaurants in bigger cities have added wireless charging facilities.
As I said earlier from time to time Ava does use my phone to watch things on. I found one of her much-loved songs on you tube and watch the same video on each phone. The picture was so much clearer on the S8 . The infinity screen has been designed to improve the viewing experience whilst watching videos on your phone. As I don't really watch a lot on my phone it isn't a biggy for me. I can image though that if you're commuting a lot and like to catch up on programs on your phone then this will be a big plus for you.
Now I use Siri a lot she is like a friend to me if I'm not sure of something I will ask her. She has always worked well for me and gets what I'm asking mostly straightaway. However I have seen some people use Siri and end up with something completely different to what they were asking. The S8 has the same kinda feature but its called Bixby. I did find that this feature worked a lot better through a wide range of different apps on the phone. You can easily go from voice to touch mode which I thought was really clever. I did like to fact I could point the camera at something and get Bixby to get more information about the product and where I could buy it. As much as a love Siri I think I much prefer Bixby. It just seems to work well with all the apps on the phone and it runs smoothly. It also has added features and capabilities that Siri doesn't have.
Overall I think the S8 is the better phone for me . The camera and the battery being the biggest things that draw me to the S8. I'm not sure if I would leave my IPhone behind just yet though I do find it more user-friendly and easier to navigate around. If I was to jump ship then the S8 would be at the top of my list.
Do you prefer the Samsung S8 or IPhone 7 ?
*I was sent the Samsung S8 for the purpose of this post on a loan basis. All opinions are my own*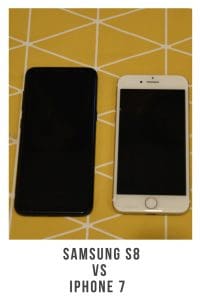 Follow me on :