Alby has starting teething !! he is only 12 weeks old but already I can tell his going to suffer with his teeth. Now Ava was fine with teething to be honest half the time I didn't know she was teething. Her first tooth came though and i didn't even realise until I was changing her nappy and was able to see into her mouth. This I know wont be the case with Alby, he has become very clingy at the moment . He is dribbling constantly and screams out as if he is in pain.
So I know I'm going to need something to help soothe his gums. Thankfully we have been very lucky to be chosen to be a brand ambassador for Gummee. If you dont know who Gummee are where have you been !! They have a wide range of teething products for children from birth to 30 months including the worlds first teething mitten.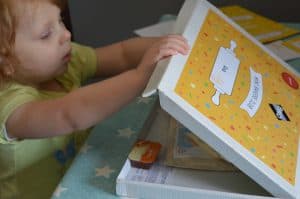 The lovely people at Gummee have sent us one of their teething mittens to try with Alby. I did have one of these for Ava but as i said above she really wasn't that bad with teething. So she played with it more than she chomped on it.
So once Alby started to explore his hands more I thought it was the perfect time to try out the Gummee Glove. Straight away he knew what to do with it and I could see the relief on his face.
The Gummee Glove does also come with a handy little bag. This can be used to keep it safe whilst in the changing back or you can place the glove in it so you can wash it in the machine.
The orange heart teether can be removed from the glove by simply popping open the press studs inside. This is great for little ones that have acquired the skill of holding things. The heart teether is really easy to be held by little ones and can be used on it own once your little one has outgrown the Gummee Glove. We kept our heart teething ring clean by placing it in our steam steriliser. You can also place them in the fridge to cool . As it is known that cold can also give relief to baby's sore gums.
The Gummee Glove is suitable for babies aged between 3-6 months and can easily be adjusted using the Velcro strap around the wrist.
The Mitten is made from 100% cotton and conforms to all CE mandatory and non mandatory testing. It is also BPA,Phthalate and latex free. both Side teethers and silicone heart are made from food grade silicone.
The Gummee Glove now comes in a variety of different colours and you can also mix and match the teether that is used on the top.
Overall I'm really pleased with the Gummee Glove it gives Alby the relief he needs. I'm excited to try out some of their other product they do as he gets older. Want to know more about Gummee and the products they have then pop over to their website.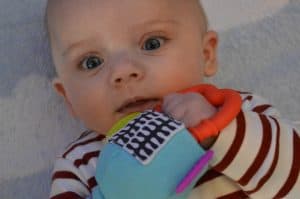 *We were sent the Gummee Glove shown above for free in return for a honest review. All opinions are my own*
Follow me on :