When looking for different foods for Ava I first of all look for things that don't contain any artificial preservatives , colours or flavourings. Then I look at the different tastes as I want her to try a variety of different foods. Kiddylicous products tick all of these boxes.
We were recently introduced to Kiddylicous by a friend who said she used their products when her daughter was weaning , and still uses them now her daughter is older.

The wafers are defiantly Ava's favourite they are full of flavour and just like it says on the packet they are mess free. Which are great for when you are out and about. Ava did have a little breakdown whilst in Sainsburys as she noticed the wafers on the shelf and needed them !.

Both the wafers and the fruity puffs are a great size which is fab for encouraging independent feeding. It was great to find products that are so strong in flavour and don't just stick to vegetables for crisp type snack.

We also tried their veggie straws which were really tasty . I have also been known to snack on these too. They are tomato, kale and spinach flavoured ! Not something I would usually eat or pick out for Ava but they went down really well . My friends little one also loved them when we when for a picnic eating them all in one go !.

These products are also great if you child has allergies as they don't contain gluten, milk,nuts or egg. I would definitely recommend these to any parents who are weaning or thinking about weaning. They don't cost mega amounts either and can be found in most supermarkets. they are also great for busy parents on the go .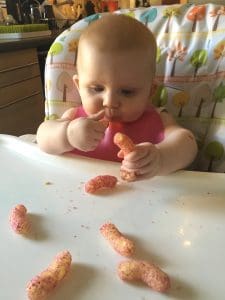 * I was sent the products shown above for free in return for an honest review, all pictures and opinions are my own*
Follow me on :