Finding the right gift for your kids is no easy job . Last year we did a children's gift guide to help you which we had some great feedback from. So we thought we would do another one this year in the hope to help make Christmas a little easier. Now these are gifts with a different perhaps not in the top 100 toys for Christmas but still they are great gifts.
Design your own bird feeder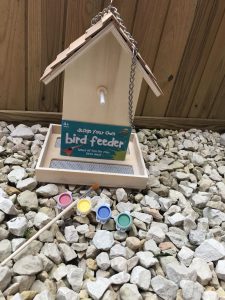 Now I always find that arts and crafts stuff is always a winner. Even better when there is something lovely to keep at the end of it all. This design your own bird feeder is fab not only do the children get to paint it . They can watch all the birds that come to visit it . Now Ava loves watching the birds at her nannies house so I know she would love to do this. We had great fun painting it and I suppose you could say it's a gift that keeps on giving.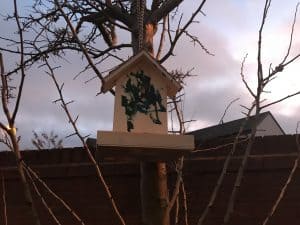 Also you could look at this gift in a different way . Do you have a grandparent or family member that loves birds . Then why don't you buy this for your kids to decorate and then gift it to them as a present. So not only can it be an activity it can be a gift for a family member . And what family member wouldn't want something personalised from their special little person .
You can buy your own from find me a gifts website for £14.99
Personalised Tigger soft toy
Now buying for babies at Christmas I think is really hard . Because let's face it what does a baby need. We want to make sure that our baby isn't forgotten at Christmas but at the same time we're not just buying gifts for the sake of it . We did get sent this cute little soft tigger toy and had it personalised with
To the best little brother lots of love Ava xxx
So that Ava could give him a gift on Christmas Day which is just going to be too cute !. With this Tigger toy we will have a memory that will last a life time plus a cute little gift from big sister to little brother. Let's hope it encourages her to share things with him.
You can buy your own personalised Tigger soft toy from the find me a gifts website for £23.99
Little Elephant personalised stories
You may have seen me mention before how much I love personalised items . Especially stories as Ava is a big book worm already she will bring us books for us to read and look through with her. So when I showed her , her new litre elephant book she was very excited.
She thought it was amazing that it had her name going through the whole story . The book is also a board book which is great with little ones as they tend to rip the pages. The pictures are vibrant and inviting and the story itself is exciting.
You too can own your own personalised story from little Elephant books for just £16.26 . They also have books to
Suit all different ages but please note prices for these may vary . To find out more head over to their website.
The children's meditations in my heart
Now this is something you would give a child as a present but with the correct adult using it . Both the child and the adult will benefit. This meditation book is from the 'Hygge' to parenting. The Danish have got it right on so many thing and personally I think this book is fantastic. It makes you think about the love you give your child and just by simply turning the love up a huge difference can be seen.
This book talks you through how to get your child to have a calm relaxed sleep. Maybe I should have put this in a parents gift guide as the gift of sleep is the best gift ever !!
Know a parent who isn't getting a lot of sleep then they need this book . Priced at just £14.95 and available to buy from amazon.
Janod wooden penguin skittles  game
We are big lovers of wooden toys and these wooden penguin skittles have made a great addition to our toy box. With brightly coloured penguins numbered from 1-5 . They also come with two wooden balls so you can have hours of fun knocking over these funky penguins. They also which I love come in a cloth bag . So once we have finished playing with them we can put them away safe in their bag and nothing is lost.
This simple traditional game has been a winner in our house . Ava finds it really funny to knock the penguins over . Also we can make it a fun learning opportunity by bringing number And colours into the conversation.
Want to get a set of Janod wooden penguins skittles then head over to born gifted website where they are priced at £14.99 per set.
Miffy books
You may have guessed we love books Ava has lots of them. To be fair though she does look at a lot of them on a regular basis . Miffy is a loved character that has been around for many years now . I remember having Miffy books when I was little . This doesn't mean that the stories are outdated . They are as exciting and current as they were when I was little .
The same bold vibrant colours are being used and this little bunny has really become a favourite with Ava . She does love a bunny does Ava.
It has been a really nostalgic experience reading these stories with her and seeing the enjoyment she gets from the stories is lovely. Sometimes the old ones are the best ones
Bags of love
we have recently had Ava's pictures taken at nursery and we are so pleased with how they have turned out. Like many things the packs that you can buy were so expensive so we opted to buy the prints on a stick so we could do what we liked with them. This then meant that we could make some fantastic personalised items for both Ava and us. There are so many thing to pick from on the bags of love website it may take you a long time so be prepared to be torn on what to buy. The quality of the products is amazing and the turn around from ordering to delivery was really quick. Please be aware over the Christmas period it may be a little busier so get your orders in asap !.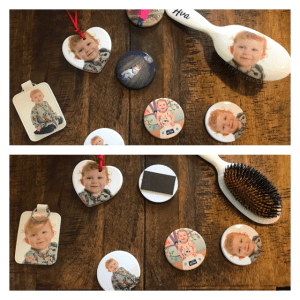 you can purchase the items above from the bags of love website for:
Personalised hairbrush from £23.00
Personalised leather keyring from £14.00
Heart shape personalised Christmas tree decoration from £9.00
A pack of 5 personalised magnets from £19.00
Thank you for taking the time to read this gift guide I hope it's given you some inspiration.
Follow me on :