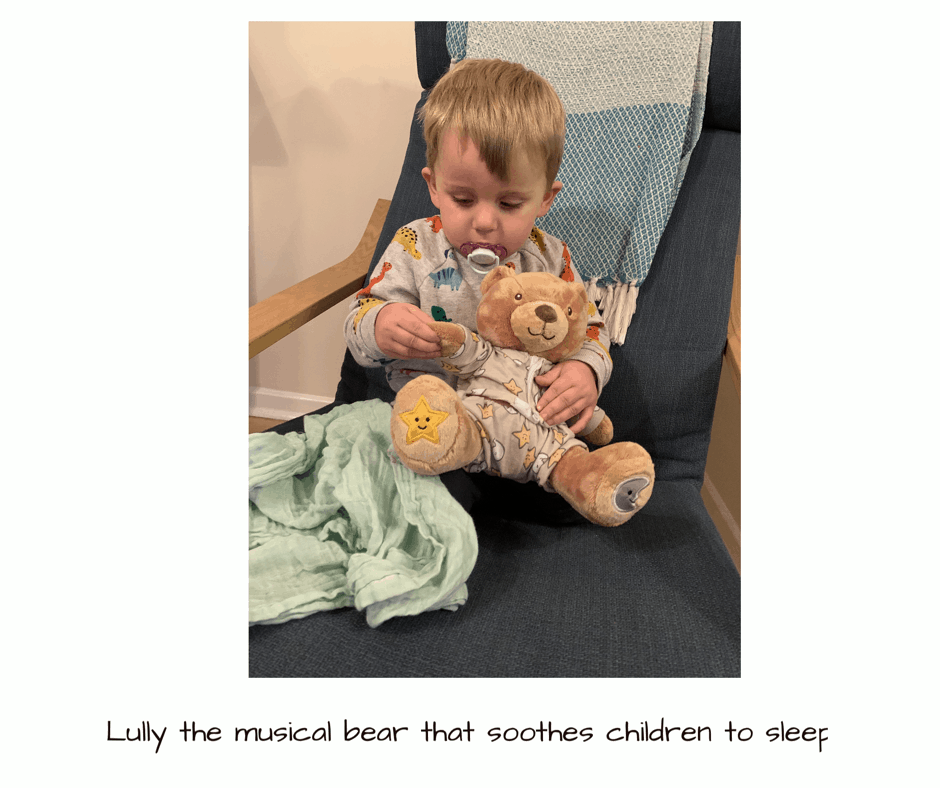 Lully the musical bear making sure children and parents sleep at night
We were recently sent Lully to be featured in a gift guide for 2 year olds. After having used Lully I really wanted to do this product justice. I didn't want to skim over how brilliant it is I wanted to do a full review. So here it is !
Since we moved house Alby at night had become hard work . He no longer settles himself off to sleep. He wakes numerous times in the night. Which always end in him coming into our bed . He will then sleep but I won't. I will have a knee in my back most the night and will literally be hanging onto the edge of the bed. Whilst Alby has more room than me and Jordan put together. So when I got the email about trying out Lully . I though why not let's give it a go it cannot make things worse.
We have in the past brought Alby and Ava many a products that are meant to soothe children to sleep. To which non of them have worked and they end up in a basket on top of Ava's wardrobe collecting dust.
Lully comes in a lovely little box which Ava called his home. With a little note in it which I thought was just adorable.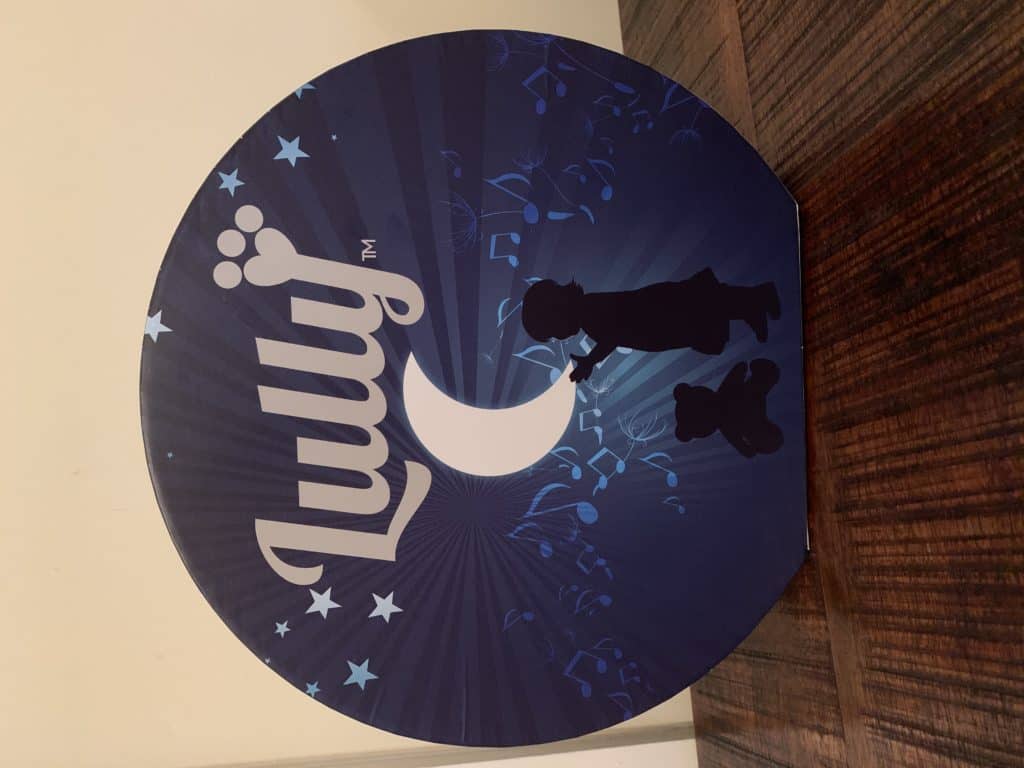 What's more it comes with batteries ! YES I didn't have to go hunting around the house for batteries for it. We popped them in and I gave Lully to Alby who instantly loved him. Giving him cuddles and kisses. Alby does love his soft toys but I have never seen him quite like this before.
Bedtime came and if I'm honest I was still a little doubtful that it was going to make a difference. We read our bedtime story and Alby went to bed with Lully in tow. We started the music and Alby just lay there listening to it . Of course he tried to get up a few times but within about 10 minutes he was fast asleep. This was already an improvement on me having to sit on his floor for half an hour whilst he messes about and then finally gives in.
He then woke up about 10 which he does every night. This is normally the start of his tantrum which results in me giving in and letting him get in our bed. So I went in his room lay him down and started Lully's music . He didn't make a noice so I went back out his room and waited for the crying . The crying didn't happen in fact he slept the longest he has in months. This had got to be a fluke right ? Surely it hadn't worked. It's just a bear that plays music.

So for the last week we have been using Lully every night to see if it was a fluke or if this little bear had actually solved things. I have slept more In the last week then I have in months. He sleeping through the night now most nights. Or if he does wake I put Lully's music on and he drifts back off the sleep . He has even put the music on himself some nights before I have even got to his room.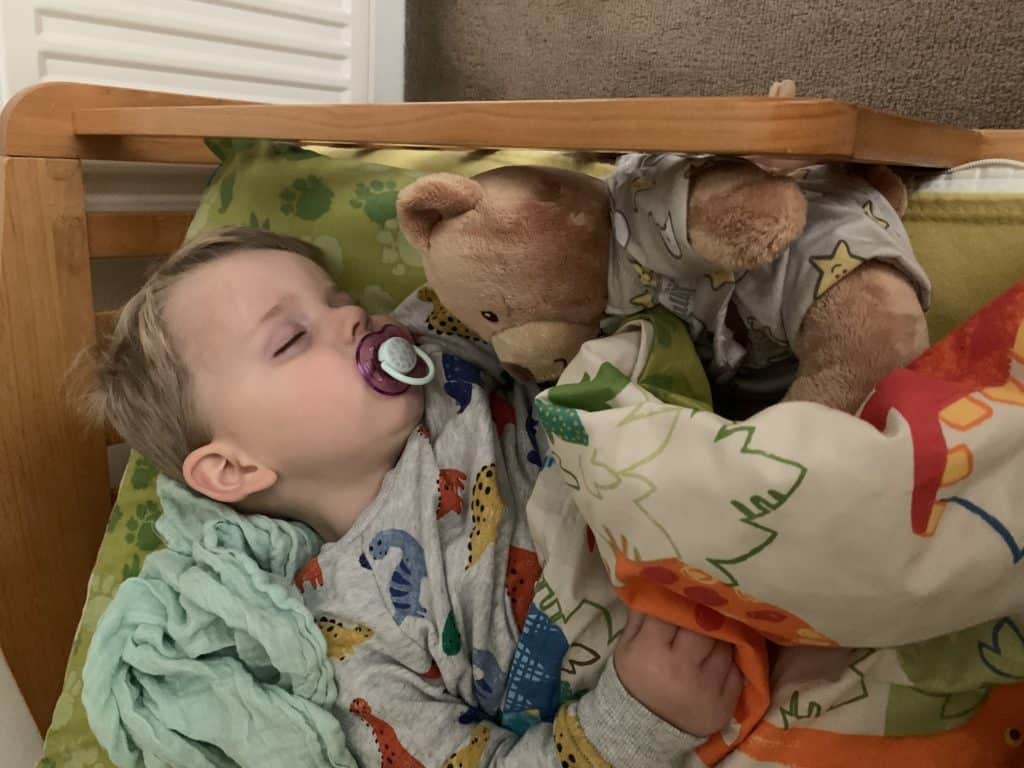 Some information about Lully
Lully sings 23 songs that range from ' you are my sunshine' to 'Any dream will do'. The great thing about Lully is that he continuously plays music for nearly an hour. No quite transitions between songs that wake little ones up. The soft voice of the vocalist along with the music really makes for a calming atmosphere.
You may have heard a lot of the songs before this is because before Lully the bear it was actually a CD that you could buy from Marks and Spencer's. As the world has change and not many people have CD players anymore the beautiful calming songs were put into a bear that children can snuggle whilst going to sleep.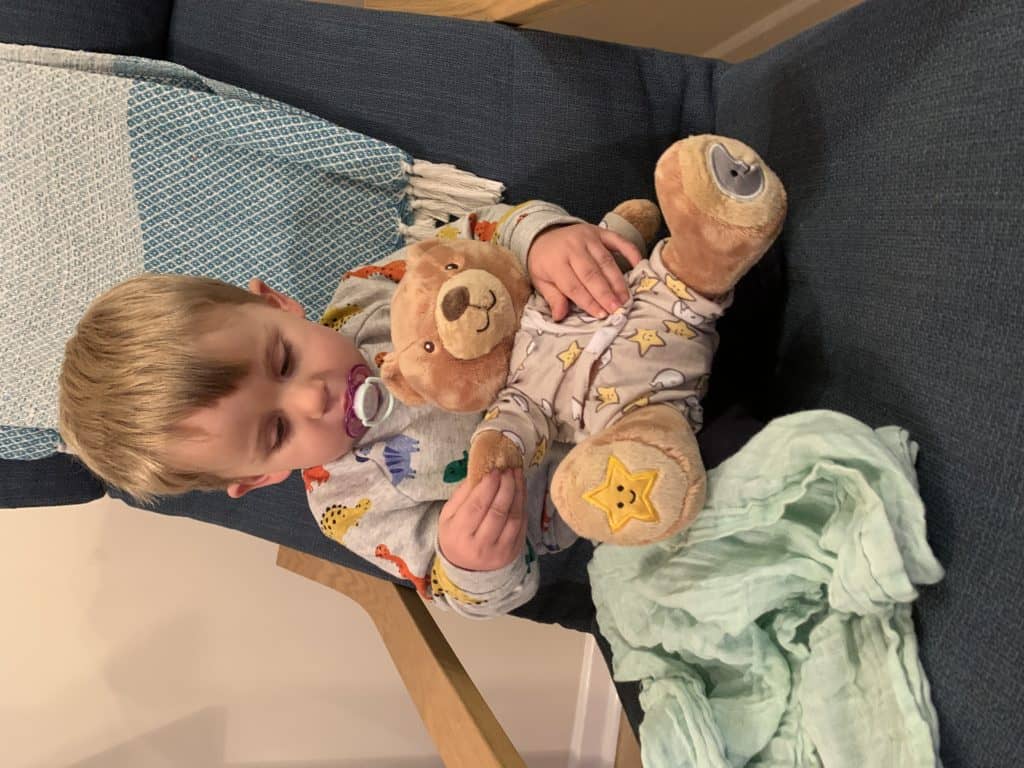 Lully is really easy to use. It's that easy Albys able to turn it off and on himself. Using a button on Lully's hand. You can then turn the volume up and down using the star and moon on Lully's feet. Lully also comes in some cute little Pj's which I think is just adorable.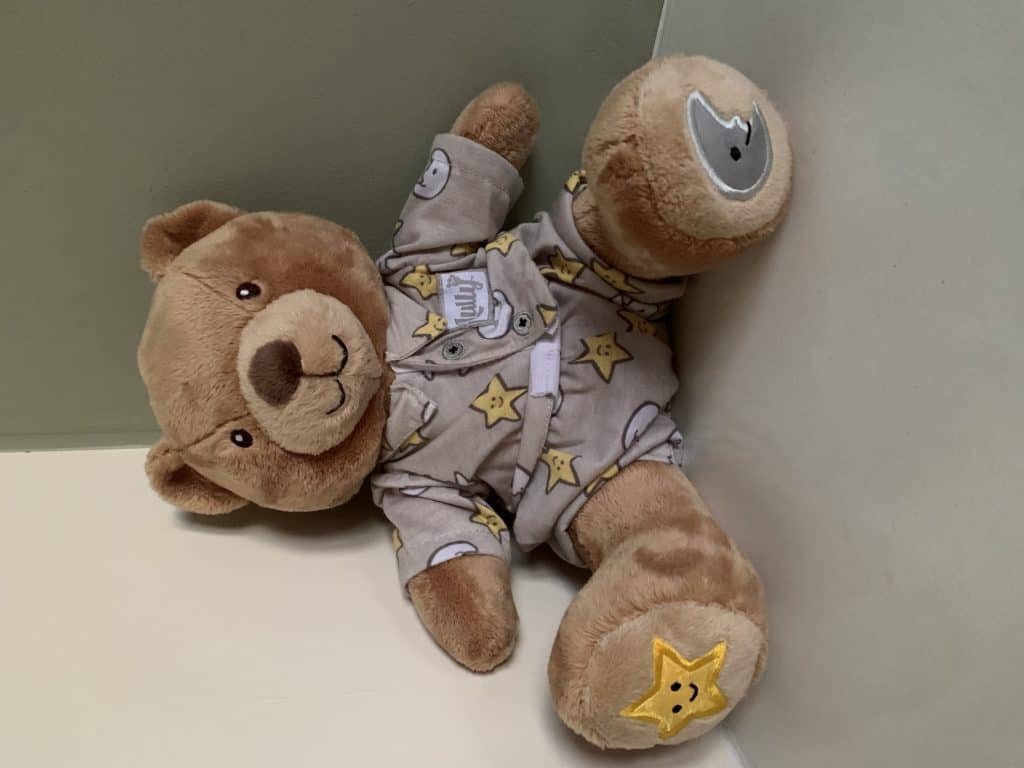 I love the fact that you can turn the volume up and down to suit the child. Some children may like it louder than other and this allows you to do this.
For younger children that may want to take Lully about on their pushchair or car seats there is a Velcro strap on the back. Which can be used to attached to them. You could also attach it to your child's cot bars using the straps if desired.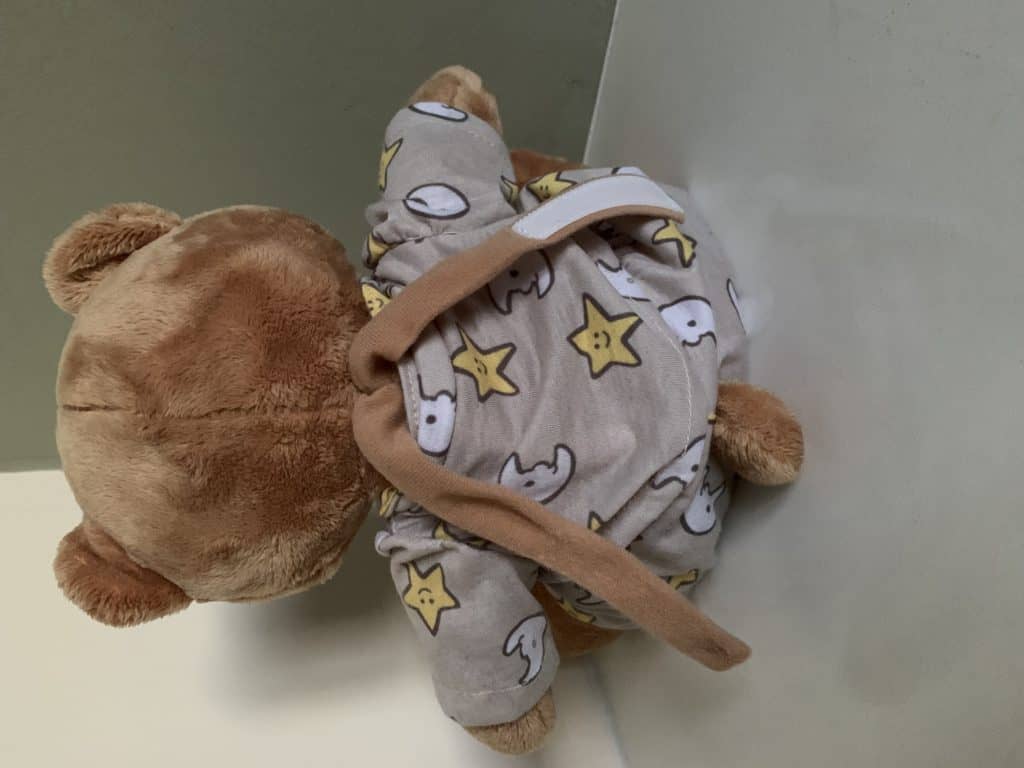 Lully complies with EU standard and align with the NHS guidance on safe sleeping.
If you would like to buy a Lully the musical bear for your child then you can via their website. Lully is priced at £59.95 per bear.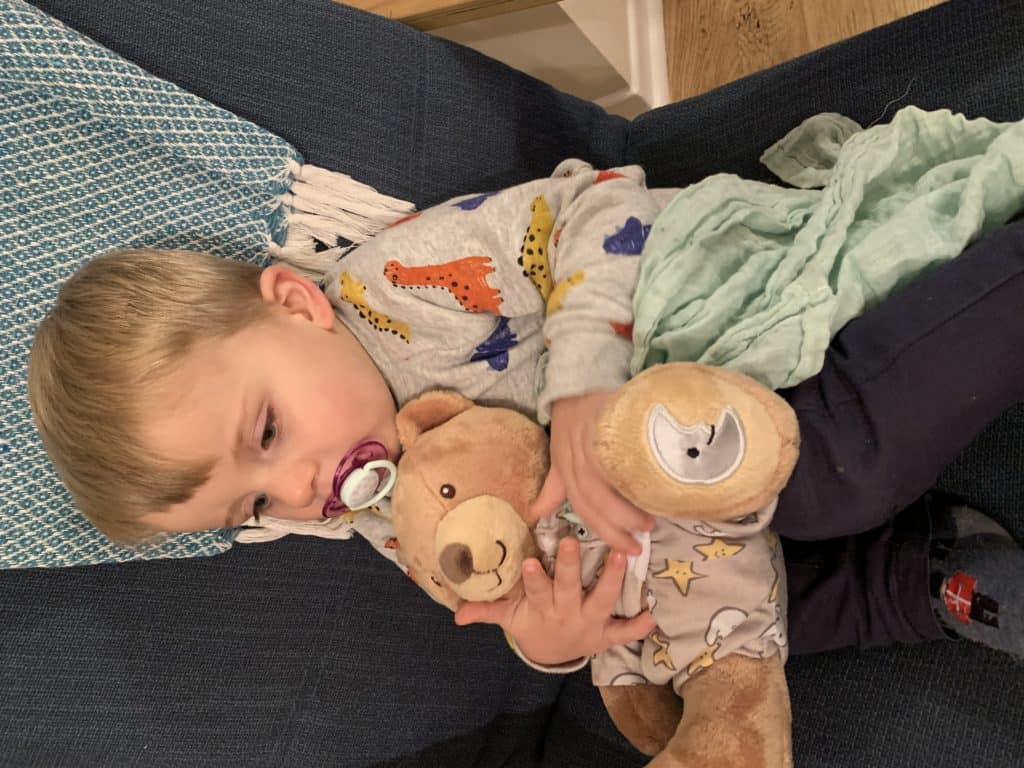 I just wanted to add a little thank you at the bottom of the post for sending Lully to us. It's really made a huge difference. Sleep is so important to be able to function properly not just for children but for adults . I have had more sleep in the last week then I have in a long time and this is thanks to Lully. Even with Alby being poorly he has been soothed by Lully and I'm so grateful !