When Ava was little she did suffer with a little bit of colic and I wish I knew about these bottles. Even though she no longer has colic I could see the difference in her from using the mam anti-colic bottle. I find with the current brand we use not matter what teat I use on them she can collapse them .Quite often she will get hiccups after a feed. I experienced non of this whilst using the mam anti-colic bottles.
The MAM bottle teat is called a Silk Teat it fits perfectly in your little ones mouth.I found that Ava dribbled a lot less of her feed whilst using the MAM silk teat. The ultra soft silk teat makes switching between breastfeeding and bottle feeding easy. The surface of the teat is silky soft and research has shown that 94% of babies accept the MAM Silk teat .These teats can also be purchased in a variety of different flow to suit your child's needs.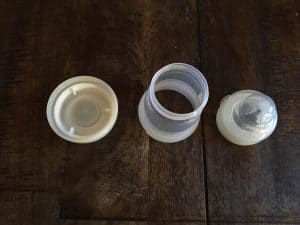 The bottle comes in four different sections. First of all you have the lid which is spill proof and also works as a measuring guide which becomes really handy  when  needing to measure water for the self sterilising method. secondly is the teat as explained above . Thirdly is the bottle section which has a wide open neck  making it easy to clean and also make sure all the formula powder goes into the bottle. lastly is the base which is vented to help reduce colic and gives an even drinking experience that follows your little ones drinking rhythm. Research has shown thanks to the vented base 80% of babies experienced less colic related issues.
One function of the bottle that I really loved was the fact that they self sterilise meaning I only need to take one bottle out with me leaving more space in my changing bag for all the new food items I have to carry. As shown below it takes three simple steps to sterilise the bottles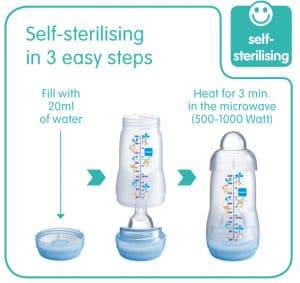 The mam anti colic bottles shown above hold 160ml of fluid and come in a pack of three.They are priced between £11.00-£18.00 and are available in different colours. For more information about the Anti-colic bottles. Or any of the other MAM products then please visit their website . You can purchase these bottles and many of the other MAM products from Boots,Mothercare,Argos,Asda and I'm sure many other high street shops and also from the MAM website.
* The mam anti colic bottles shown above was sent to me for free. In return for an honest review all opinions are my own*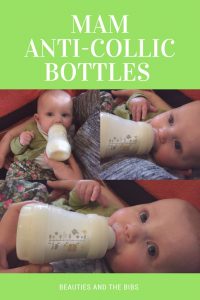 Follow me on :