Now I'm all for kids getting messy but there are some areas of the house that you need to be clean. The main one is the kitchen , this is the place you prepare all your food . So you need your kitchen to be sparking clean. This is where Milton Antibacterial products are fab . You may be thinking I'm sure Milton only did sterilising tablets and solutions. Well your wrong there they do lots more !
The first Milton product we have been trying is their 3 in 1 Antibacterial surface spray. All in all we are a pretty healthy house and I put that down to using antibacterial sprays and wipes . I'm constantly wiping down the sides or the windows from sticky finger prints from Ava. The one thing I would say it would be nice if they did them in different smells. I'm a sucker for a nice smelling spray and it's normally the thing that sways me towards buying a certain product.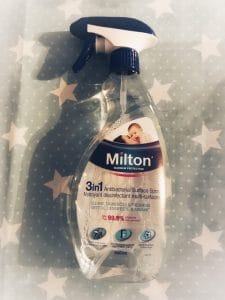 However the Milton 3 in one Antibacterial spray is fab. It cleans, disinfect and freshens. It says that it kills 99.9% germs which is what we need in our house . To keep us all healthy.
The next thing we have been trying is the antibacterial surface wipes . These are so handy to have in the changing bag. I will say though make sure you re seal they as they do dry out if left open.
We go to lots of playgroups and soft plays . We have on several occasions had little ones walking off with Ava or Alby's dummy's thinking they were there's . I just about remember to make sure I have both dummies with me. Let alone making sure I have a spare. So these wipes have been so handy for this.
Also the amount of time I have been at a pub put Ava in the high chair to be greeted by a grim residue of the last child's meal . So I now tend to give the chair a good wipe over before I use it .Or I do tend to use these to wipe down changing areas whilst out even if I'm putting my own Matt down. I like them to be clean as you don't know who has used them before you.
The Milton wipes come in a handy carry size packet . Making them perfect for the changing bag.The other thing I liked is that they are 100% biodegradable wipes which is a big plus in my eyes.
Lastly we have been using the Milton Antibacterial hand gel . Now this is something I always have in the changing bag . As I find all too often that there is no soap in public toilets. So I make sure to have some of this with me. All you need is a little squirt and it dries in seconds.
I have found with some Antibacterial gels they do dry your hands out . This one hasn't been too bad as it does contain a moisturising agent. I do wish though that someone would make a Antibacterial gel that smells less clinical.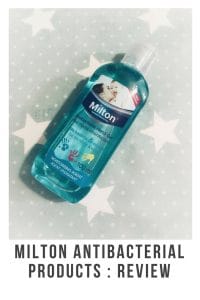 Like the look of these products. Well why not enter the giveaway below to be in with a chance to win. X1 Milton Antibacterial spray, X1 Milton Antibacterial wipes and X1 Milton Antibacterial hand gel.