Ava is really starting to show an interest in the world around her . She loves learning new things. Ava's nearly three and children at that age are like sponges. The more you tell them the more they takes in. So I knew as soon as we received the Smart Globe Myth by Oregon Scientific. She was just going to love it.
The Smart Globe Myth brings earth, space and myths all together creating an exciting learning experience for children. It comes pre-programmed with 12 constellation stories, 6 different geography categories and 10 fairy tales. Ava really enjoyed listening to the fairy tales that the globe told even if they were in an American accent.
On the base of the globe are a selection of different buttons. They are clearly marked with what they do . Ava found using the buttons really easy and was able to switch between each of its settings with ease. I thought it was really handy that it had volume control buttons. So they can have it on a lower volume if listening to it at bedtime . Then they can higher the volume whilst using it in the day.
Night mode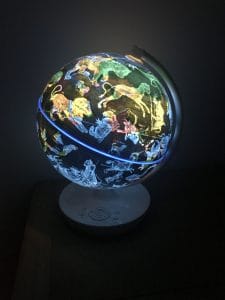 The Smart Globe Myth also doubles up as a night light and it looks amazing. Using it in it's night light mode enables children to learn about constellations. Ava's loved this searching around the globe to see what the different constellations look like.
I really like the fact that your able to dim the light if needed just by pressing a button on the base.
I did find that our Smart Globe would turn it self off randomly and say goodbye really loud. So if you are going to use it as a night light you might want to keep this in mind.
Augmented reality (AR) app
Using a tablet or a phone you can make your globe come to life. Once you have got the app simply load it up and point your phone towards the globe. Ava did find this a little tricky when using my phone but when we used the tablet we found it much easier to use.
Once we got this feature working Ava really enjoyed it . Especially when I was able to get the animals and dinosaurs popping out of the globe . It really brought the globe to life in a really fun and exciting way.
I also liked the fact that you can tap on the different things that pop out and they give you more information about them. Here's one about one of the dinosaurs we found.
Our overall thoughts of the Smart Globe Myth
I think this globe is perfect for children of all ages . As children grow they will be able to use more elements of the globe . Whilst learning about the world. Whilst Ava doesn't understand all that the Smart globe does she does really enjoy exploring it . We have had some really lovely conversations over the past week about it . Which is great for her speech development. She will only learn more form the globe over the years . If I'm honest half of the stuff it tells you is news to me . So it's not just for kids !
It does come with batteries but they don't have the most charge in them. So if your buying this for a gift you might want to think about getting some AAA batteries in. It does come with a USB power cable so you can use this to power it if you have a plug head or connection to plug the cable into.
The AR app can be a little bit tricky but once you have it going it really is lots of fun .
The Oregon Scientific Smart Globe Myth with day and night mode, constellations, stories and AR is priced at £39.99. For more information about this Smart Globe or too see what other products they have check out their website.
*We were sent the Smart Globe Myth shown above for free in return for an honest review. All opinions are my own*
Follow me on :