Alby's at the point in his development where his trying hard to sit up but hasn't quite got the balance yet. Summer infant have recently sent us their new Summer infant 4 in 1 SuperSeat to try . I have been looking forward to trying this out as Alby is now on the move. So it will be nice to keep him in one place for a few moments.
The Summer infant 4 in 1 SuperSeat isn't just for babies it can be used right up until they are a toddlers . As it can be attached to a chair and uses as a toddler booster seat.
It has a three-point safety harness which keeps your little one nice and secure whilst they are sitting in it. The trays are dishwasher safe which is perfect for keeping it clean if you're using the seat as a feeding chair.
The tray is easily connected together to make it into the full 360 activity centre. Using the mechanisms under the tray to stop it from falling apart.
Stage one : Infant support seat
As I said easier Alby is so close to sitting up unaided but does still need a little support. So this is perfect he can sit alongside Ava and join in with her play . Like anything you use with children you must make sure to supervise them whilst using this . As Alby does have a tendency of leaning forward. I will say though that the base has always stayed secured to the floor.
Ava also likes to sit in it like this . Normally when she's watching some telly and doesn't want to sit on the floor . The cushioned seat means that it's actually quite comfy. More comfy that then the floor I suppose so I don't blame her.
Stage two: 360 activity seat
Alby is a child who needs constant entertainment . So this has been a god send . The activity seat enables him to sit up and play with the toys.One thing I love is that all the toys have a material strap on that you thread through . So they won't drop on the floor !! This has made my life so much easier as I'm not constantly having to pick the toys back off the floor for him.
The activity seat includes a track toy with glider beads , spinner ball , 2 shaped tethers and a built on shape sorter with a triangle rattle , square mirror and a squishy balls. These are all great to help him develop his hand eye co-ordination and the tethers are perfect to help soothe his sore gums.
Stage three: feeding seat
This has been so handy for taking to other people's houses. At home Alby will generally use his high chair . But when we're at other people's houses I was having to sit him on my lap to eat as they didn't have a high chair. Now though I pop this in the car and take it with me . It takes no space up at all and saves me having to balance him on my knee to try to feed him.
The tray also clicks into place using the mechanisms underneath and it cannot be removed by little ones pulling at it . Which is great as we do have a seat similar and he just pulls the tray off and it drives me crazy.
The feeding seat can either be used on the floor or on a chair using the straps. This would make a perfect alternative to a high chair if your short of space.
Stage four: toddler booster seat
Now Ava has been trying this out to see how it is . She doesn't really sit in a high chair anymore but at my parents house she is just a tad too small  to see over the table . So we took the booster to try at my parents house the other week. She was really well supported and she looked really comfy. The thing I liked is that she could to sit at the table and join in with the conversations.
It's attached to the chair really easily. You simply thread the straps through the bottom of the chair. The secure them underneath and around the back of the chair. It's then safe and secure so your toddler can enjoy their tea at the table with the rest of the family.
These straps are really easily taken off the seat so if you're using it for both a toddler and a baby like we are and you don't want the straps showing when they are not being used . Just simply take them off and pop them somewhere safe until you plan on using them . I have taped a small plastic wallet underneath so I can put them in their when they are not being us . As I'm always loosing things.
Our overall thoughts on the Summer Infant 4 in 1 SuperSeat
The thing I love about this Summer Infant 4 in 1 SuperSeat is that it grows with your child . It's not something your going to get a few months use out of . They will be using it for a long time. I have had both of my children using it Alby is 7 months and Ava is 2.5 years . So that gives you an idea of how much this seat will be used. I'm a lover for products that grow with your children. It means you get such value for money.

Both the children look really comfy sitting in the Summer infant 4 in 1 SuperSeat . Most importantly though it keeps Alby entertained and in one spot. Which means I can get things done. I tend to pop him in this and set the ironing board up so I can supervise him in the seat but still try to get onto of my jobs.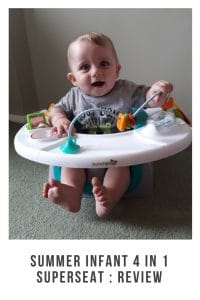 We are big Summer Infant fans check out our review of their LIV cam and also the Pop n Sit booster seat.
Follow me on :